Korean cuisine is known for its diverse range of flavors and textures, and one ingredient that plays a starring role in many Korean dishes is rice cakes or tteok.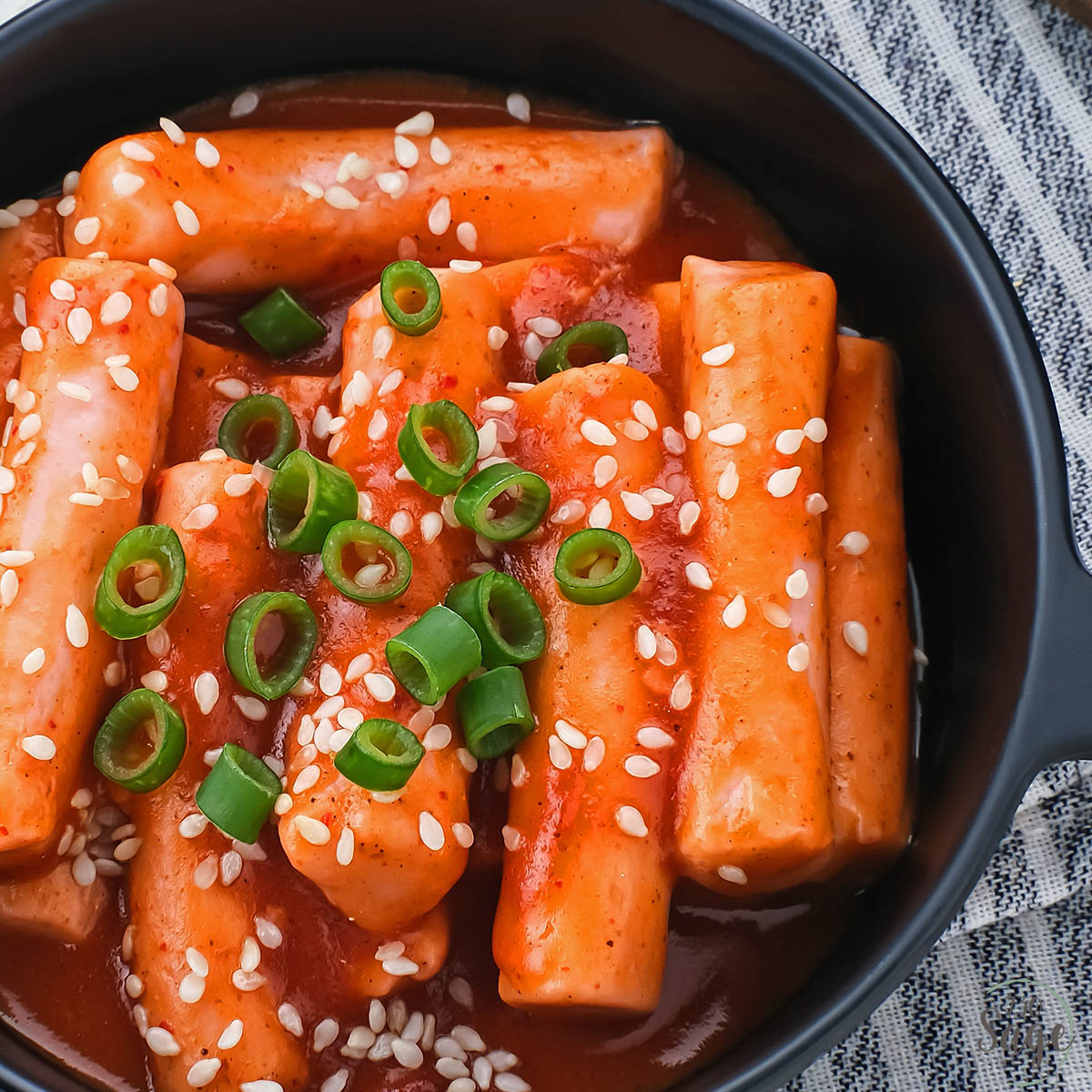 Made from glutinous rice flour, these chewy, doughy little morsels can be enjoyed in both sweet and savory dishes. From classic street foods like tteokbokki to comforting soups like tteokguk, rice cakes are a versatile ingredient that can add a unique texture and flavor to any dish.
In this article, we've rounded up 20 Korean recipes that feature rice cakes in a variety of creative and delicious ways, so whether you're a fan of spicy stir-fry or sweet treats, there's a recipe here for you to try!
What Are Rice Cakes and Where Can I Find Them?
Rice cakes, or tteok, are a staple ingredient in Korean cuisine made from glutinous rice flour that is pounded into various shapes and sizes. They can be found in most Asian grocery stores, especially those that carry Korean ingredients.
Some supermarkets also carry them in their international or Asian sections. They can come in fresh or dried form and can be stored in the refrigerator or freezer for future use.
Can Rice Cakes Be Substituted With Anything Else?
Rice cakes have a unique texture and flavor that can be difficult to replicate, but if you can't find them or prefer not to use them, there are a few possible substitutes.
One option is to use gnocchi or pasta, which have a similar texture and can be used in dishes like tteokbokki.
Another option is to use sliced tofu or boiled potatoes, which can work in soups and stews that call for rice cakes. However, keep in mind that the dish will have a different flavor and texture with these substitutions.
Korean Recipes With Rice Cakes
Here is a list of 20 delicious and easy to make Korean Recipes With Rice Cakes
This Korean Rice Cake and Fish Cake Stir-Fry is a delicious and easy-to-make recipe that's perfect for a quick weeknight dinner. The recipe requires only a few ingredients, including Korean rice cakes, fish cake triangles or strips, dried kelp, green onion, and a flavorful sauce made with gochujang, soy sauce, sugar, garlic, and gochugaru. The rice cakes are soaked in warm water before being combined with the fish cakes and green onion in a non-stick pan, along with a sauce that has been mixed with water and dried kelp.
Rice Cake Cheese Tteokbokki is a popular street food in Korea, and for good reason - it's delicious and easy to make! This recipe features fresh or frozen Korean rice cakes cooked in a flavorful sauce made with gochujang, gochugaru, sugar, corn syrup or granulated sugar, soy sauce, and minced garlic. The rice cakes are simmered in dashi or Korean soup stock until tender and then topped with grated mozzarella cheese, which is melted under a lid until it's bubbly and golden.
Spicy Ramen with Rice Cakes is a perfect combination of heat and flavor, made with Korean rice cakes, instant ramen noodles, fish cake, cabbage, green onion, and boiled eggs, all tossed in a spicy sauce made with soy sauce, sugar, gochugaru, minced garlic, honey or rice syrup, and gochujang. The recipe requires only a few simple steps, beginning with the preparation of the sauce and the soaking of the rice cakes, if frozen.
The sauce is then added to the water or stock and boiled with the rice cakes for about 7 minutes before adding the fish cake, ramen noodles, cabbage, green onion, and boiled eggs, and cooking for an additional 3 minutes or until the noodles are cooked through. The dish is garnished with sesame seeds for a nutty finish.
This Korean Soft Tofu Stew, also known as Sundubu Jjigae, is a hearty and comforting dish that's easy to make and perfect for a cold day. The recipe starts with a flavorful base made with vegetable oil, sesame oil, green onion, onion, garlic, gochugaru, soy sauce, oyster sauce, and sugar.
Water or stock is then added, along with diced zucchini, mushrooms, and soft tofu that's sliced into large pieces using a spoon. The stew is brought to a boil and simmered for about 3-4 minutes to allow the flavors to meld together, and then seasoned with salt to taste. A cracked egg is added to the stew and garnished with green onion and chili pepper if desired.
This Korean Rice Cake and Cabbage Stir-Fry is a comforting and hearty dish that is perfect for any mealtime. The recipe includes frozen rice cake, sliced onion, cabbage, and green onion, all cooked in a flavorful sauce made with gochujang, soy sauce, sugar, minced garlic, Korean chili flakes, honey, and black pepper. The dish is simmered in dashi or vegetable stock until the vegetables are tender and the rice cake is soaked in the sauce.
For a finishing touch, garnish the dish with green onion and a sprinkle of mozzarella cheese, which is then broiled until it's bubbly and golden. Whether you're looking for a satisfying lunch or dinner, this Korean Rice Cake and Cabbage Stir-Fry is a delicious way to enjoy a traditional Korean dish that's sure to satisfy your cravings for something savory and spicy!
This spicy and savory Korean-inspired dish is made with tender rice cakes, glass noodles, and a rich and creamy rosé sauce. The dish is prepared by cooking wide dangmyeon noodles and then sautéing onion and garlic until they become transparent. Gochujang, soy sauce, and gochugaru are added to the pan to create a flavorful and spicy sauce that is deglazed with plant-based milk.
The sauce is then seasoned with mushroom seasoning, agave nectar, and nutritional yeast, which creates a rich and cheesy flavor. The rice cakes, yubu, and green onions are added to the pan, and the dish is simmered until everything is cooked through and coated in the delicious sauce.
These spicy and sweet Rice Cake Skewers are a fun and flavorful way to enjoy Korean rice cakes! After blanching the rice cakes, thread them onto skewers and pan-fry them until slightly crispy. A delicious sauce made with Gochujang, Soy Sauce, and Honey adds a sweet and spicy kick, while Sesame Seeds and green onion make for a perfect garnish.
These skewers make for a great appetizer or snack, and are easy to customize by adjusting the spice level to your liking. Try making these at home for a unique and tasty treat!
If you love crispy and spicy food, you're going to love this Crispy Pan Fried Ddeokbokki recipe! This Korean street food classic features soft and chewy rice cakes pan-fried until crispy and coated with a spicy and sweet sauce that's made with gochujang, red pepper powder, soy sauce, and more. The result is a perfect balance of savory, sweet, and spicy flavors that will tantalize your taste buds.
This recipe is easy to make and can be served as an appetizer, snack, or a main dish. Garnish with spring onions and sesame seeds to add an extra pop of flavor and crunch.
Looking for a delicious and easy-to-make snack or meal? Try this Rice Cake Stick Snack, also known as Ddukbokgi! This Korean classic is made with chewy rice cake sticks, fresh veggies, and savory seasonings that will leave you wanting more.
Looking for a tasty and spicy dish to excite your taste buds? Try out this Stir-Fried Spicy Rice Cakes recipe! The rice cakes are first soaked in hot water for 2 minutes to soften, then cooked with onions, sugar snap peas, and red bell pepper in a savory and spicy gochujang sauce.
The dish is garnished with toasted sesame seeds and scallions. This recipe is quick and easy to prepare, making it perfect for a weeknight dinner or a snack. The stir-fry is prepared in a wok or sauté pan and takes just a few minutes to cook. Try out this delicious Korean rice cake recipe and enjoy the rich and bold flavors!
This Dragon Roll recipe is a must-try for sushi lovers! It's filled with avocado, cucumber, and crispy shrimp tempura, then topped with sliced avocado and optional unagi (freshwater eel). The sushi roll is then cut into bite-sized pieces and garnished with tobiko (flying fish roe), black sesame seeds, and homemade spicy mayo. To make the Dragon Roll, start by cutting the cucumber and avocado into thin strips and lining the bamboo mat with plastic wrap.
Spread cooked sushi rice over the nori sheet and add the shrimp tempura, cucumber strips, and tobiko. Roll up tightly, and then top with sliced avocado and unagi. Cut into pieces, add garnishes, and serve with unagi sauce. Enjoy the delicious mix of flavors and textures in every bite!
This Soupy Tteokbokki recipe is a spicy and comforting Korean dish that's perfect for cold weather. Soft and chewy rice cakes are cooked in a savory broth with fish cakes, vegetables, and optional soft-boiled eggs and ramen noodles. The spicy seasoning mix adds heat and flavor to the dish, and it can be adjusted to your taste. The anchovy broth provides a rich umami taste to the dish and is easy to make. This recipe is versatile and can be customized to include your favorite vegetables and proteins. Enjoy it as a satisfying meal or snack any time of the day.
This vegan twist on the classic Korean dish of Jjajang Tteokbokki is packed with flavor and saucy goodness. The chewy Korean rice cakes are simmered in a rich black bean sauce made with chunjang, garlic, and maple syrup. The cornstarch mixture helps to thicken the sauce to a perfect consistency.
This dish is incredibly easy to make and perfect for any weeknight dinner. The sesame oil adds a nice nutty flavor and aroma to the dish, and salt can be added to taste. Serve this dish hot, garnished with some sliced scallions, and enjoy the perfect balance of sweet and savory flavors in each bite.
This Vegan Cheese Tteokbokki recipe is perfect for those who are looking for a delicious and cruelty-free take on the classic Korean dish. The creamy and savory cheese sauce is made with cashews, nutritional yeast, and a blend of spices, and poured over soft and chewy rice cakes. To make the sauce, simply blend the ingredients in a blender and cook on the stove until thick and stretchy.
The rice cakes are then added to the pot and coated with the cheese sauce. Garnish with scallions, sesame seeds, and Korean red pepper flakes for added flavor and texture. Enjoy this tasty and wholesome dish with family and friends.
Experience a popular Korean street food with So-tteok, a delicious combination of sausage and rice cake skewered together. While the name is a shortened version of Korean slang, it specifically refers to the cylindrical rice cake, garaetteok, paired with savory sausage. Enjoy this fun and tasty snack that's perfect for meals on-the-go!
As you take a bite, savor the combination of sticky, spicy, and sweet flavors that come from the sauce on top. So-tteok is sure to delight your taste buds and give you a memorable culinary experience.
Tteokguk is a traditional Korean soup dish made with sliced rice cakes, beef broth, and beef. This comforting soup is perfect for cold winter days or to celebrate the Korean Lunar New Year. The soup is simmered with beef and dried kelp to create a rich, flavorful broth. Sliced rice cakes are added and cooked until soft and chewy. The beef is finely chopped and seasoned with soy sauce, sugar, sesame oil, black pepper, sesame seeds, garlic, and green onions to make a delicious topping.
The soup is then garnished with thin strips of rolled egg omelets and Korean chili threads for a pop of color. This warm and hearty soup is perfect for any occasion!
Naengmyeon, or Korean cold noodles, is a refreshing and delicious summer dish that is perfect for hot weather. The key to making the best naengmyeon is a flavorful beef broth, which is made by simmering beef tri-tip or brisket, leeks, onions, ginger, garlic, shiitake mushrooms, and spices for over an hour. The broth is then strained through a fine cloth to create a clear, flavorful liquid that is chilled in the refrigerator until ready to use.
The cold noodles are served in a bowl with the beef broth, pickled radish, sliced beef, cucumber, and egg, and garnished with sesame seeds for a refreshing and satisfying meal.
These quicker spicy rice cakes are an easy and delicious dish that packs a lot of flavor. To make the dish, start by soaking the rice cakes for an hour. While they soak, make the sweet and spicy all-purpose sauce by whisking together the chili paste, mirin, sake, tamari or soy sauce, ginger, and garlic in a medium bowl. Store the sauce in the refrigerator until ready to use.
This popular Korean restaurant dish features boneless chicken pieces, rice cakes (tteokbokki tteok), sweet potato, green cabbage, and other veggies, all stir-fried with a spicy sauce. Although it's a menu favorite in Korea, it's easy to make at home with just a few ingredients!
This recipe is for a spicy stir-fry dish made with chicken, rice cakes, and vegetables. The chicken is marinated in a sauce made with Korean chili paste, chili flakes, soy sauce, and other seasonings for added flavor. The vegetables used in this recipe include sweet potato, carrot, cabbage, and Korean perilla. The rice cakes are soaked in warm water before cooking.
The dish is cooked in a large skillet with cooking oil on medium-high heat until all the ingredients are cooked through, which takes about 10 to 15 minutes. This dish can be served with rice and other Korean side dishes if desired. It's a quick and easy recipe that you can enjoy at home.
Frequently Asked Questions About Korean Recipes With Rice Cakes
What are Korean rice cakes made of?
Korean rice cakes, also known as tteok, are made from glutinous rice flour and water. The dough is shaped into various forms, such as cylinders, disks, or spheres, and then steamed or boiled.
Can I use other types of rice cakes instead of Korean rice cakes?
While Korean rice cakes are the most commonly used type in Korean cuisine, other types of rice cakes can be used as a substitute. Japanese mochi or Chinese nian gao can be used in certain dishes that call for rice cakes.
How do I store Korean rice cakes?
Korean rice cakes are best stored in the refrigerator, tightly wrapped in plastic or placed in an airtight container. They can also be frozen for longer storage.
Can I make my own Korean rice cakes at home?
Yes, you can make your own Korean rice cakes at home using glutinous rice flour and water. There are many recipes and tutorials available online that provide step-by-step instructions for making various types of rice cakes.