Cream cheese's silky richness and enticing tang make it a welcome addition to these gelatin-based sweets.
Here are 15 spellbinding jello recipes that use the enchantment of cream cheese, so that you, too, can experience the delightful union of gelatinous wonders and creamy decadence.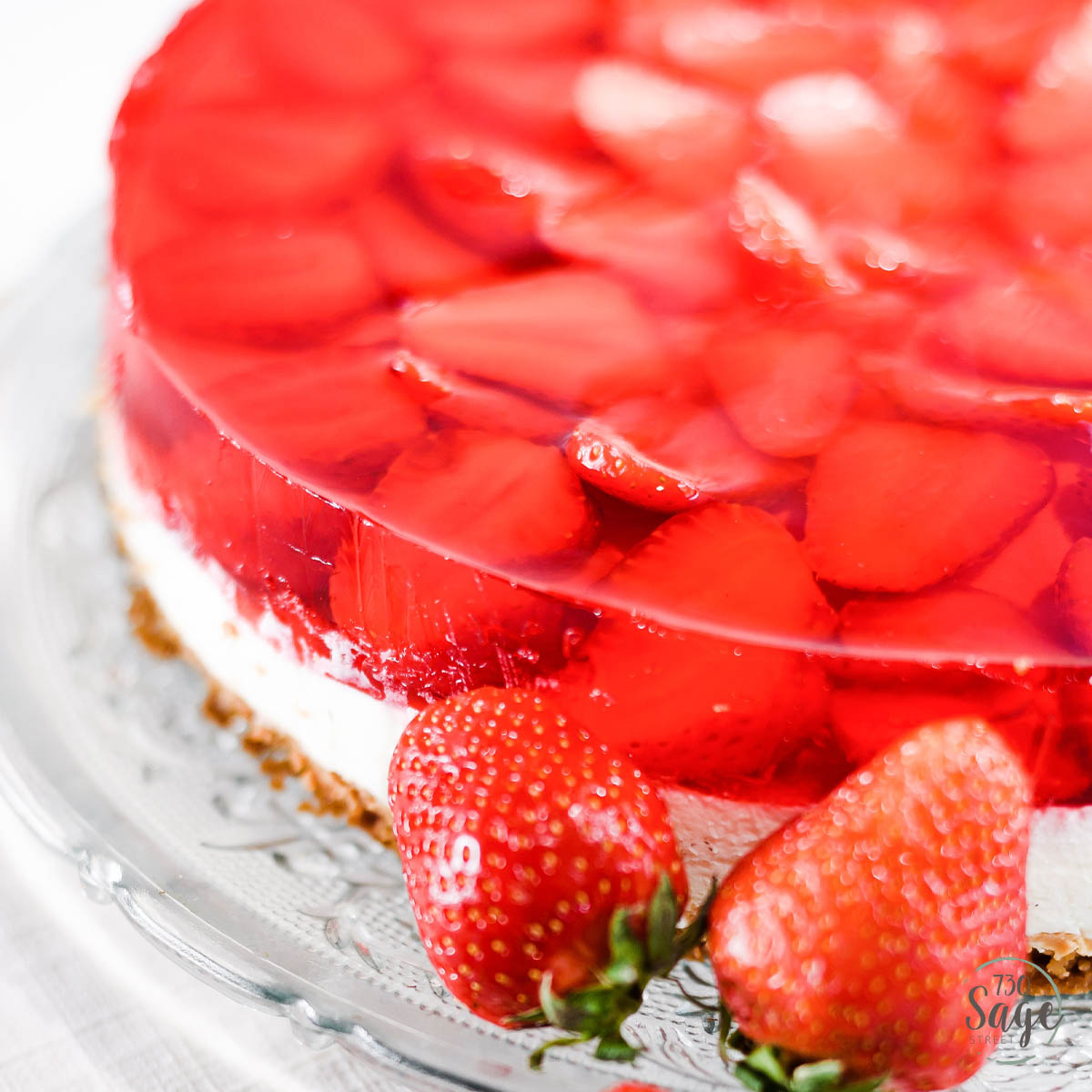 Can I Add Fruit Or Nuts To These Jello Recipes?
Absolutely! Adding fruit or nuts to your jello recipes with cream cheese can bring a delightful burst of flavor and texture. Consider incorporating diced strawberries, sliced bananas, or crushed pineapple for a fruity twist.
As for nuts, chopped walnuts, almonds, or pecans can provide a satisfying crunch. Feel free to experiment and customize your jello creations with your favorite fruits and nuts to add a refreshing and enjoyable element to each bite.
Can I Use Whipped Cream Instead Of Cream Cheese?
While whipped cream and cream cheese have different textures and flavors, you can certainly explore using whipped cream as a substitute in your jello recipes. Whipped cream will lend a light and airy quality to the desserts, creating a delicate and fluffy texture.
However, keep in mind that the flavor profile may differ slightly, as whipped cream has a milder taste compared to the tangy richness of cream cheese. Feel free to experiment and find the perfect balance of creaminess and flavor that suits your preferences.
15 Jello Recipes With Cream Cheese
These 15 jello recipes with cream cheese will take you on a jiggly, delicious journey:
Slide into a world of creamy delight with this Raspberry Cream Cheese Jello Salad. Imagine the refreshing burst of raspberry mingling with the silky cream cheese, a harmony that dances on your tongue. The pear undertones add a subtle depth to the mix, teasing your senses.
A light and airy Cool Whip texture, capped with a dollop of whipped cream and fresh raspberries, brings the perfect balance. This treat isn't just easy to whip up, it's a ticket to a dreamy dessert escapade. So why wait? Let this recipe be your next dessert adventure!
Imagine the sunlit zest of mandarin oranges enveloped in a cloud of velvety cream cheese, creating a tantalizingly smooth concoction. This Orange Dreamsicle Jello Salad is your personal slice of sunshine, a vibrant burst of citrus delight that fills your mouth with joy.
The whipped cream adds a feather-light softness, creating a dessert that's as dreamy as a summer's day. Perfect for those days when you crave a sweet pick-me-up, this recipe is your one-way ticket to a tropical paradise. Take a bite, close your eyes, and let the flavors transport you!
Unveil your inner sunbeam with this Fluffy Lemon Jello Salad. It's a whirlwind of tangy lemon and lush whipped topping that swirls into a cloud of creamy bliss. Imagine the zing of lemon jello coupled with luscious pudding, a combination that electrifies your senses and paints your day in vibrant hues of yellow.
This dessert isn't just a sweet temptation, it's a celebration of citrusy delight that'll make you want to dance in the kitchen. Top it off with whipped cream and fresh raspberries, and you've got a dessert that's sure to make you smile.
Revitalize your sweet cravings with this Lime Jello Salad, a vibrant interplay of zesty lime and creamy cheese. Here's a dish that delivers an invigorating burst of citrus, entwined with the tropical allure of crushed pineapple. The cream cheese and whipped topping unite to create a velvety backdrop to this tart symphony.
Sprinkles of walnuts or pecans bring an earthy crunch, adding an extra layer of delight to the experience. It's not just a salad, it's a dance of flavors that'll have you swaying to its rhythm.
Journey into a realm of deep, fruity flavor with this Blueberry Jello Salad crowned with Cream Cheese Frosting. Savor the mesmerizing dance of grape jello and blueberry pie filling, the two blending into a delightful burst of berry wonder.
The lush layer of cream cheese frosting, laced with a hint of vanilla, adds a velvety texture to this sweet soiree. Not forgetting the unexpected guest, crushed pineapple, bringing a tropical twang to the mix. Every bite of this dessert is a whimsical journey, a celebration of color and flavor that's too good to miss. It's your sweet ticket to a fruity paradise!
Unleash your inner dessert lover with this delightful Jello Cream Cheese Dessert. Picture this: a vibrant layer of cherry Jello, swirled with juicy cherry pie filling and a hint of tropical pineapple, laying the foundation for a sweet symphony. The second act is an ensemble of whipped cream cheese and Greek yogurt, their creamy tanginess teasing your palate.
Crowned with a crunchy layer of granola or nuts, it's an orchestra of textures and flavors, where every bite is a crescendo of delight. Treat yourself to this mouthwatering medley, it's the dessert you've been dreaming of!
Take a delightful culinary detour with this Peach Pretzel Jello Salad. Picture the tangy thrill of peach jello, layered over a crunchy bed of cinnamon-spiced pretzels. It's a playful marriage of salty and sweet, with a hint of warmth from the brown sugar.
The creamy layer of cream cheese and Cool Whip is a dreamy intermission, setting the stage for the star of the show - fresh, juicy peaches. This dessert isn't just a gastronomic delight, it's a flavor fiesta that takes your senses on a joyride. So, dive into this playful party of flavors!
Embrace the joy of creativity with this Pineapple & Cream Cheese JELL-O Fruit Dessert. This isn't your regular dessert, it's an innovative blend of tangy lime JELL-O, luscious Philadelphia cream cheese, and tropical crushed pineapple. Just like a refreshing summer breeze, this dessert radiates sunny vibes.
The crowning glory is the Cool Whip, nestling in the center, ready to bring a smile to your face. Play around with your favorite fruits for the topping, let your imagination run wild! This dessert isn't just about eating, it's about creating a moment of joy in your kitchen. Happy experimenting!
Welcome the Layered Cranberry Salad Recipe into your culinary repertoire! This dessert layers bright, tangy raspberry Jell-O, with the irresistible duo of crushed pineapple and whole-berry cranberry sauce.
The addition of your favorite nuts offers a delightful crunch that contrasts with the luscious cream cheese and sour cream topping. With a sprinkle of sugar for sweetness and a garnish of toasted walnuts or pecans, this dish is an orchestra of flavors that perfectly harmonizes.
Embrace the deliciousness of the Blueberry Jello Salad with Cream Cheese Frosting. This recipe combines the subtle sweetness of blueberry pie filling and crushed pineapple with the rich flavor of grape Jell-O. The real magic happens when it's topped with a creamy, smooth frosting made from softened cream cheese and sour cream.
The resulting dessert is a symphony of flavors and textures that'll have you reaching for seconds. Perfectly portioned and served chilled, it's an irresistible treat that'll transport you to a place of pure culinary bliss.
Enjoy this refreshing strawberry and Cream Jello Dessert Salad, a perfect ending to any meal or a sweet snack during the day. This recipe combines the sweet and tangy flavors of strawberry Jello and crushed pineapple with the creamy texture of cream cheese and Cool Whip.
The result is a light, fluffy dessert that's full of fruity flavor. With an additional garnish of whipped cream and sliced strawberries, this dessert salad is as beautiful as it is delicious. Enjoy the taste of summer in every bite!
This Orange Sherbet Jello recipe is a delightful blend of flavors that's perfect as a side dish or a refreshing dessert. The tangy taste of the orange gelatin pairs wonderfully with the sweet, creamy orange sherbet and the juicy mandarin oranges.
This dish is not only pleasing to the palate but also adds a pop of color to your table, making it an eye-catching addition to any meal. Enjoy this old-fashioned favorite that's sure to be a hit with both kids and adults alike!
Dive into the fruity delight of our Black Cherry Jello Salad. This retro classic showcases a harmonious blend of sweet black cherry jello, juicy pineapple tidbits, and crunchy pecans.
The surprising twist? Finely shredded cheddar cheese! It adds an unexpected yet pleasing savoriness, perfectly balancing the sweet and fruity flavors. Top it all off with a dollop of Cool Whip for a creamy finish. It's a quick, easy, and absolutely scrumptious dessert that'll make you the star of any potluck or family gathering.
Experience a refreshing twist on a classic dessert with our Pear and Lime Jello Salad. The juicy sweetness of pear halves melds perfectly with the zesty tang of lime Jell-O. But the magic doesn't stop there. The addition of cream cheese brings a luxuriously creamy texture that contrasts beautifully with the crispness of the pears.
And let's not forget the crowning glory, Cool Whip. It adds a light and airy touch that perfectly complements the denser components. This is an easy-to-make dessert that offers a wonderful combination of flavors and textures!
Bring some fizz to your dessert time with this intriguing 7-Up Jello Salad. This recipe takes the classic lime gelatin, blends it with the creaminess of soft cream cheese, and adds a sparkling twist with 7 Up. Each spoonful will surprise you with an unexpected tang and effervescence!
Alongside the zesty lime and bubbly soda, we're also adding crushed pineapple to give your palate a tropical treat. Lastly, a dollop of whipped topping rounds out the flavors with its velvety richness.