These pan protectors are easy to make, super cute, and fit perfectly. Learn how to make the perfect protector for your cast iron, ceramic, stainless steel, and non-stick pans.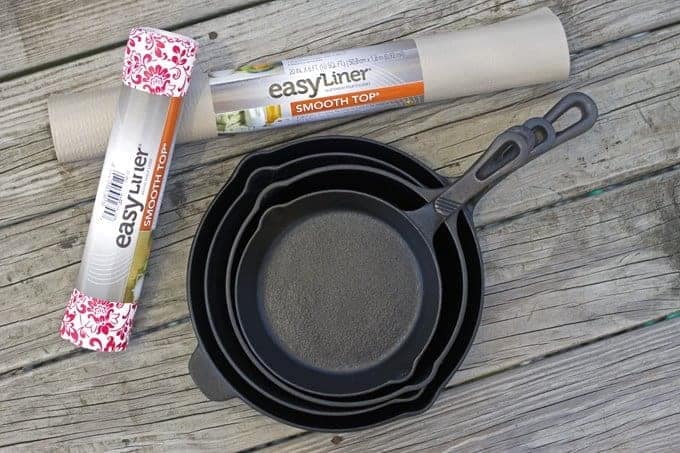 Contents
If my pan has a chip, scratch, or blemish, I KNOW. Worse I'm annoyed every time I pick up a pan with a blemish. I can even recall avoiding a pan specifically because I know. And while my pan works fine, I decided to donate mine and buy a new set.
Protecting cast iron pans
Protecting cast iron pans present challenges that don't exist with other types of cook wear. For cast iron to cook properly, it needs to be seasoned. And to keep it seasoned, it needs to be cleaned and stored a certain way. Because of this, a well-seasoned pan will have a slightly oily surface, making the pans difficult to stack unless you don't mind grease getting all over the bottoms of each pan and potentially ruining the seasoned surface.
Protecting everyday cookware
Lets face it, cookware can be fragile. Brands market cookware as dishwasher safe, which is often true. However, they don't tell you if reduces the lifespan of your pan by half.
Never use metal utensils regardless of marketing. There are so many options that are 100% safe, toxin-free, easy to clean and easy to use.
Cooking Utensils
I love wooden cooking utensils but there are so many materials that work great. Just stick to brands you know and love. Trust and quality is important!
wooden are my favorite and quality sets start around $30
bamboo is another good option starting around $20
silicone is easy and a good set starts around $25
How to make DIY pan protectors
What you need
Shelf Liners - select a pattern you love
Set of Pans - I'm using lodge cast iron pans
Scissors
Pencil - my kids love these
I have 2 rolls of shelf liner, one 20in x 4ft shelf liner in a tan color and one 12in x 6ft shelf liner in white with a reddish flower pattern. Either size would work fine for this project, but I went with the 12in for my pan liners because I thought the color contrast would look great against the cast iron.
Instructions
Step 1
Place your pan on the back side of the shelf liner.
Step 2
Trace the bottom of one of the pans with a pencil onto the inner side of the shelf liner.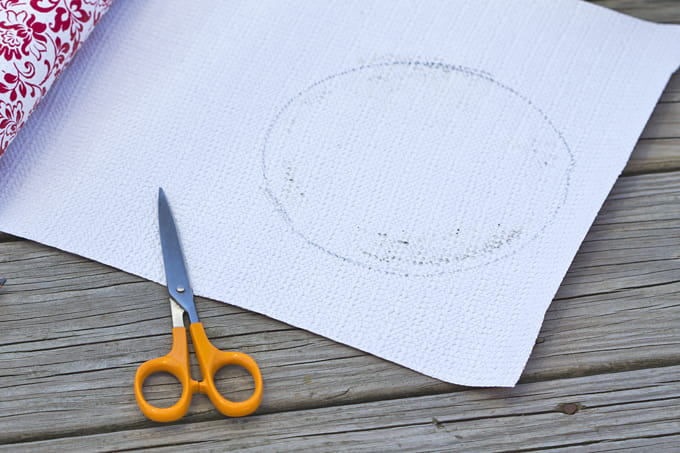 Step 3
Cut out the circle making sure to cut INSIDE the circle to account for the thickness of the cast iron because you traced the outside of the pan. And now you know why I replaced my scissors!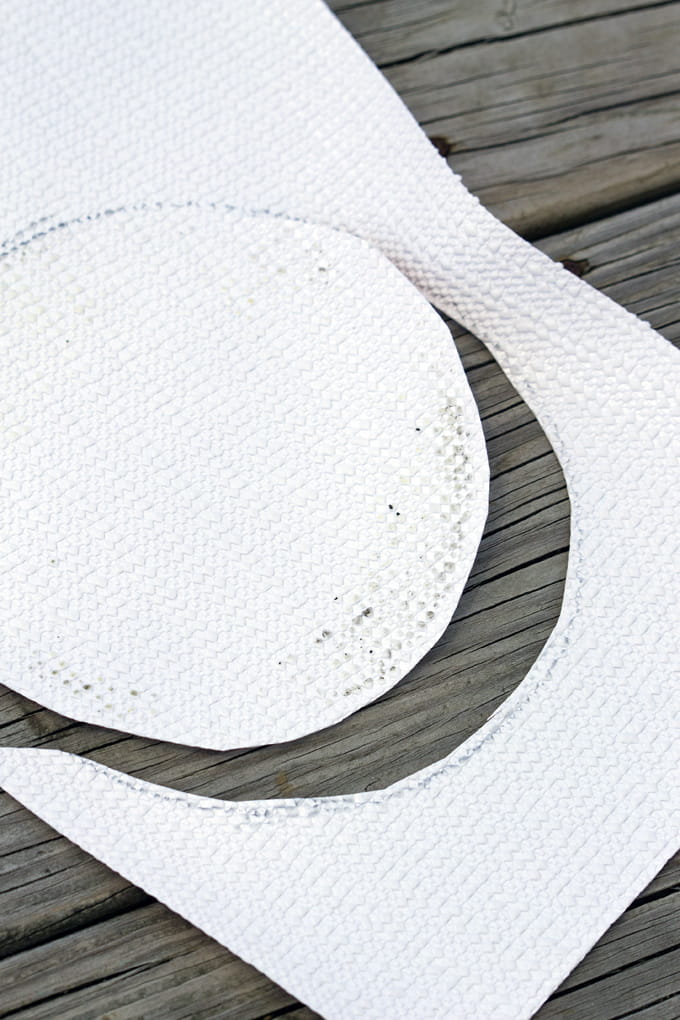 Step 4
Repeat for each pan, and place each protector inside the pans.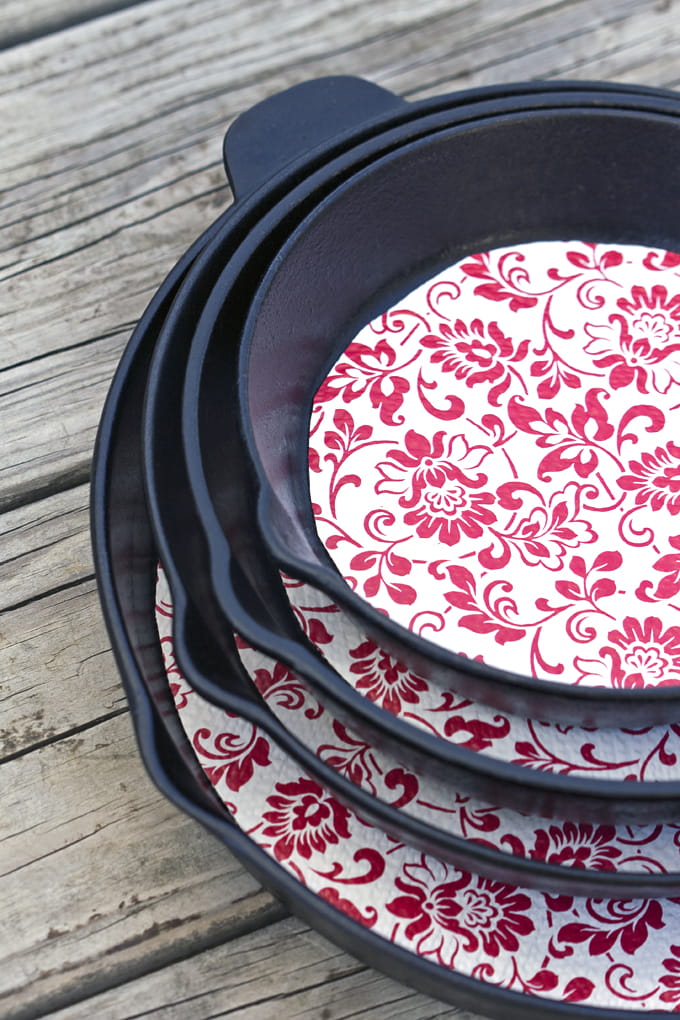 Easy alternatives
There are more than a few ways to protect your pans. And regardless of what you decide, I'll be happy if your pans are happy.
Pot Racks
The ultimate in pan protection, style, and storage. Pot racks are a great option if you have an island, a ceiling option is functional and looks great. Otherwise, a wall mount pot rack is another great option.
Pot stands
Great for protecting one set of pans, typically 4-5 pans. I've seen pot stands on counter tops and stored in cabinets. Either way works and helps keep your pans safe.