Diced ham is a versatile and convenient ingredient that can be used in a wide variety of dishes. From savory casseroles to hearty soups and creamy pies, there's no shortage of delicious ways to incorporate this flavorful meat into your cooking.
Check out these 20 diced ham recipes, including Ham Casserole with Broccoli and Rice, One Pot Ham & Penne Skillet Recipe, and White Bean and Ham Soup.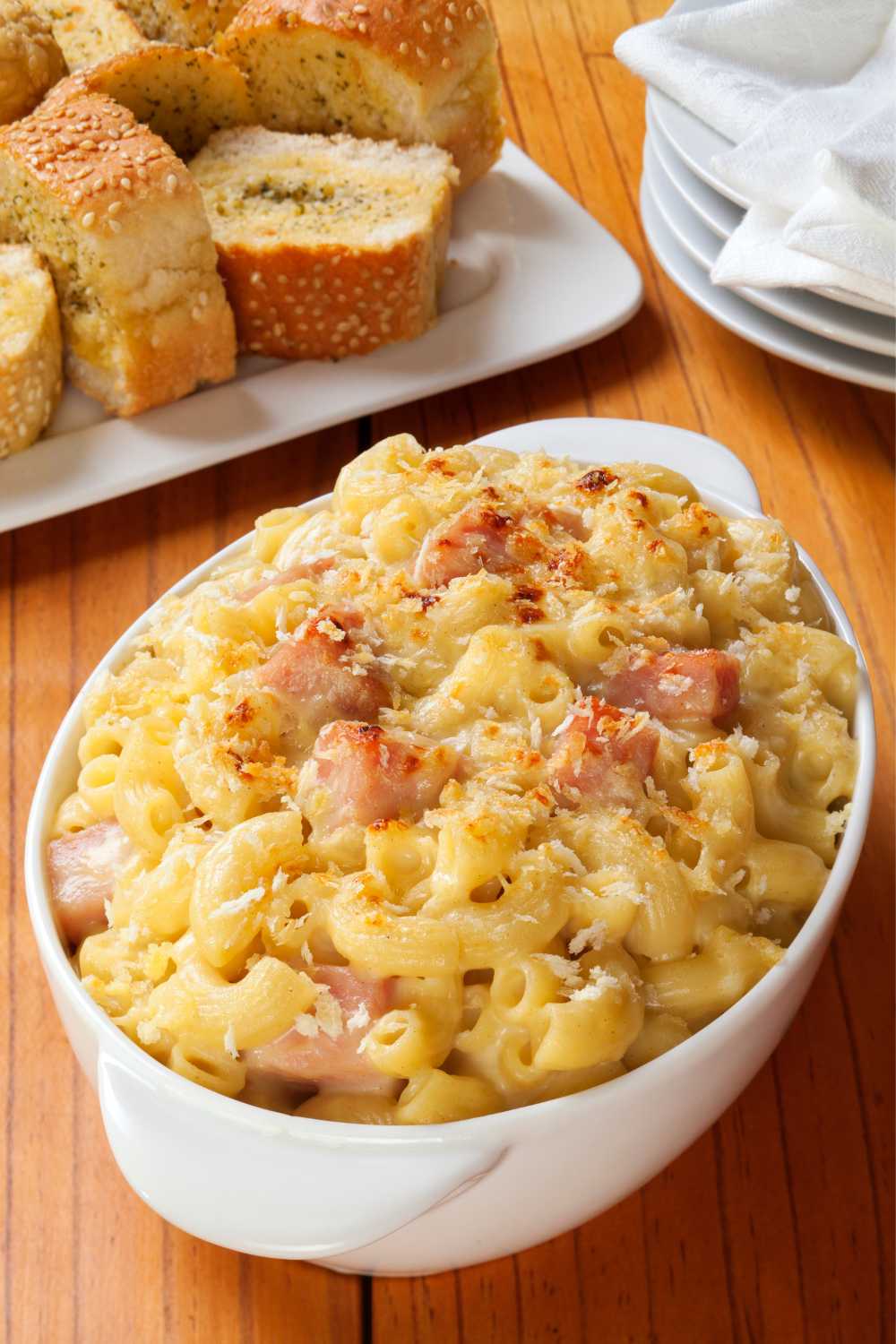 Can Diced Ham Be Substitute With Other Types Of Meat In These Recipes?
Yes, diced ham is a versatile ingredient that can be substituted with other types of meat in many recipes. Bacon, sausage, turkey, or chicken can be used instead of diced ham in dishes like breakfast quiches or casseroles. The flavor and texture may vary depending on the meat you use, so choose one that complements the other ingredients in the recipe.
How Should Diced Ham Be Thawed For These Recipes If It's Frozen?
To thaw diced ham safely, place it in the refrigerator overnight or for several hours before using it. This ensures that it thaws evenly and stays at a safe temperature. If you need to thaw diced ham quickly, you can place it in a sealed plastic bag and submerge it in cold water, changing the water every 30 minutes until the ham is thawed.
Do not thaw diced ham on the counter or in the microwave as it can promote bacterial growth and cause the meat to become tough and dry.
Which Method Gives Diced Ham The Finest Flavor?
To get the best flavor from diced ham, sauté it in a pan with a little butter or oil until it's lightly browned and crispy. This brings out the natural flavor of the ham and gives it a slightly caramelized texture. Another method that can provide the diced ham a delicious flavor is grilling or broiling it until it's lightly charred. Avoid overcooking diced ham, as it can become dry and tough.
20 Diced Ham Recipes
Elevate your dishes with 20 flavorful diced ham recipes, from Ham Casserole with Broccoli and Rice to White Bean and more:
This ham casserole is a hearty and comforting dish that's perfect for busy weeknights. The dish features creamy rice, diced ham, and fresh broccoli florets, all baked together in a cheesy casserole. This easy make-ahead dinner can be prepared up to two days ahead or served as a one-pot meal. The Ritz cracker topping adds a buttery crunch to this delicious casserole. Feel free to substitute the ham with diced ham to add more flavor to the dish. Try serving with a side salad for a complete meal.
This one-pot ham and penne skillet are perfect for a quick dinner using leftover ham from the holidays! The dish features cubed ham, penne noodles, and peas cooked together in a creamy and flavorful sauce.
The herbs and spices add a touch of Italian-inspired flavor, and the dish is finished off with a sprinkle of Parmesan cheese for an extra savory kick. You can also add diced ham to the recipe to make it even more delicious. This pasta is sure to be a crowd-pleaser and can be made in just 30 minutes. It's a great option for a busy weeknight dinner.
Ham tetrazzini is a comforting and satisfying dish that's perfect for a family dinner. The dish features spaghetti, creamy and cheesy sauce, cubed ham, mushrooms, and peas. The cheese is melted to perfection, and the result is a savory and delicious pasta dish that everyone will love.
You can substitute the chicken soup with cream of mushroom soup to add more flavor to the dish. The recipe can be easily customized by adding additional vegetables or using diced ham to enhance the taste.
Flaky and buttery ham pot pie is the perfect comfort food on a chilly evening. The dish features diced ham, mixed vegetables, and a creamy, cheesy sauce, all baked together under a flaky layer of prepared croissant dough.
The recipe is easy to make and can be customized by adding your favorite vegetables or using diced ham for a more robust flavor. The dish is baked until hot and bubbly, creating a savory and satisfying meal that's perfect for a family dinner. Enjoy this delicious ham pot pie with a side salad or roasted vegetables for a complete meal.
This Impossible Ham and Swiss Pie is a delicious breakfast casserole that's ready in no time! With a crust that makes itself, you won't have to worry about preparing it in advance. The pie is filled with diced cooked ham, shredded Swiss cheese, diced onions, and a biscuit, egg, and milk mixture.
The ham and cheese provide a savory taste while the crust adds a subtle sweetness. Bake until golden brown, and enjoy a hot and delicious breakfast pie perfect for any morning.
White Bean and Ham Soup is a comforting and hearty dinner that's easy to make. This soup is perfect for using up leftover ham, and it's loaded with protein and fiber from the white beans. Cooked with a variety of veggies, garlic, and Italian seasoning, the broth is incredibly flavorful.
Once the beans are cooked, diced ham is added, and the soup is simmered to combine all the flavors. Serve hot with a side of homemade cornbread for a cozy meal. This soup is perfect for meal prep and can be stored in the freezer for up to three months.
Comfort food at its finest, Leftover Ham & Cheese Casserole is a breeze to prepare and brimming with flavor thanks to the use of leftover spiral ham. The dish includes al dente elbow macaroni, creamy white cheddar and yellow cheddar, and cream cheese to add the perfect creaminess.
With the addition of cream of mushroom soup and whole milk, it creates an indulgent and delicious casserole. Top with shredded green onion and serve with a side of garlic bread or salad for a hearty dinner.
If you're looking for a supper choice that's low in carbs but high in taste, you have to try this Keto Ham Casserole (Ham Carbonara), which is full of the deliciousness of rich and creamy sweetness.
With diced ham, sauteed onions, and frozen peas mixed with garlic powder, Parmesan cheese, chicken broth, and heavy whipping cream, this casserole is packed with protein and healthy fats. Top it off with zucchini noodles and bake in the oven until the Parmesan cheese is melted and lightly browned. It's a satisfying and indulgent dish that is also keto-friendly!
Ham Hash is a delicious and hearty meal that's perfect for breakfast, brunch, or dinner. Made with fully cooked ham, diced potatoes, onions, and sweet red bell peppers, this hash is packed with flavor and easy to make.
It's best served with runny yolk eggs on top, making it a perfect dish for breakfast lovers. The addition of fresh rosemary adds a lovely herbal aroma and flavor to the dish. You can adjust the seasoning according to your taste and add a dash of hot sauce for a little extra kick.
This cheesy ham and hashbrown casserole is the perfect make-ahead breakfast dish! Frozen hashbrowns, diced ham, cream of potato soup, and sour cream are mixed together with shredded cheddar cheese, creating a creamy and savory base. Topped with even more cheese, the casserole bakes to golden perfection in just under an hour. Serve it hot and bubbly for a filling breakfast that's sure to please. And if you have any leftovers, they make for a delicious and quick breakfast the next day!
A perfect way to use up leftover ham, this Easy Fried Rice with Ham and Pineapple features fluffy rice cooked with pineapple juice and studded with chunks of ham, pineapple tidbits, and green onions. The savory soy sauce adds a delicious umami flavor and a touch of saltiness to the dish. Perfect for a weeknight dinner or meal prep, this dish is sure to become a family favorite! And for a bit of extra sweetness, consider adding a drizzle of honey over the top before serving.
Baked Ham Penne Pasta is the perfect way to enjoy leftover ham! This hearty and comforting pasta dish features penne pasta, savory ham, and a rich and creamy garlic-cheese sauce that will make your taste buds sing.
The addition of fresh rosemary adds an earthy and aromatic note to the dish. The pasta is then baked to perfection with a generous topping of shredded Swiss cheese. Serve this dish hot and enjoy the delicious flavors and comforting aroma.
Ham Mac and Cheese is the perfect comfort food with a twist. Creamy and cheesy, this recipe is perfect for using up leftover ham after the holidays. Boil macaroni and mix with diced ham. Make a creamy cheese sauce with flour, butter, milk, and cheddar cheese. Add ground mustard, salt, pepper, and garlic powder to the cheese sauce. Combine pasta, ham, and cheese sauce, and sprinkle more shredded cheese on top. Bake it in the oven for 25 minutes until it's bubbling and the cheese is melted. Serve warm and enjoy!
Whip up a quick and easy appetizer or sandwich filling with this delicious Ham Salad recipe. It uses diced ham, mayonnaise, celery, and relish, which are blended together for a slightly chunky consistency. The mixture is then chilled in the fridge for a couple of hours, allowing the flavors to meld together perfectly.
This versatile dish is perfect for using up leftover ham, and it's great as a snack or for a light lunch. Plus, it can be served as a dip with crackers or veggies or as a spread for bread or croissants.
Slow Cooker Black Eyed Peas with Ham is a delicious and lucky recipe that is perfect for New Year's Day, but can be enjoyed all year round! This recipe is easy and made in a slow cooker with black-eyed peas, diced ham, onions, garlic, pepper, salt, vegetable broth, and water.
It's full of wholesome and hearty ingredients and is sure to become a family favorite. Soak the black-eyed peas overnight, then let the slow cooker do the rest of the work. Serve with cornbread or over rice for a satisfying meal.
This Denver Omelet Scrambled Eggs Skillet is a flavorful breakfast that is both easy and quick to make. With diced onions, red and green bell peppers, and smoked ham steak, this meal is packed with protein and vegetables.
The eggs are whisked and cooked with the vegetables and ham until scrambled and perfectly cooked. Then, the dish is topped with low-fat cheddar cheese for added flavor. Season with salt and pepper to taste. This dish is perfect for a hearty breakfast, brunch, or even dinner that is filling, delicious, and nutritious.
Leftover Ham & Noodle Casserole is a perfect way to use up your holiday ham! Tender egg noodles, mixed veggies, and chopped ham are enveloped in a creamy and cheesy sauce, then baked until the cheese is bubbly and melty.
It's a comfort food dish that's perfect for a weeknight dinner or a cozy family meal. With a mix of dried herbs and Parmesan cheese, this casserole is packed with flavor, and it's easy to customize with your favorite veggies or cheese. You'll love this delicious and satisfying casserole!
Ham and Sweet Potato Soup is a creamy, comforting soup that is perfect for cold nights. Diced ham, sweet potatoes, carrots, and celery are cooked in a flavorful broth, then combined with a roux made with butter, flour, milk, and cheddar cheese. The result is a cheesy and savory soup that's packed with nutrition and flavor.
With a prep time of only 15 minutes, it's a quick and easy way to use up leftover ham, and the whole family will love it. Serve it hot with a sprinkle of parsley for added freshness.
Make breakfast or dinner even more exciting with this easy-to-make Ham and Cheese Pull Apart Biscuits Recipe. Perfect for using up leftover ham, this dish is loaded with savory diced ham and cheddar cheese, and baked in flaky biscuit dough.
The biscuits are cut into pieces, then coated with a mixture of egg and milk, and folded with the cheese and ham. It's then baked to golden brown perfection, creating a cheesy, pull-apart bread that's perfect for sharing. Serve hot and garnish with chopped green onions for extra flavor.
Indulge in a homemade Ham and Broccoli Quiche that's just as good as anything from a gourmet restaurant! This easy recipe features creamy and flavorful diced ham, crisp-tender broccoli florets, and shredded cheddar cheese, all nestled in a buttery pie crust. Whisk eggs and cream to make the perfect custardy filling for this dish. Simply prebake the crust and bake the quiche for a total of 45-55 minutes. You can opt for a more decadent version by using heavy cream.