If you're looking to switch up your protein game, alligator meat may be just the thing. This versatile meat can be used in a variety of dishes, from hearty stews to zesty appetizers.
We've compiled a list of 20 alligator recipes to inspire your next culinary adventure, including grilled Cajun alligator bites, alligator sausage sliders, and even alligator gumbo. Get ready to spice up your meals with these unique and flavorful recipes!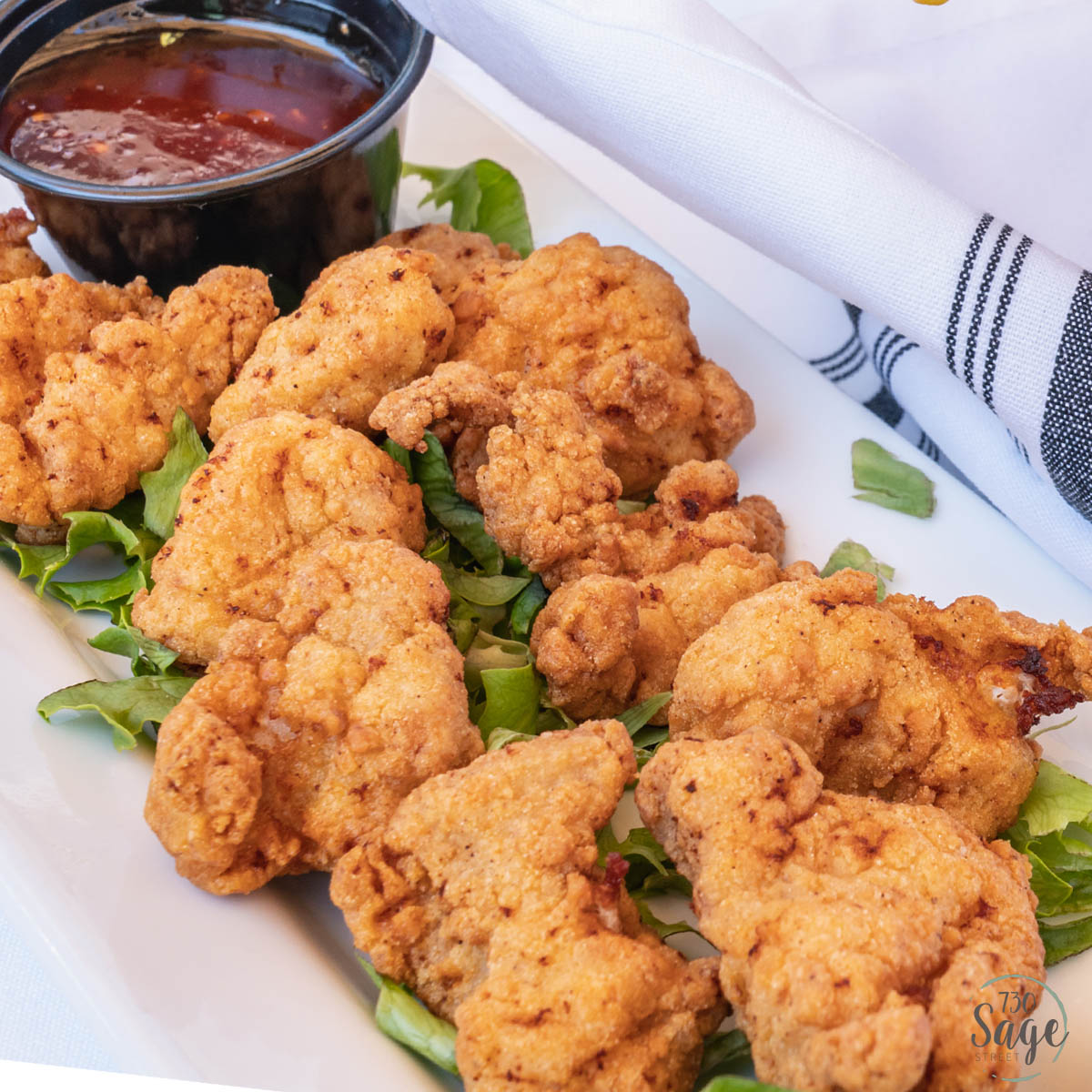 What Does Alligator Meat Taste Like?
Alligator meat is often compared to chicken or fish, with a slightly chewy texture and a flavor that is somewhere between chicken and rabbit. It has a mild, slightly gamey taste that is often described as being similar to frog legs or turtle meat.
The flavor of alligator meat can vary depending on how it is prepared, with some dishes having a more pronounced spicy or smoky flavor.
What Is The Best Way To Cook An Alligator?
When it comes to cooking alligator meat, there are several methods that can be used. Grilling, sautéing, and frying are all popular cooking methods, and alligator meat can also be used in stews, gumbo, and other traditional Cajun and Creole dishes.
Regardless of the method used, it's important to properly marinate the meat beforehand to tenderize it and remove any gaminess.
20 Alligator Recipes
Here is a list of tasty 20 Alligator Recipes you need to try:
Enjoy the perfect combination of crispy and tender with these Fried Alligator Bites. Made with flavorful alligator meat marinated in buttermilk and Louisiana hot sauce, these bites are then coated in a blend of flour and Cajun seasoning and fried until golden brown. Served with a classic Cajun remoulade sauce or a creamy ranch dip, these alligator bites make a delicious appetizer that will be sure to impress your guests.
Savor the taste of the bayou with this Cajun-style Fried Alligator recipe, featuring crispy bites of alligator meat marinated in a tangy blend of buttermilk and Louisiana hot sauce. Dredged in a flavorful mixture of Cajun seasoning-infused flour, these alligator bites are then air-fried to perfection, resulting in a dish that's crispy on the outside and soft on the inside, perfect for dipping in your favorite sauce.
This recipe serves 6-7 and takes just two hours to make, including marination time. Try it out as a fun and unique party appetizer, or as a delicious snack for game day.
Transport your taste buds to the southern United States with this delicious and hearty Alligator and Okra Gumbo recipe. Made with thin strips of alligator meat cooked low and slow in a flavorful mixture of butter, green onions, garlic, peppers, and celery, this gumbo is then simmered with tender okra and stewed tomatoes until all the flavors meld together into a deliciously comforting dish.
Served over rice with hot buttered cornbread on the side, this recipe is perfect for a family dinner or a cozy night in.
Experience the bold flavors of the bayou with this delicious Louisiana Alligator Creole Stew recipe. Made with 4 pounds of tender alligator meat cut into one-inch cubes, this stew is simmered in a flavorful mixture of garlic, onions, green bell peppers, and celery, then seasoned with a blend of herbs, spices, and sauces, including original TABASCO® brand pepper sauce and Worcestershire.
Topped with butter and green onions and served with sliced, toasted French bread, this dish is perfect for a hearty dinner or for impressing guests at a special occasion.
Crunch into a taste of the south with these delicious Gator Nuggets, a Southern-style fried alligator recipe that's perfect for a snack or appetizer. Made with tender chunks of alligator meat dredged in a seasoned flour mixture, then dipped in a mixture of beaten egg, buttermilk, and water, these nuggets are fried until golden brown and crispy.
Seasoned with a blend of Creole spices, black pepper, and onion powder, and served with your favorite dipping sauce, these Gator Nuggets are sure to be a hit at your next party or get-together.
Get ready for a taste of the bayou with this delicious Blackened Alligator recipe, featuring tender pieces of alligator tail meat coated in a savory blend of Jay's Blackening Mix. Cooked in a sizzling hot cast-iron skillet with a drizzle of canola oil, the alligator is seared to perfection, with a slightly charred, crispy exterior that gives way to juicy, flavorful meat.
Serve it up hot with a creamy white rémoulade sauce on the side for the ultimate southern-style meal. This recipe makes about 8 servings and takes only 10-15 minutes to prepare, perfect for a quick and tasty weeknight dinner.
Impress your guests with a flavorful and hearty Louisiana-style Alligator Sauce Piquant. Made with tender alligator meat, diced tomatoes, and a combination of aromatic vegetables and seasonings, this recipe results in a rich and bold sauce that pairs perfectly with hot cooked rice. A dark brown roux serves as the base for this savory sauce, which is simmered for hours to ensure the flavors meld together perfectly.
This recipe is also versatile, as you can easily swap the alligator meat for chicken or catfish, depending on your preferences. Perfect for a family gathering or a special occasion, this Alligator Sauce Piquant recipe is sure to be a hit.
This alligator chili recipe is perfect for those looking to switch up their usual chili routine. Made with ground alligator meat, this chili boasts a unique flavor that pairs perfectly with its blend of spices, including chili powder, cumin, cinnamon, smoked paprika, and more.
The addition of crushed tomatoes, tomato-vegetable juice cocktail, black beans, and kidney beans provides a delicious and hearty base for the dish. The chili is then simmered for a few hours to let the flavors meld together, resulting in a rich and savory meal. Top with hot sauce for an extra kick.
This Savoury Alligator Pie recipe puts a unique spin on a classic Canadian dish. Tender alligator meat is paired with pork loin, mixed with vegetables, and seasoned with sage, thyme, and cayenne powder, creating a savory and flavorful filling. The filling is then thickened with a cornstarch slurry and baked in a deep-dish pie crust until golden brown.
For added visual appeal, cut thin strips of aluminum foil and wrap them over the outer edge of the crust before baking. Serve this savory pie hot with a side salad for a delightful and memorable meal.
This recipe for Smoked Alligator Ribs will make you the star of your next barbecue. Marinate the alligator ribs overnight in a mixture of buttermilk, hot sauce, and Cajun dry rub, then smoke them low and slow for around 2.5 hours until they are fall-off-the-bone tender. The Cajun dry rub adds a depth of flavor to the alligator meat, while the yellow mustard tenderizes it and helps the rub to stick.
If you want to add a little sweetness, brush the ribs with your favorite barbecue sauce during the final minutes of smoking.
This Alligator Tail Meat Po'Boy is a delicious take on the classic sandwich. Cubed alligator tail meat is poached in butter and lemon zest, making it tender and juicy. The meat is then mixed with diced celery, parsley, chives, blackening seasoning, and mayonnaise, and served in a sweet Hawaiian roll hot dog bun. Garnish with chives, parsley, and a squeeze of lemon, and enjoy this unique Southern delicacy. This recipe serves 6, making it perfect for a small gathering or family dinner.
These Mardi Gras Gator Meat Balls are a delicious twist on classic meatballs, perfect for those who have easy access to alligator meat. Start by boiling diced potatoes until tender. Grind alligator meat, onions, green onions, parsley, celery, and potatoes and mix in eggs, savory, salt, and pepper. Shape the mixture into golf ball-sized balls, then coat with cracker meal.
Deep fry in hot oil until golden and crispy, then drain on paper towels. These meatballs are great as an appetizer or served with a salad as a main course.
This recipe makes Spicy Gator Croquettes with a side of Spicy Lemon Dill Aioli. Ground alligator meat is mixed with egg, Dijon mustard, scallions, garlic, Garlic Butter, red pepper, baking powder, and flour before forming into 3-inch ovals and sautéing until golden brown.
The Garlic Butter is made with whipped butter, garlic, shallots, granulated garlic, white wine, lemon juice, and curly parsley. The Spicy Lemon Dill Aioli is made by mixing together mayonnaise, fresh dill, white pepper, cayenne, and lemon juice.
These Alligator Sausage Sliders with Roasted Red Pepper Remoulade are the perfect twist on a classic dish. Made with alligator sausage, these mini burgers are cooked to perfection and served on a toasted bun. The roasted red pepper remoulade adds a tangy and spicy kick to the dish, while the pickled cucumbers provide a refreshing crunch. This recipe is easy to make and perfect for a summer barbecue or an adventurous dinner.
This sweet and savory alligator recipe is a tasty treat for adventurous eaters. Cubed alligator tail meat is coated in an egg and flour mixture, then deep fried until golden brown. The meat is then combined with bell pepper, celery, onion, pineapple chunks, and a flavorful sauce made from tomato sauce, pineapple juice, brown sugar, cornstarch, vinegar, corn syrup, garlic salt, and pepper. Serve this dish over hot cooked rice for a hearty meal.
This Whole Smoked Gator recipe from BBQ expert Malcom Reed is perfect for impressing guests at your next barbecue. After brining the 30lb whole alligator for 24 hours, season with Malcom's King Craw Cajun Seasoning and Killer Hogs Hot Rub. Stuff the tail cavity with the boudin cream cheese mixture, and prop the gator's jaws open with a block of wood.
Smoke the gator at 275 degrees with pecan wood for smoke flavor until the internal temperature reaches 165 degrees. Glaze the outside with a mixture of Killer Hogs BBQ Sauce and Vinegar Sauce, and then use a propane torch to caramelize the outside (if experienced). Serve with garnishes like steamed shrimp, corn on the cob, potatoes, and smoked sausage.
This recipe uses the Anova Sous Vide Precision Cooker to prepare tender alligator filets, which are then combined with walnuts, apples, celery, and scallions in a flavorful curry-mustard dressing. The alligator is seasoned with salt, pepper, and garlic and cooked in olive oil. The dressing is made with mayonnaise, Dijon mustard, curry powder, lemon zest and juice, and cumin.
The salad is topped with toasted walnuts for a satisfying crunch. Impress your guests with this delicious salad that is sure to be a conversation starter!
This crispy alligator nuggets recipe is perfect for game day, an appetizer, or a unique addition to your dinner menu. The alligator meat is first marinated in vinegar, salt, and pepper to tenderize and enhance the flavor. It's then coated with a flavorful mixture of flour, cornmeal, garlic powder, cayenne pepper, and black pepper before being fried until golden brown. For a zesty dipping sauce, mix together mayonnaise, horseradish, brown mustard, and red wine vinegar.
This recipe for Avocado and Apple Salad with Raisins is a perfect side dish or light lunch. The combination of creamy avocado, sweet apple, and plump raisins creates a unique flavor and texture profile. Drizzled with honey and sprinkled with hulled sunflower seeds, this salad is both nutritious and delicious. It is quick and easy to make and is perfect for those busy days when you need a healthy meal in a hurry.
Try these grilled Cajun alligator bites, made with perfectly cooked pieces of alligator sirloin coated in zesty Cajun seasoning! If you've never tried gator before, this recipe is a great way to try something new, and it's sure to impress your friends. Simply toss the alligator pieces with olive oil and seasoning, then skewer and grill until golden-brown and cooked through. Serve hot and enjoy the bold and flavorful taste of Cajun seasoning with every bite!
Frequently Asked Questions About Alligator Meat
Why Do You Soak Alligator Meat In Milk?
Soaking alligator meat in milk is a popular method to help tenderize the meat and remove any gamey taste. The lactic acid in the milk helps to break down the meat fibers, making it more tender and easier to cook. Additionally, soaking the meat in milk can help to remove any impurities or excess blood from the meat, which can further reduce any gaminess.
Where Can I Buy Alligator Meat?
Alligator meat can be found at specialty meat markets, some grocery stores, and online retailers. It is also available at many restaurants that serve Cajun and Creole cuisine.
How Do I Know If Alligator Meat Is Fresh?
Fresh alligator meat should be firm to the touch and have a mild, slightly gamey smell. It should not have a strong, unpleasant odor or feel slimy to the touch.