These 21 Day Fix Recipes - 21 Day Fix Slow Cooker Recipes with Container Counts will help you meal plan quickly and easily.
If you are a part of the 21 Day Fix program by Autumn Calabrese, you might be looking for more dishes to add to your menu and I have scoured the internet and found you some delicious and palate pleasing 21 Day Fix Slow Cooker recipes for you to try out.
All of these recipes are 21 Day Fix approved, which is awesome. You will have a variety of options, which is always a plus. I am a person that likes to have a variety of dishes that we rotate for lunches and dinners. It is hard to eat the same three things over and over again.
And when you are following this 21 Day chicken recipe program, having the container counts on 21 Day Fix recipes makes it so much easier to work into your meal planning.
21 Day Fix Recipes
What is so awesome about using a slow cooker, is you toss the ingredients in, first thing in the morning, set it to cook and leave. When you arrive home from a busy day at work, the house smells amazing and supper is ready.
Create a quick and easy side dish to pair with your main course and supper is served. It's also a great way to get kids involved in cooking because you assemble ingredients when the pot is cold so you don't have to worry about them burning themselves.
Plus I love using my slow cooker in the summer months, to help the house stay cooler, instead of having to run the oven as much.
I created a list of 21 Day Fix recipes that use pork, chicken, beef and more. So you can skim through and find a recipe that will fit you and your cravings perfectly. Click through to get the details for each recipe, but I did include the portion control container count to help you make an informed decision about which recipes as a good fit for you.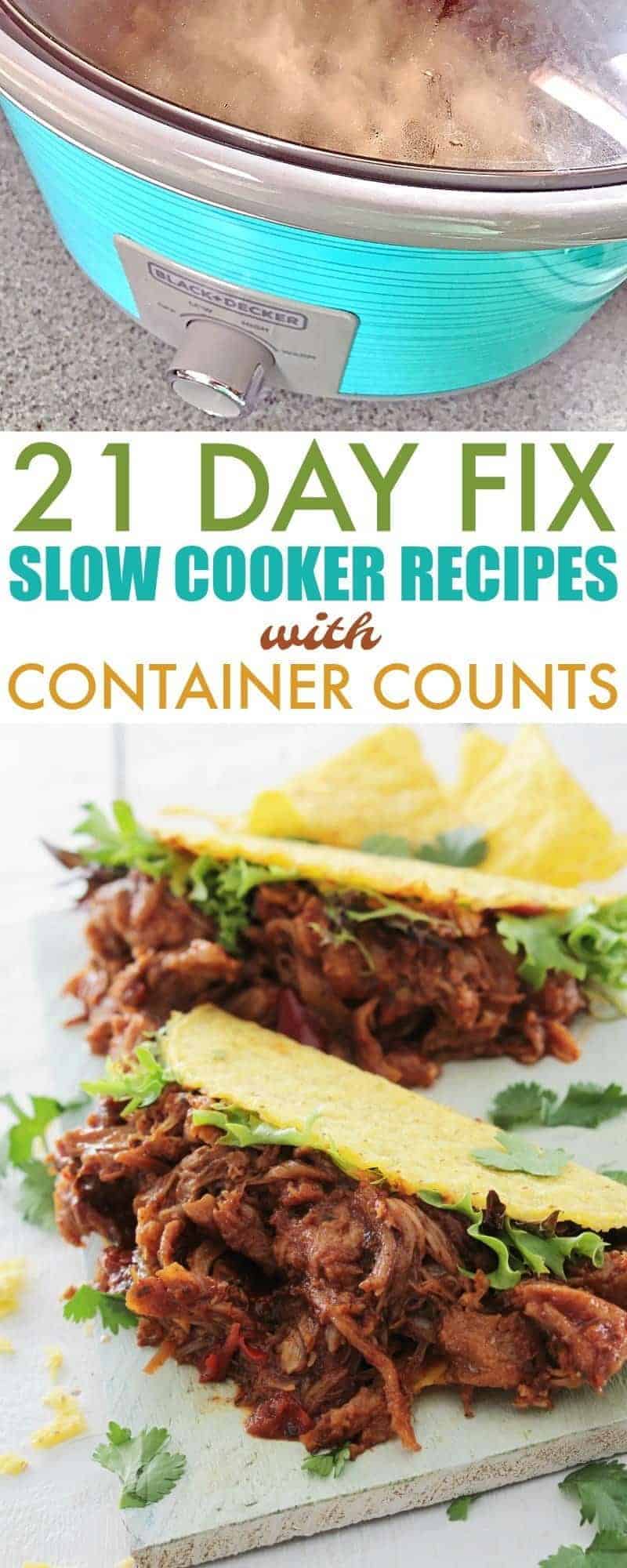 Measurements for Containers
Before I get to the list of 21 Day Fix slow cooker recipes, if you are wondering what the measurements for the containers are, I have posted them below for a quick, easy to follow guide as you are looking through all these recipes. This might help give you an idea if this dish is something you might want to try out or not.
If you don't have the containers, now you know the regular measurements, or you can pick up some 21 Day Fix containers on Amazon without getting the entire program. If you don't yet have the program, you can purchase it from Amazon or Beachbody programs. I like using Amazon because I'm super spoiled by how fast they ship things.
Green Container (vegetables) = 1 cup
Purple Container (fruit) = 1 cup
Red Container (protein) = ¾ cup
Yellow Container (starches and carbohydrates) = ½ cup
Blue Container (healthy fats) = ⅓ cup
Orange Container (seeds, dressing, oils) = 2 T
21 Day Fix Slow Cooker Recipes
Pork
Pork roasts are often very affordable and they turn out amazing in the slow cooker. And they are so versatile! You can make so many different things with pork roasts. Some delicious examples of pork recipes are below.
Pork Carnitas - 2 red and 1 green. 2 small corn tortillas count as 1 yellow container.
Pulled Pork with Maple BBQ Sauce – 1 red
Pineapple Pork 21 Day Fix Approved – 1 red, .25 green, .25 purple, 1 yellow
Slow Cooker Ranch Pork Tenderloin – 1.25 red
Salsa Verde Pork - ½ green and 1 red.
Pork Tostadas - 1 red, 1 blue, and 2 tablespoons of sauce
Chicken
Chicken is the most affordable meat you can get and there are so many great slow cooker ideas that can transform basic chicken into something so delicious! Below are 8 slow cooker recipes with chicken as the main ingredient.
Spice Rubbed Chicken – 1 red
Creamy Mexican Chicken -1 red, 1 green, ½ purple, and 1 yellow.
Chicken Fajitas – 1 red, 1 green
Salsa Lime Chicken – 1 red, .5 green
Slow Cooker Maple Mustard Chicken and Potatoes – 1 red, 1 yellow, 2 tsp
Chicken Tortilla Soup – .5 red, .5 green, .5 yellow
Apple Chicken with Sweet Potatoes – 1 red, 1 yellow
Lime Chili Chicken - 1 red, 1 teaspoon
Containers aside, check some of our quick and easy dinner recipes!
Beef
Beef can be more expensive but the beauty behind a slow cooker is that you can buy a less expensive cut and the slow cooking will make it more tender than you could ever believe it could be. And tender beef is like the Holy Grail. Everyone strives to achieve it but not everyone can. Below are a few 21 Day Fix slow cooker recipes using beef.
Stuffed Pepper Soup - 1 red, 1 green, .5 yellow
Meatloaf - 1 red, ½ a yellow, ½ a blue, and a smidge of a purple -- for the tomato sauce.
Slow Cooker Steak Fajitas - 1 Red, 1 Green
Turkey
Too often, turkey is overlooked except during the holidays, but you can add some great variety to your meals by adding it into your weekly meals all year long.
Turkey Chili – 1 green, .5 red, 1 yellow
Crock pot Turkey Chili – 1 green, .5 red, 1 yellow
Spaghetti Squash – .5 red, 2 green, .5 blue
Quinoa Taco Casserole – 1 red, .75 green, .5 blue, 1 yellow
Turkey Breast with Two Sauces – 1 red, .25 tsp
Rustic Turkey and Vegetable Soup - 2 Green, 1 Red, ½ Blue
Healthy Chili Mac - 1 yellow, 1 red, 1 green
Zuppa Toscana Soup - ½ yellow, ½ red, ½ green
If you like lamb recipes you should try my easy slow cooker lamb shoulder recipe.