Zucchini and Parmesan are a match made in heaven, and these 15 recipes showcase the best of this dynamic duo.
From savory bites to satisfying mains, these dishes offer a delicious way to incorporate more veggies into your diet.
So get ready to indulge in the cheesy goodness of these zucchini recipes with Parmesan.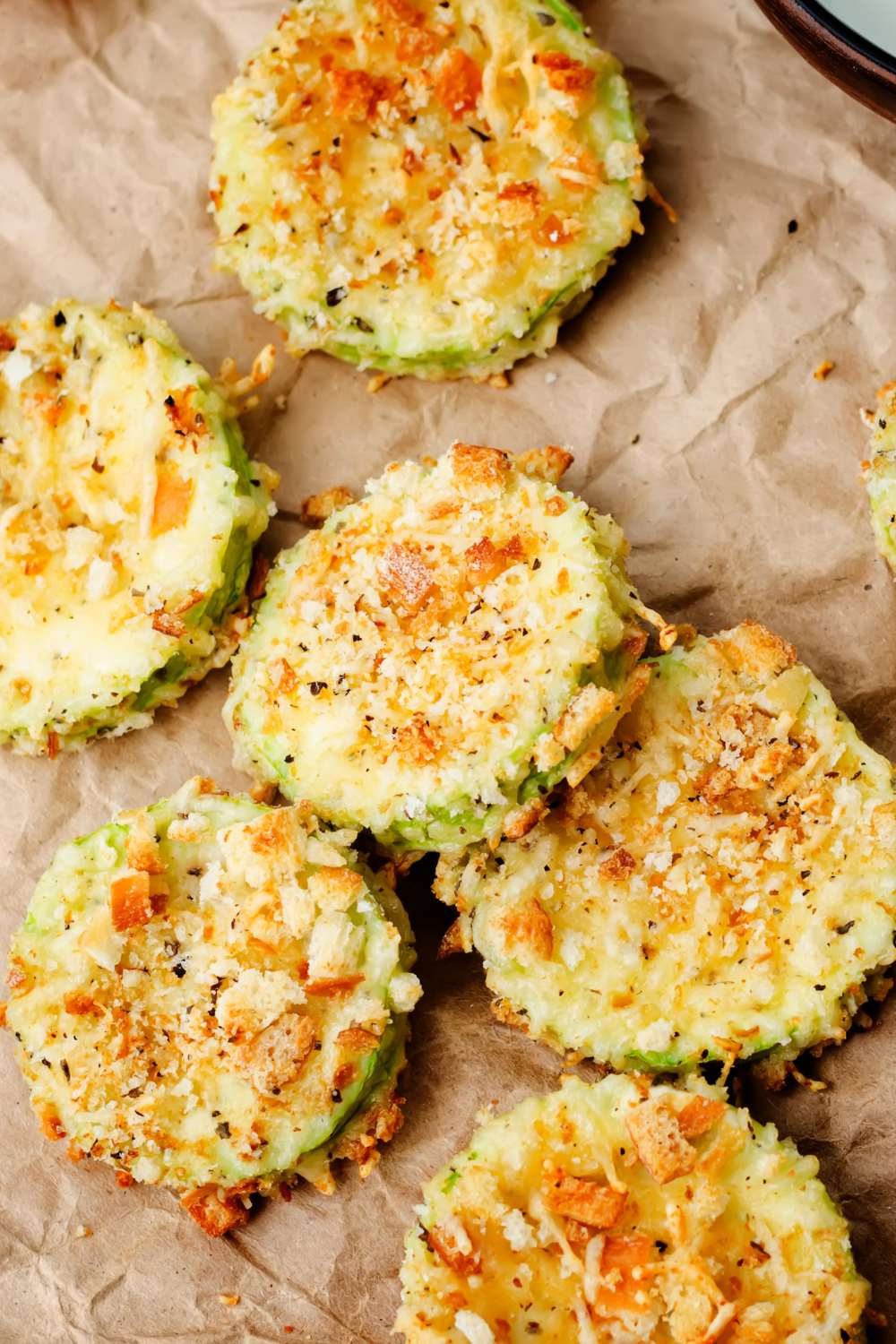 How Do I Choose The Best Zucchini For These Recipes?
When choosing zucchini for recipes, look for ones that are firm, free of blemishes, and have shiny skin. Here are six varieties to consider:
Black Beauty: A common variety with dark green skin and a cylindrical shape. Ideal for grilling or roasting due to its meaty texture.
Yellow Crookneck: A curved variety with bright yellow skin. Great for sautéing or frying, but can be watery if not cooked correctly.
Greyzini: A hybrid variety with a greyish-green skin and a mild flavor. Perfect for adding to pasta dishes or roasting.
Zephyr: A striped variety with a buttery texture and a slightly sweet flavor. Delicious when grilled or sautéed.
Costata Romanesca: A ribbed variety with a nutty flavor and a firm texture. Best when sliced thinly and used in salads or raw dishes.
Eight Ball: A round, ball-shaped variety with a nutty flavor and a tender texture. Great for stuffing or slicing and grilling.
What Other Cheese Can I Use With Zucchini Parmesan?
There are a variety of cheeses that pair well with zucchini Parmesan. Mozzarella, fontina, and goat cheese are some popular options that can be used instead of Parmesan or in addition to it.
Mozzarella's mild flavor and stringy texture are perfect for topping off a baked zucchini Parmesan dish, while fontina's nutty flavor and semi-soft texture blend well with the zucchini. Goat cheese, with its tangy flavor, pairs well with the savory taste of zucchini Parmesan and adds a creamy texture to the dish.
15 Zucchini Recipes With Parmesan
Here are 15 recipes that make the most of summer's bounty by highlighting the many uses of the versatile zucchini vegetable and the cheesy, parmesan flavor it brings to any dish:
Juicy chicken meatballs meet the rich flavors of zucchini and Parmesan in this flavorful dish that's perfect for any weeknight dinner. Baked to crispy perfection, these meatballs are accompanied by a delicious lemon pasta carbonara that's creamy and tangy.
The lemon slices and capers create a burst of bright flavor that complements the earthy tones of fresh basil and garlic in the carbonara sauce. The breadcrumbs provide a crunchy texture to the dish that's sure to delight your senses. Drizzled with olive oil and seasoned to perfection, this dish is a must-try for all pasta lovers.
The traditional side dish gets a crazy update in the form of these Parmesan zucchini fries. Before being cooked until they reach the ideal level of crispiness, the zucchinis are first sliced very thinly and then coated in a combination of crunchy panko crumbs and grated Parmesan cheese.
These french fries are excellent as a snack or as a side dish, especially when they are seasoned with a little bit of salt and pepper and served with a side of creamy ranch dressing for dipping. Ideal for those individuals who are seeking a creative and appetizing method to include some vegetables in their dinner.
Grilled Parmesan Zucchini Strips are about to change the way you feel about zucchini forever. Grilled zucchini that has been cut into thin strips and seasoned with olive oil, kosher salt, pepper, and parmesan cheese. Parmesan cheese's sharp taste goes well with the sweetness of fresh zucchini.
They'd be great as a snack, a side, or even a main course. These zucchinis are delicious on their own or with a dollop of ranch on the side, and they require no effort to make. Get the grill going and enjoy these delicious and nutritious zucchini strips.
Indulge in some crispy, flavorful Zucchini Parmesan that you won't soon forget. To start, slice some fresh zucchini and set them aside to drain. Coat them in a mixture of breadcrumbs, flour, Parmesan cheese, kosher salt, and black pepper, and then dip them in foamy egg whites.
Layer them with marinara sauce and mozzarella cheese once you've fried them to perfection and layered them in a casserole dish. Melt the cheese and let it brown in the oven. Serving with Cheesy Garlic Bread, this dish is appropriate for any event.
Get ready to fall in love with a healthy and tasty side dish that will leave your taste buds tingling! This Garlic Parmesan Roasted Zucchini is a savory delight that's perfect for any mealtime. The crispy and golden zucchinis are coated with melted butter, fresh garlic, paprika, and a blend of parmesan cheese and spices.
The result is a flavor explosion that's impossible to resist! The dish is so simple to make, and the aroma from the oven will have your mouth watering in no time. Don't forget to sprinkle with fresh parsley before serving!
Looking for a low-carb dinner option that's both delicious and filling? Look no further than these savory Parmesan zucchini boats! Perfect for a cozy night in, these boats are stuffed with a creamy mixture of spinach, bacon, and Parmesan cheese, all nestled inside tender zucchini halves.
The cheesy topping makes for a crispy, golden-brown finish, adding an extra layer of flavor to this satisfying meal. Serve with a side salad for a balanced and tasty dinner that will have you feeling satisfied and nourished.
A rainbow of green zucchini slices, glistening with a golden parmesan crust, waiting to be devoured. The warm, comforting aroma of garlic powder and paprika fills the air, making your mouth water in anticipation.
This crispy, crunchy zucchini chips are the perfect snack for when you want something healthy and satisfying. Pop one in your mouth and savor the explosion of flavor - salty, savory, and just a little bit spicy. Who needs potato chips when you can have these delicious baked zucchini chips?
Garlic Parmesan Zucchini Noodles is like a flavor explosion in your mouth! The zoodles are spiralized to perfection and cooked in a butter and olive oil mixture with just the right amount of garlic, black pepper, and crushed red pepper flakes. The result is a dish that's both savory and slightly spicy.
Topped with a generous amount of grated Parmesan cheese, these zucchini noodles are the perfect low-carb alternative to traditional pasta. This dish is quick and easy to make and is sure to impress even the most discerning palates.
These zucchini bites are a delightful way to get your daily dose of veggies in a fun and flavorful way. The combination of shredded zucchini, diced onion, and a blend of spices makes for a savory and satisfying snack or side dish.
The addition of cheddar and Parmesan cheese gives them a cheesy and indulgent flavor that is sure to please. And because they're baked instead of fried, they're a healthier alternative to traditional appetizers. Perfect for a party or a quick and easy dinner, these baked Parmesan zucchini bites are sure to become a new favorite!
This soup is like a warm and comforting hug on a chilly day. It's the kind of soup that you want to curl up with on the couch and savor every spoonful. The creamy texture and savory flavor of the parmesan cheese will make your taste buds dance with joy.
And with the addition of the "Everything" seasoning, it's like a party in your mouth with every bite. But don't worry, this soup is so healthy with all those zucchinis and cannellini beans that you can indulge without any guilt. So go ahead and slurp away, my friend. This soup is ready to give you all the cozy feels.
Panko Parmesan Zucchini Fritters are the perfect food to accompany you on your journey to self-discovery! With their crispy exterior and soft, savory interior, these fritters will provide the perfect fuel for your adventures.
Imagine taking a bite of one of these fritters and feeling the burst of flavor from the Parmesan cheese and the kick of the garlic powder, all while basking in the warm glow of the summer sun. You'll feel like you're on top of the world, ready to conquer any challenge that comes your way. So go ahead and take a bite of these fritters, and let the journey begin!
Behold, the perfect union of creamy and crispy! Fresh zucchini slices rest on a bed of garlicky, cheesy goodness, and are topped with even more cheese to create a melty, irresistible dish that will have your taste buds dancing with joy.
Don't skip the crucial step of sweating out the zucchini - it's what ensures a tender, not watery, final product. This easy and comforting zucchini au gratin is a crowd-pleaser that will make you want to lick the plate clean.
Roll up your sleeves and get ready to experience a delicious and creative take on chicken alfredo with these zucchini roll-ups. Each slice of zucchini is filled with juicy shredded chicken and covered with a creamy Alfredo sauce.
Sprinkled with a combination of melted mozzarella and shaved parmesan cheese, the flavors of each ingredient blend together in perfect harmony. Baked to golden perfection, the zucchini noodles are soft and tender, offering a texture that complements the rich and savory filling. Top off this incredible dish with a sprinkle of parsley and enjoy!
Satisfy your craving for a crispy and flavorful snack with these Crispy Lemon Parmesan Zucchini Chips with Basil Aioli. Coated in a mixture of panko breadcrumbs, grated Parmesan cheese, and zesty lemon zest, these zucchini slices are lightly fried until golden brown and crunchy.
For a healthier option, you can bake them in the oven instead. Serve them with a homemade basil aioli made from pureed mayonnaise and fresh basil for a tasty and refreshing dip that perfectly complements the flavors of the chips.
Try these Parmesan zucchini tots if you're in the mood for a novel and nutritious snack. These tots are crunchy on the exterior and tender on the inside because they are made with shredded zucchini, Panko breadcrumbs, and Parmesan cheese.
A hint of herbaceousness is contributed by the dry Italian seasoning. These tots, which are baked till golden brown, are a delicious treat any time of day. Plus, they're a breeze to whip up! A delightful and filling snack, especially when served warm with a dipping sauce of your choice.