Zubie
. All opinions are 100% mine.
When it comes to vehicle ownership, I have been fairly luckily in my life. I have never been stranded somewhere because my car wouldn't start. I have never had to pull off the side of the road to have it towed. In fact, it seems like any time there is a problem, such as a dead battery or any other issue requiring service, it happens right in my driveway.
Which is great because I have a husband who then takes over making sure it gets fixed. Not to mention the bonus of not being stranded anywhere in extreme weather. And with our recent rash of negative temperatures and frequent snow, I am very thankful I haven't been on the road when trouble starts.
But past luck certainly cannot predict future results and because I have often have precious cargo with me – my kids, when something offers peace of mind when it comes to my vehicle, I am intrigued.
Back in December, I introduced you to Zubie. Zubie is a new service that connects to your vehicle in the form of a small "key" that plugs into your vehicle's diagnostic port. This key then connects wirelessly to the Zubie Cloud to provide vehicle diagnostics, trip tracking and GPS location via the Zubie app.
Zubie Key
The Zubie Key is the communication between the vehicle and the app. It connects to your vehicle in the diagnostic port and reports GPS location and information to your phone.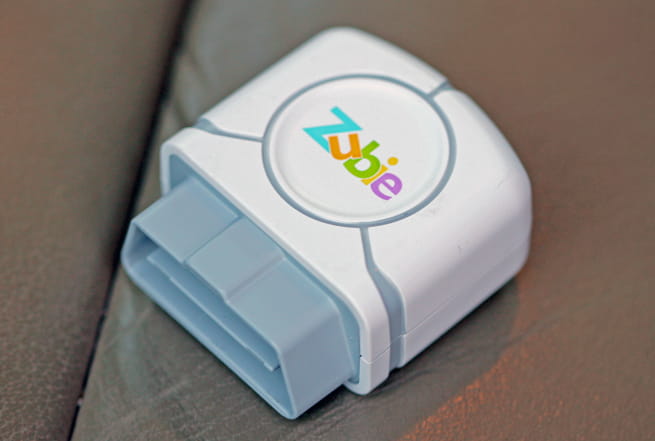 The Zubie Key was super easy to install. After you download the app, you need to pair your Zubie Key with it which is as easy as typing in the serial number of your Zubie Key or scan the barcode with your phone to pair them. Then you plug the Zubie Key into your vehicle and away you go! You do need to drive your vehicle within the first day in order to complete activation, but once you make that first trip, the key begins working and everything syncs real-time with the app for GPS locations.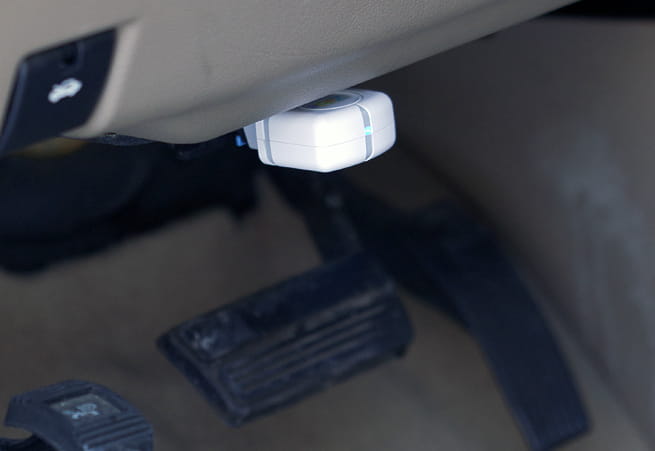 Zubie App
The Zubie app is free to download. It is communication central and reads the key wirelessly through the cloud – no bluetooth required. You can create an account with your email address or connect to the Zubie app with Facebook. As I mentioned, you pair the Zubie Key with the app by manually typing in the Zubie serial number off the unit or by scanning in the barcode into the app. The app is designed to accommodate a single Zubie Key or multiple keys under the same account. This allows you to keep track of your entire family in a single place provided each vehicle has a Zubie Key installed.
With the Zubie app there are two main features, both of which can prove to be invaluable.
Tracking vehicle location
Diagnosing vehicle problems
Tracking vehicle location
The Zubie App can tell you exactly where your vehicle is at any given time, plus it records exactly where your vehicle has been. If you have a teen driver, this can be a great way to make sure they are safe.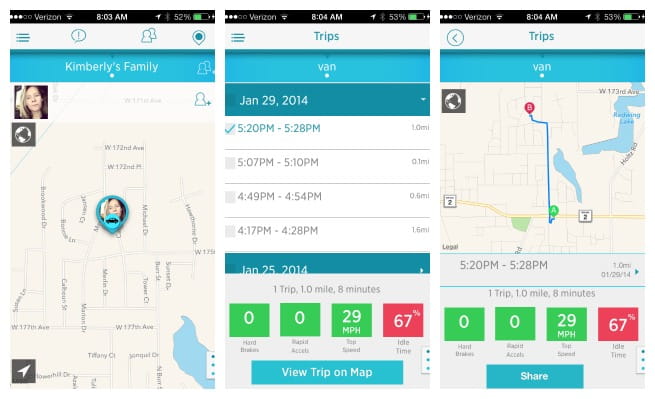 Diagnosing vehicle problems
The Zubie App also identifies potential problems with your vehicle from both the engine and the battery.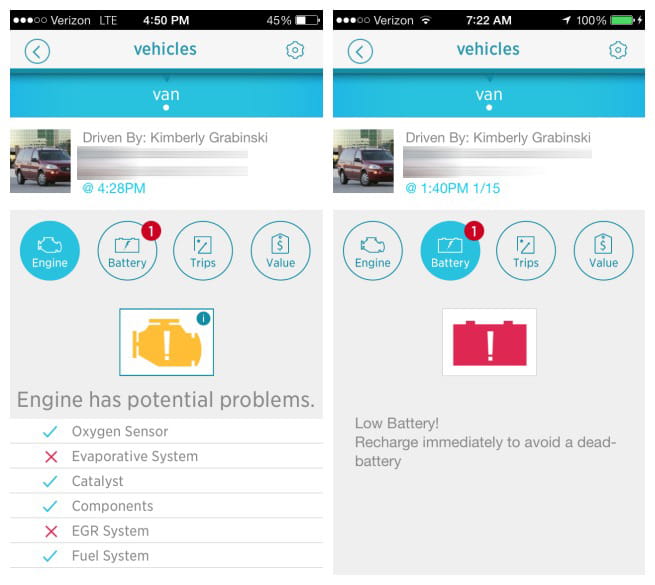 Zubie and me
As you can see from the graphic above, Zubie was reporting some potential issues with my van. I have a 2006 Buick Terraza with remote start and GM's built-in security system. From what we can tell, Zubie was not actually behaving properly with my vehicle and at times was somehow causing the battery to drain which meant my van would not start. Removing the Zubie Key would eliminate this problem. We had the vehicle serviced and they could not find anything wrong with it.
I reached out to Zubie customer service and they worked diligently to try and solve the problem. First I would like to note that their response time is incredible. Each time they responded via email within an hour of my trouble ticket which I thought was very impressive. They worked with me to diagnose the problem which included an over-the-air software update.
Unfortunately the problem persisted but Zubie is committed to finding out why my van seems to have a problem with Zubie. They sent me a postage paid shipping label and have asked me to send the unit back. Had I been a paying customer (and not reviewing the unit as part of a blogger campaign) they would offered to refund my money or send a replacement. I honestly felt they were dedicated to ensuring my satisfaction, in fact, the customer support was not aware that I was reviewing the unit at first so I actually experienced their great CS as a consumer would.
I really love the idea and functionality of Zubie and think it is a brilliant idea. Their customer service makes me completely comfortable recommending the product and the service and I'm actually disappointed that it didn't work with my van. They are sending me a replacement unit to try, and they are going to troubleshoot my return unit so there is still hope! They have assured me that most vehicles shouldn't have any issues.
In the meantime, with Valentine's Day right around the corner, and a 20% off sale, now is the perfect time for you to check out Zubie.
Save 20% on Zubie
Have a Zubie New Year! Order today and SAVE 20% using the code SAVE20FEB  and save 20% on one year of Zubie always-connected car service and a free Zubie Key. Offer good through March 31, 2014. Shipping charges apply. A great way to use your Best Buy and Amazon holiday gift cards!
For more information about Zubie make sure you follow them on Twitter and check them out on Facebook.
Join our newsletter!
Subscribe to get updates and great stuff via email including subscriber-only goodies like free printables and giveaways.

This is a Sponsored post written by me on behalf of