Have you been wondering which essential oil company to choose, Young Living vs doTERRA?
Note: if you aren't convinced that you want to commit to a direct sales company, scroll down to the bottom of this post. I have found a quality alternative that I am comfortable recommending. While I still use and trust both of the direct sales oil companies, I realize that not everyone can and wants to make a commitment like that. There are other oil companies out there, just do your homework. Don't forget to scroll down for my recommendation!
A couple of years ago I was introduced to essential oils through an amazing lady who was also a doTERRA rep. She gave me some samples and encouraged me to give them a try. So I did, and I was intrigued at the support and relief they provided. I continued to use doTERRA and was quite happy with the quality and the support she was able to provide me.
I was using essential oils for cleaning and wellness. I loved the idea that I could clean without chemicals, relieve minor aches and pains, support stress relief and improve mood, all while making the air smell good! I was finding that essential oils provided support for my body to do what it was designed to do.
As the years passed, I began to notice other people talking about other brands of essential oils, most notably Young Living, and so I became curious about the differences between them, I wondered, Young Living vs doTERRA?
A couple of months ago I began to really pay attention to and research Young Living and what I noticed about them immediately was how accessible their products are.  Young Living seems to go out of their way to make it easy to find their products, they provide easy to understand descriptions, and they make blends that the average person can relate to.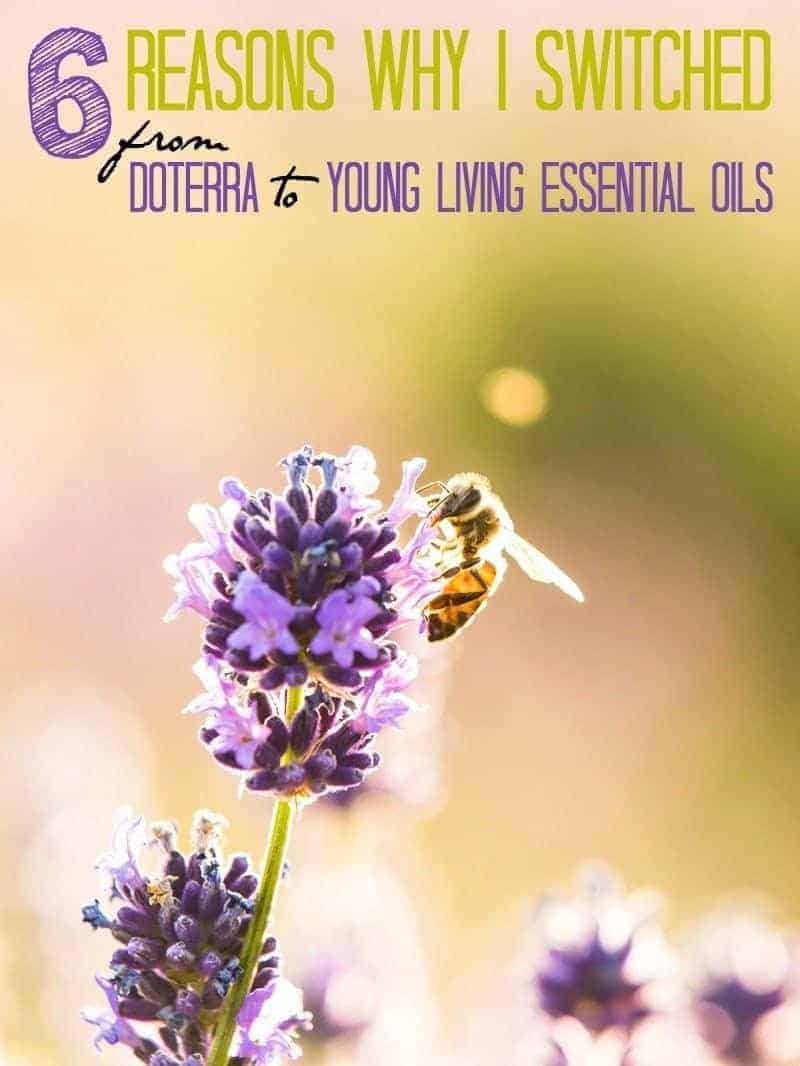 Young Living vs doTERRA – 6 Reasons Why I Switched from doTERRA to Young Living Essential Oils
1. Approachable
It's hard to completely explain, but I was drawn to Young Living because they make essential oil usage feel like something anyone can understand, which is a feeling I didn't necessarily get with doTERRA. I don't think this is how doTERRA presents itself, I think it is simply personal preference with regards to their marketing and the way they promote their products. I just relate better to the Young Living brand.
2. Accessible
One of the things I struggled with doTERRA was being able to share the products as I shared my passion for the oils. While my main motivation for joining doTERRA was to get the wholesale pricing, I also was intrigued by the idea of turning my passion into a business. But as a blogger, I wanted to share it through my blog, not through a party plan setup. doTERRA doesn't let you directly link to any of their products, making it difficult to share the products online.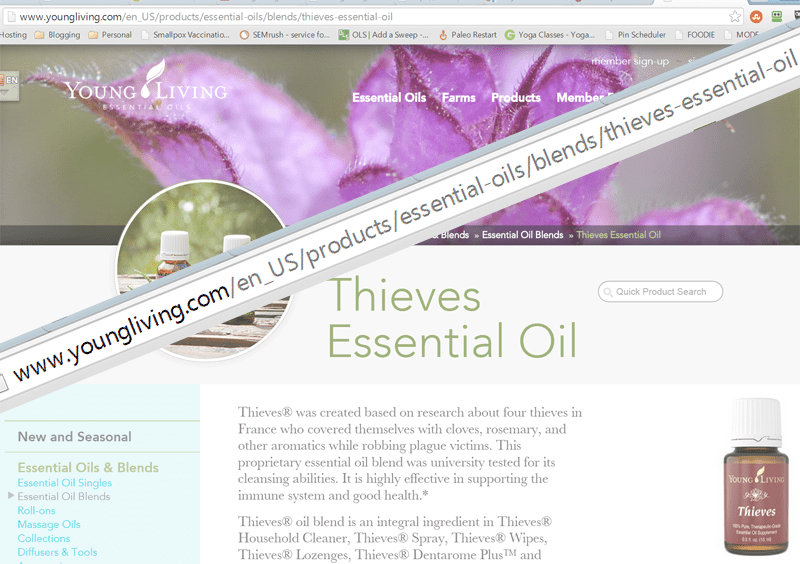 Young Living allows you to directly link to their products, but not only that, you can create custom links so that if you direct someone to the website and they choose to become a customer or wholesale member, they become YOUR customer. This allows you to offer support to them and grow your home business.
Standard link to Thieves oil: 
https://www.youngliving.com/en_US/products/essential-oils/blends/thieves-essential-oil
Affiliate style link to Thieves oil (USA):
https://www.youngliving.com/en_US/products/essential-oils/blends/thieves-essential-oil?sponsorid=2154226&enrollerid=2154226&type=customer&isocountrycode=US&isolanguagecode=EN
3. Resources
Young Living provides SO MANY resources both educational and business-oriented. You could spend days reading through the material. They have provided a library of documents to help you not only understand essential oils and how to use them but how to grow a successful business.
Young Living also provides a library of stock photos we can use in our blog posts and online marketing.
They also pride themselves on their customer support and will provide guidance and information and answer questions over the phone or on live chat.
I don't really know how this compares to doTERRA. They may have a similar setup, but I was a member for a long time and never found them – so if they do have these resources, they weren't obvious in my virtual dashboard.
4. Support
I received fantastic support from my extremely knowledgeable doTERRA sponsor. She was always willing and able to provide me with the information I needed regarding the oils themselves. But what I have found with Young Living is that my upline are bloggers and as such, they completely understand my needs as a blogger. They have paved the way for bloggers and offer advice and tips to help me be as successful as possible sharing Young Living on my blog with Facebook groups, e-courses and even graphics to use to get started.
They also do offer support for non-bloggers as well, but for me, the key was that they understood my needs and have been successful with their Young Living business through their blogs.
5. Seed to Seal Promise
Young Living is committed to purity and authenticity and they share this through their Seed to Seal program. I really, really related to this promise:
We believe that you and your family deserve products that are genuine, free of synthetic chemicals, and of unmatched purity. Seed to Seal® is both a promise to you and a reflection of our sense of global stewardship.

Through each step of our production process on both our own and partner farms, we use the most exacting standards possible to make our products, your life, and the earth better. Only one company can make the Seed to Seal promise. Only Young Living.
With my passion for natural living, this promise reassures me that Young Living actually cares about the quality of the products my family and I use.
6. Family Friendly
The family-friendly aspect of Young Living was a huge selling point for me. It kind of goes hand-in-hand with the approachable aspect but goes beyond that into the huge range of products they offer. Young Living has products for the entire family, with dedicated kids and pet products, cleaners and cooking tools and even toothpaste and shampoo.
I really feel like Young Living provides products that fit our entire lifestyle – it's the complete package.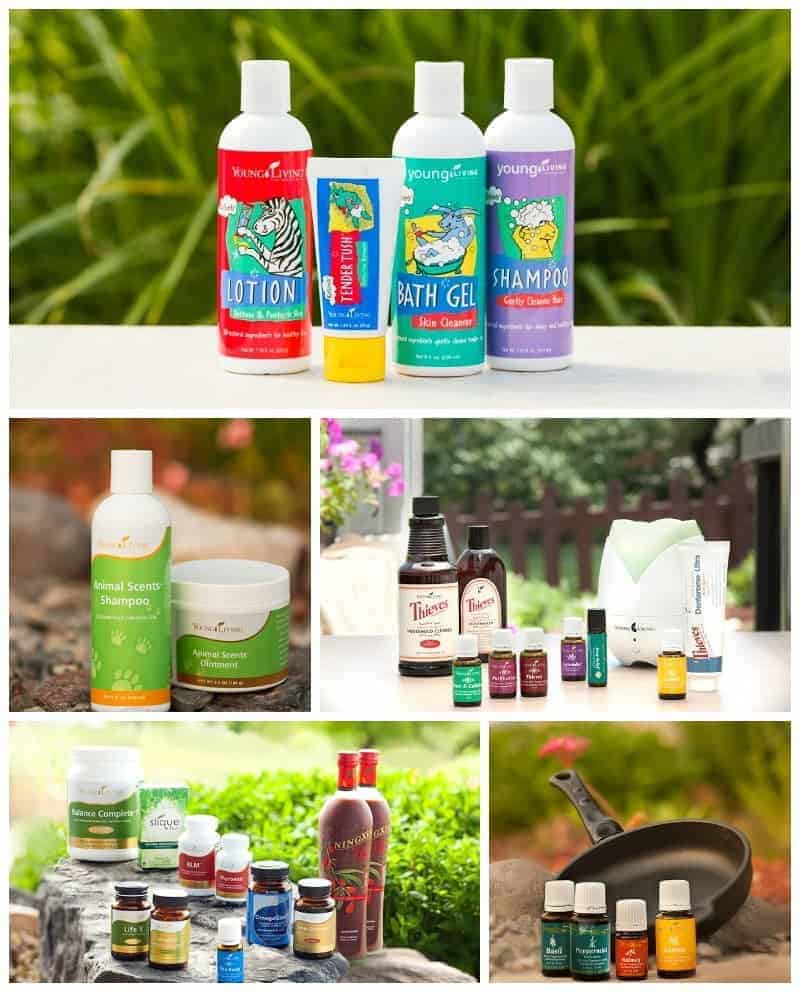 The choice is yours – Young Living vs doTERRA
At the end of the day, the choice is yours as to Young Living vs doTERRA. These are my reasons, but you may not relate to these companies in the same way that I do.
If you are considering joining a direct sales company you have to choose the one that you connect with the most. The one that you feel is the best fit for you, your lifestyle, and your plans for turning your interest and passion for essential oils into a business. It's not a matter of Young Living vs doTERRA, there is room enough for everyone to choose the company that fits their needs the best.
I currently am not growing my Young Living team any larger in the interest in ensuring I can support the great team that I already have, so if you are interested, I recommend my friend Paula. She is super knoweledgeable and can offer you fantastic support for learning and team building if that is something you are interested in doing.
For more information about Young Living and how to get quality essential oils at wholesale prices visit my friend Paula's Young Living Essential Oils page.
If you are ready to begin you essential oils journey with Young Living, She would love to have you on her team! If you have any questions before you take the plunge, don't hesitate to ask!
Check out some of my household tips tricks and recipes using Young Living Essential Oils:
But wait. What if I'm not ready to commit to either of these companies?
What if I want to just try essential oils without the expense or commitment? Are other essential oils just as good? Maybe. Maybe not.
Some essential oil companies dilute their oils with solvents and alcohol so you have to be careful. I do have one recommendation for a non-direct sales essential oils company that I am comfortable recommending.
You can try quality oils at affordable prices without membership expenses.
Top 6 100% Pure Therapeutic Grade Basic Aromatherapy Sampler Essential Oil Gift Set- 6/10 ml of Eucalyptus, Lavender (Bulgarian), Lemon, Peppermint, Sweet Orange and Tea Tree by Edens Garden
That company is called Edens Garden. They are a small family owned company who seem to be doing it right!
Visit their website for more information: Edens Garden Essential Oils.
They have FREE SHIPPING on all orders and they have great blends and a fantastic variety of oils and blends for kids as well. They also have a rewards program where you earn points for your purchases and points for people you refer to them too!
Some Edens Garden Essential Oils are also available on Amazon.com if you prefer to order from there.
Join our newsletter!
Subscribe to get updates and great stuff via email including subscriber-only goodies like free printables and giveaways.