I am so excited to share my love for essential oils with you!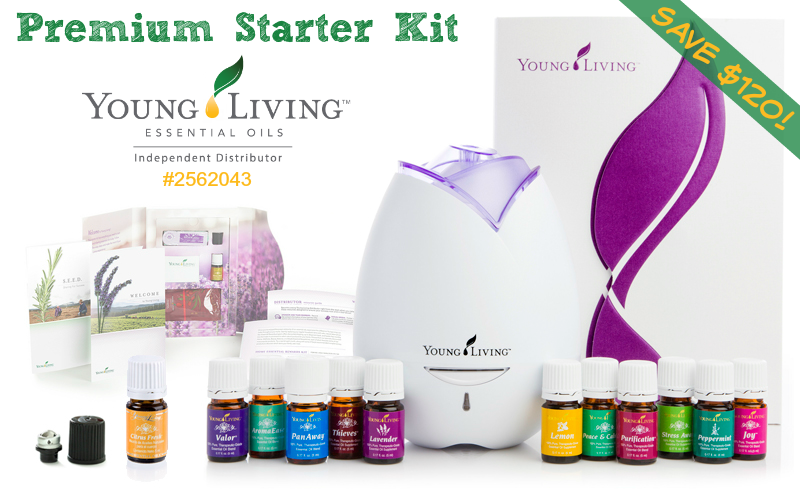 I'm sure by now you have seen or heard someone talking about essential oils. On Facebook, Twitter, blogs and even the news. A lot of people have started using them and are learning that they actually can help support a healthy lifestyle. I have been using essential oils for a couple of years now and they really have changed my life in a lot of ways. I use them in a diffuser to help clean the air and support our immune systems and I use them in homemade cleaning solutions to clean without harsh chemicals. I also use them to help alleviate muscle and joint aches, promote rest and relaxation and just to freshen the air naturally.
Essential oils have been around for a very long time, but it's hard to know exactly what to do with them, which is where Young Living comes in. When you purchase Young Living Essential Oils you not only can purchase Young Living Essential Oils wholesale through me, you get the support and information you need to make sure you understand the uses of each oil and the safest way to use them.
I believe in sharing the products I use and love with my audience and helping you make an informed decision you can trust. I also love helping you save money and getting Young Living Essential Oils at wholesale prices is a great money saver!
Young Living Essential Oils
When it comes to purchasing essential oils there are a lot of options and I would by lying to you if I said that none of the others are any good. But Young Living does have some benefits the others just don't have which is why I have personally chosen to purchase and sell for Young Living Essential Oils. If you are in the market for essential oils, I have a fantastic deal for you!
Sign up for a wholesale membership and you get a premium Young Living starter kit which is a $274 value for only $150! Wow!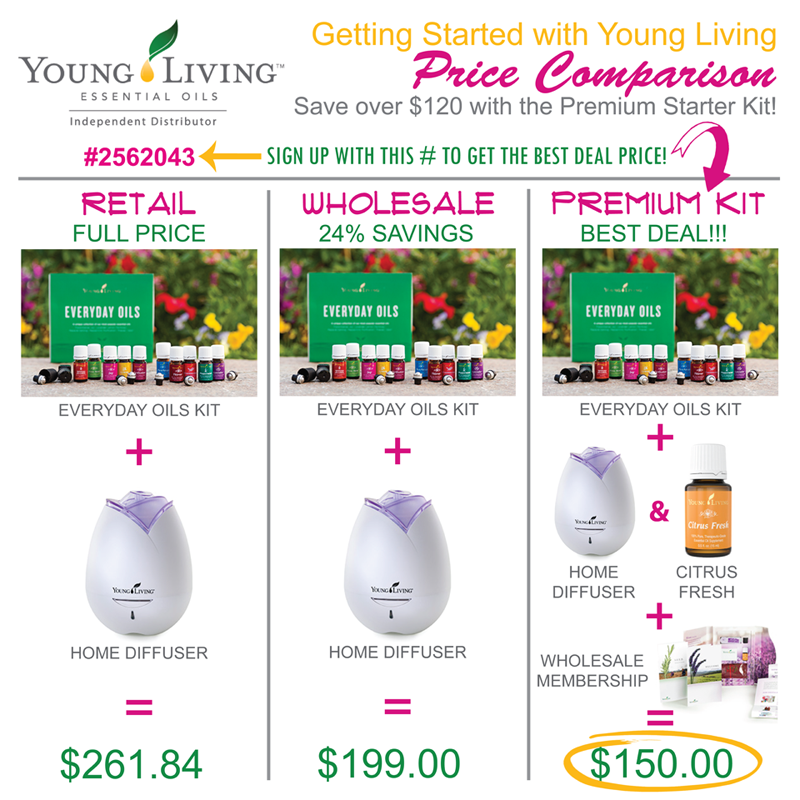 (The diffuser seen in this picture may be out of stock. If it is they will substitute with an equivalent diffuser in the new premium starter kit)
I believe in essential oils so much I want to share them with you and when you join my team you get EXCLUSIVE bonuses like a personal mentor, bootcamp & training sessions, educational tools, promotional graphics and more! We cater to bloggers and non-bloggers!
When you order a premium starter kit you will get everything you need to get started with essential oils!
If you are ready to buy a starter kit, then be sure to sign up as a wholesale member (with one of the premium starter kits) through the instructions below:
Head over to the Young Living page here and fill out your information.
Be sure the "Member" option is checked so that you don't end up paying retail prices.
Be sure the "sponsor ID" and "enroller id" say 2562043.
If you do not feel comfortable putting in your social security number (this is only for tax purposes if you decide to turn this into a business) then you can select "business" and get an EIN from the IRS in just a few seconds here and use that number instead (the IRS just needs to be able to connect some number with you for tax purposes).   They need a Social Security Number or an EIN because if you make $600 or more per year selling Young Living products, you will receive a 1099 form in the mail (which is required by law). Young Living will never share this info with anyone.
Select which starter kit you want to get. My recommendation would be the Premium Starter Kit.  The oils included in the Everyday Oils box (10 – 5 ml bottles) are the oils I use almost every single day!
During the sign up process, please note that the Essential Rewards Program is optional.  The Young Living Essential Rewards (ER) program is great.  It allows you to save on shipping costs and earn credit for every ER purchase along with monthly bonuses.  ER is also mentioned below in relation to earning additional bonus oil on this purchase. You can always sign up for this voluntary program later.
Go through the checkout process.
Email me at kimgrabinski@gmail.com and let me know you want to claim your bonuses!
*Scroll down for several frequently asked questions
*Disclaimer: These statements have not been evaluated by the Food and Drug Administration. This information is not intended to diagnose, treat, cure or prevent any disease. The information on this site is not intended or implied to be a substitute for professional medical advice, diagnosis or treatment. Please confirm any information obtained from or through this web site with other sources, and review all information regarding any medical condition or treatment with your physician. Never disregard professional medical advice or delay seeking medical treatment because of something you have read on this website.
Frequently Asked Questions:
Join our newsletter!
Subscribe to get updates and great stuff via email including subscriber-only goodies like free printables and giveaways.