This workout calendar is a monthly workout plan for January and is designed for beginners. The plan has a specific workout for each day of the month laid out on an attractive printable calendar. Print out this free workout calendar to get in shape and achieve your New Year's diet and exercise resolutions!
Sometimes the hardest part of starting an exercise regimen is just knowing what to do. You have the willpower and the energy to do it, but what exactly do you do if you are looking to get in shape and tone your body?
Well, cardio is a good place to start but cardio isn't always enough. Combining cardio and strength is the key for success. But if you don't go to a gym and don't have fancy equipment, what do you do? Well, that's easy – you perform body weight exercises. You have everything you need within you. You just need a plan.
So I have created one for you.
Workout Calendar – Beginner Monthly Workout Plan January 2018
This workout calendar is designed for beginners, but if you are more intermediate or advanced, you can simply increase the number of times you repeat the set of exercises listed on each day. Or you can do our advanced 30 day fitness program.
Even though you don't need equipment to do this plan, you may want a few things to make yourself more comfortable.
Supportive sports bra – It's no fun to jiggle. Get those ladies under control with a high-quality adjustable bra with full coverage and great control.
Extra thick yoga mat – Add a layer of cushion to some of the more impact exercises and help protect your hands while doing push-ups.
Cushioned and comfortable shoes – Keep the risk of injury to a minimum with a good pair of cushioned, stable shoes.
Workout app – This Workout app from Fitness22 lets you create completely custom workout routines to make it super easy to follow and complete your daily workout.
Interval Time app – This app helps make any timed exercises easy by alerting you when your time is up.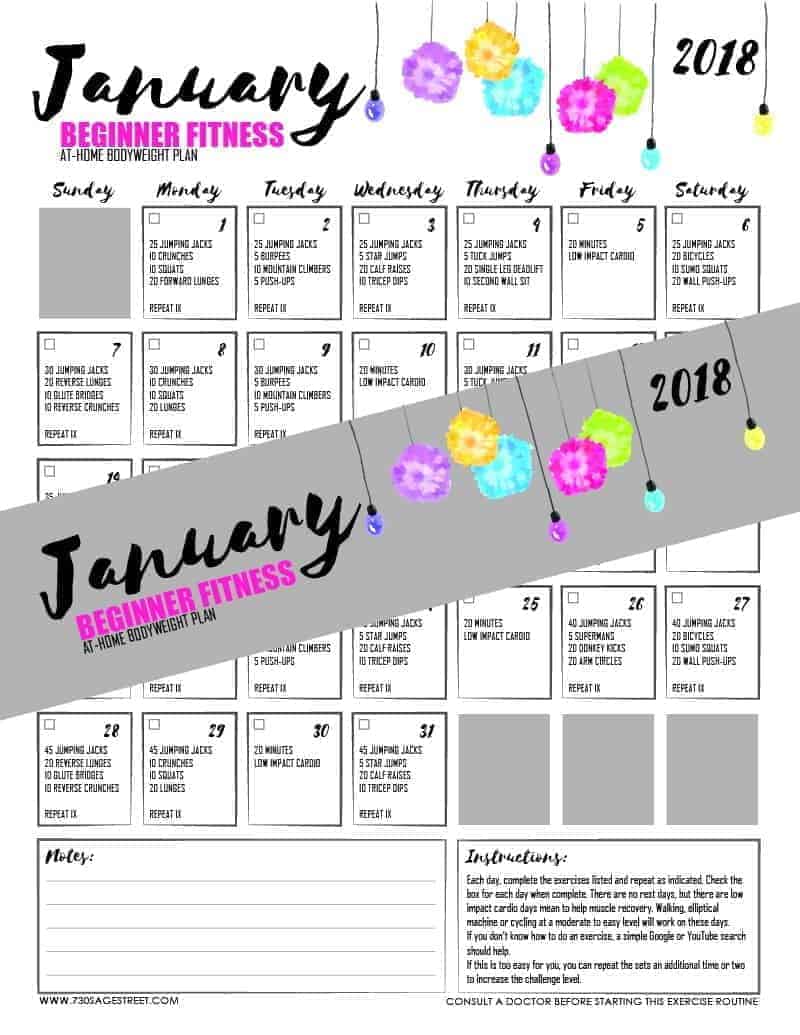 Also check out our other workout plans:
Looking for a blank calendar to fill out your own workouts? Check out our Free Printable Calendar 2018.
Grab the FREE printable