Winter is quickly approaching and we all know what happens in winter. People get sick. Kids get sick. And because of it (seriously) everything is covered in snot. Snot filled with germs just waiting for a host. And usually that host is you.
I don't have a miracle cure for you; if I did, I wouldn't be here writing this, I'd be on a tropical island somewhere where germs don't exist (hush, it's my fantasy). But I do have some tips that will help you be as ready as possible to deal with the potential effects of the snot on your hand, especially when it's not your own.
1. Ditch the antibacterial soap
Yup. I said ditch it. Antibacterial soap gets you so clean that you are never exposed to any kinds of germs which means your body doesn't learn to deal with them when they do decide to pay you a visit. If you stay clean, but not too clean, your body has more of the ability to he what it is designed to do – warn off bad things because it has some experience dealing with the not-so-bad things.
2. Eat real food
Your body needs proper fuel to function properly and fight off germs. Candy and fast food have very little nutritional value which means your immune system isn't being given the nutrition it needs to do its job. You know you are doomed when your hand touches that glob of snot if you are someone who doesn't eat nutritionally dense food. Yes, this means eat your veggies. Fruit. Protein. Select healthy fat sources and just eat real food.
3. Go outside
You may think that this one sounds crazy. It's cold out there, why the heck would I want to make myself more vulnerable to getting sick? Well, you don't actually get sick from going outside in the cold air. Now, you can get too cold and affect your body so that it has to focus it's attention on keeping you warm which may reduce the effectiveness of your immune system. But being adequately dressed in cold weather can actually help. The reason we get sick more in the winter is because the windows are closed and we all stay inside in warm air. This is a breeding ground for those snot germs. Getting outside lets you breathe fresh clean air instead of constantly breathing in recycled, potentially germ filled air.
4. Clean your house
Since you are spending more time inside, and those nasty germs have nowhere to go but to settle on surfaces that you will inevitably touch, so now is the time to get cleaning. This is where you can use those antibacterial products – on the things in your home, just not on your hands. Clean frequently during the winter months!
5. Take vitamin supplements
During the cold winter months there are two important aspects to wellness. The first is immune system support and the second has to do with trying to avoid the effects of seasonal depression – mainly because of the lack of sunlight. When it comes to immune system support, Vitamin C is the obvious choice for both kids and adults. Taking a Vitamin C supplement daily, in addition to getting Vitamin C naturally in your diet is critical for winter wellness. To combat the lack of sunlight, a Vitamin D supplement is a great addition to your diet. It can keep your mood lifted which helps your overall wellness and it also helps boost your immune system as well.
Rainbow Light is a fantastic option to help you get your vitamins in every day. Their vitamins contain only the highest quality ingredients that are free of heavy metals, pesticides and contaminants. They utilize organic and non-GMO ingredients whenever possible and there is no junk in their vitamins – nothing artificial.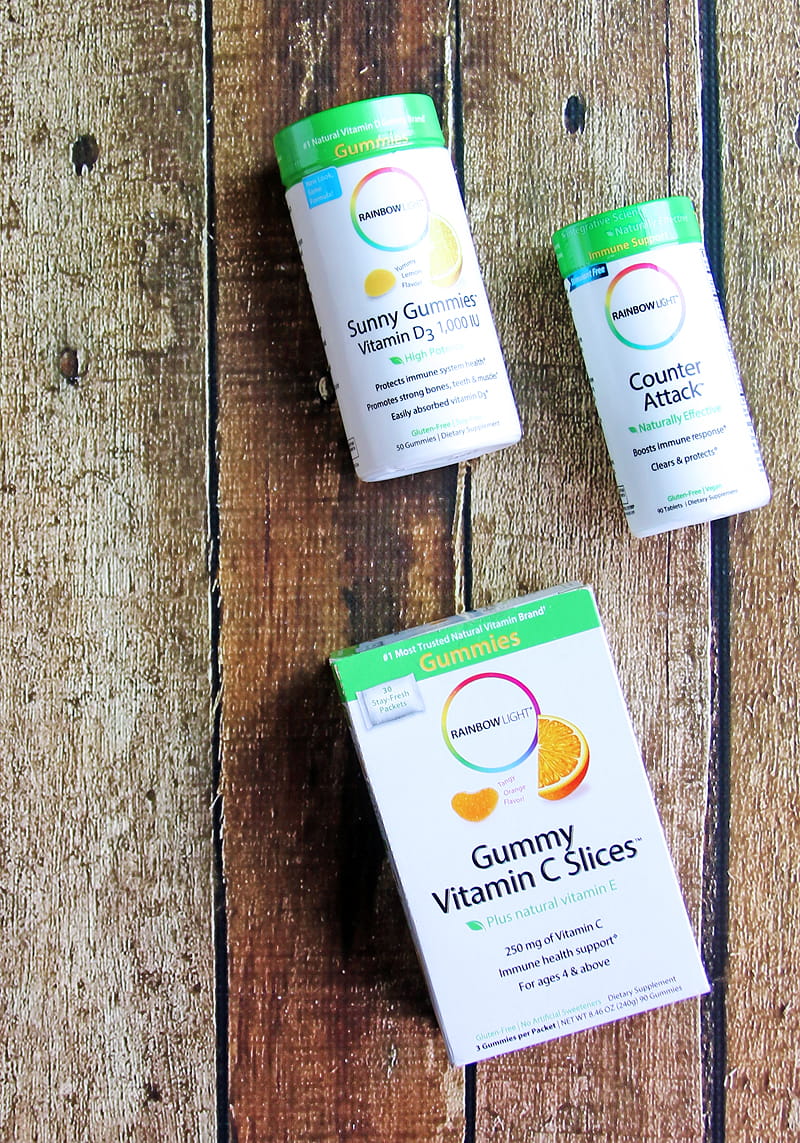 Rainbow Light Gummy Vitamin C Slices are individually wrapped for ages 4 and up. Each serving has 417% of the daily recommended Vitamin C to help boost your winter wellness. They taste great and I'm so glad they don't have artificial colors, flavors or sweeteners.
Rainbow Light Sunny Gummies are yummy and contain 250% of the recommended amount of Vitamin D which will help keep you feeling in tip-top shape. Vitamin D helps your mood and immune system but also offers benefits for your bones, muscles, brain and heart. Take with the Rainbow Light Gummy Vitamin C Slices and you have a winter wellness routine to be reckoned with!
But if you need a bit of extra help, Rainbow Light Counter Attack might be exactly what you need. Maybe your food choices haven't been as good lately or you feel run down and like you may be coming down with something. Counter Attack helps take your immune defense to the next level offering Zinc and defense boosting botanicals. It is stimulant free as well!
Do you have a winter wellness routine?
I received samples in exchange for my honest review as part of the Rainbow Light Ambassador Program.
Join our newsletter!
Subscribe to get updates and great stuff via email including subscriber-only goodies like free printables and giveaways.