Bacon Chase
. All opinions are 100% mine.
It's no secret that I am a big fan of fitness and that my activity of choice is running.
It's also no secret that I am a big fan of bacon.
Many people think that these two things contradict themselves, and that bacon and fitness cannot co-exist peacefully in a person's life.
But they are wrong, you can live a fit lifestyle while eating bacon.
Well, maybe not at the same time.
Or, maybe you can!
With the Bacon Chase 5K and 0.05K you can have your bacon and run at the same time!
An unlimited amount of bacon.
How fun does this sound?
Can you imagine being rewarded for your race efforts with unlimited bacon and a Bloody Mary?
With the Bacon Chase you can!
About Bacon Chase

Before the event there is a bacon festival to celebrate all things hammy. The 5k run is 3.1 miles of "bacon bliss" in which runners are released as a pack from the starting pen. Runners will run hog wild enjoying unlimited bacon bits along the course and will be rewarded at the finish line with unlimited bacon glory. Those who choose to run the 0.05k run will experience the most delicious 164 feet of their lives.
5K or 0.05K course
UNLIMITED bacon at finish line
UNLIMITED bacon bits along the course
(1) One free Bloody Mary (racers over 21)
Signature Bacon Chase T-shirt
Access to the festival area
Signature Bacon Chase bacon-scented race bib

Bacon Chase is NOT responsible for any bacon-induced comas.
Join Me in Chicago June 7th
On Saturday, June 7th I will be enjoying pure bacon ecstasy with my son as we run the 5K Chicago Bacon Chase!
When I told him what we were doing, he had the biggest grin on his face and said, "all-you-can-eat bacon, really?" We are both really excited to attend.
Despite my passion for running, I have actually never ran a 5K before. There has never been one worthy of of my time until now!
If you are local, you should join my son and I, we would love to have you race with us on our way to unlimited bacon victory.
Let me know in the comments if you register so we can arrange to meet each other at the starting line!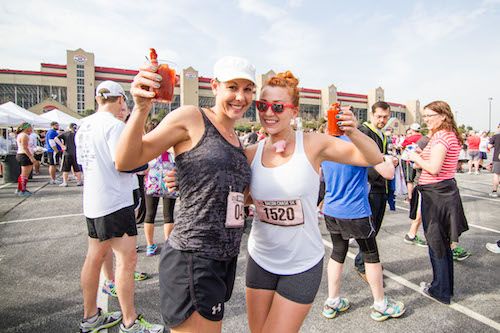 This is a Sponsored post written by me on behalf of