We belong to a small, academically challenging, college prep homeschool co-op. Think: a secular version of Classical Conversations. A few years ago, I was assigned to teach literature and history to the high school class of eight students. I had taught classes to the younger kids, and that was pretty easy. Just keep it hands-on, and have a sense of humor. But, a class of high school kids? In subjects that I enjoyed, but was in no way trained to teach? Ugh. So, like every homeschool mom, I hit the internet. That's when I found Teachers Pay Teachers (TpT), and realized I could teach those classes. Teachers Pay Teachers is a great resource for homeschoolers, as both buyers and sellers.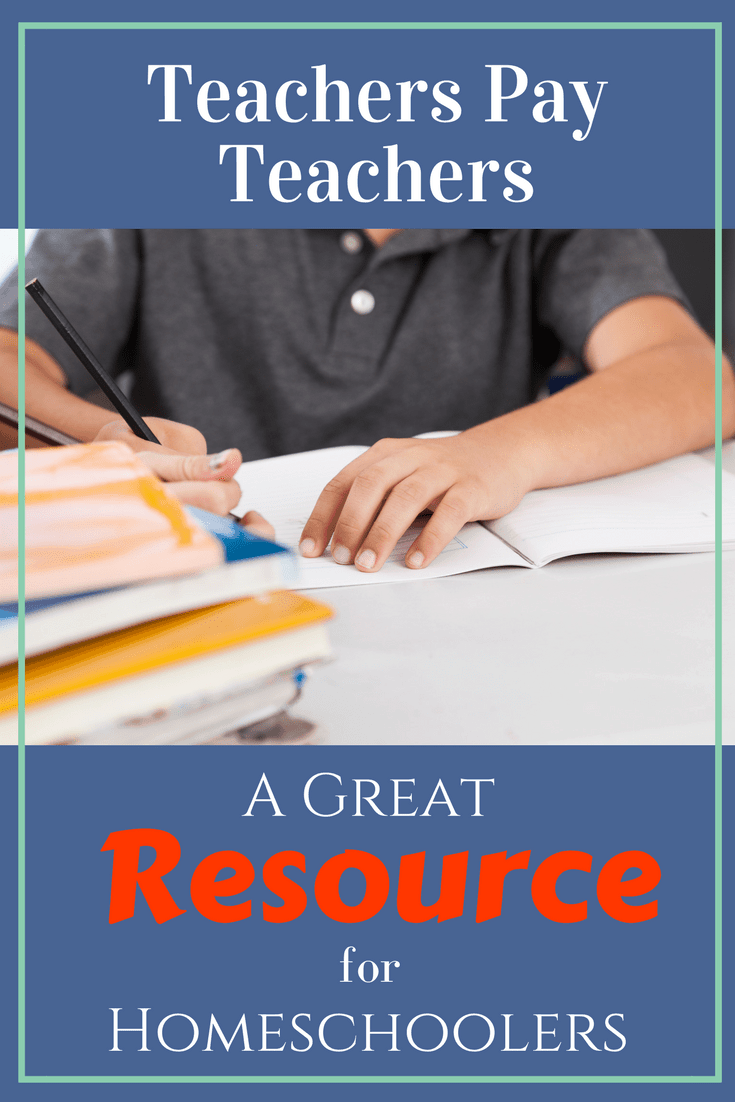 Teachers Pay Teachers is a Great Resource for Homeschoolers
If you've never heard of Teachers Pay Teachers or are not exactly sure what it is, here's the 15 second schpeel. Teachers create educational materials to use in their classrooms, and TpT is an online marketplace to sell those materials to other teachers. The site currently has over 2.4 million educational products, for pre-K through high school, which includes worksheets, quizzes, tests, activities, videos, and PowerPoint presentations. Basically, anything a teacher could use in the classroom is available on the site. TpT is free to join as a buyer, and the teacher-author earns a commission on every product sold. Teachers Pay Teachers has so many benefits for homeschoolers, both as buyers and as sellers.
Buyer Benefits
There are four main benefits to using TpT as a buyer.
Every seller must create at least one free product, in order for buyers to determine the quality of their work. This is great for homeschoolers, as there is a huge amount of free educational materials on TpT. Sellers want you to buy their products, so their freebies are really high quality. Simply search for your topic and age level to find products.
TpT saves time. If you can find a worksheet, quiz or activity for $1 (or better yet, free!), isn't that a better use of your time and money, than creating it yourself? Why reinvent the wheel?
With TpT, you get access to the expertise of teachers from around the world. Not sure how to teach literary devices in modern short stories? TpT probably has twenty different products that can help you.
TpT inspires your teaching. Just like Pinterest, spending time on TpT can give you an idea on how to teach something in a new or different way. Viewing a worksheet might inspire you to create a more hands-on project on the same topic, if that's your style.
Seller Benefits
On the flip side, TpT offers several benefits to homeschoolers as sellers. Most of us have either tweaked curriculum or created something from scratch in order to help our children learn something. TpT makes it easy to sell those creations online. Or, perhaps in your pre-homeschool life, your had an area of expertise that can be useful in creating new products. For example, I created my Architecture unit because I'm a nerdy architect and wanted to share my love of old houses with other people. (Have you seen my Architecture board on Pinterest? I seriously thought about creating separate boards for each architectural style. It was a dilemma. Yeah, I'm that nerdy. ?).  You can download my Architectural Scavenger Hunt for free. I originally created this as the final assignment for a class on architecture at our co-op. Eventually, I developed a whole unit on architecture styles and an introduction to home design. But as I said, I've also created curriculum as a homeschool mom. In my TpT store Teachers Pay Teachers – Blueberry Collage you'll also find a couple of literature products, that I have used in my high school class (one for The Grapes of Wrath and one for Animal Farm).
The main benefits of being a seller on TpT are:
You earn money. Some TpT authors earn significant supplemental income. I'm not at that point yet – I have 12 products, and have earned about $30. But, when you make a sale, the TpT app makes a little cha-ching sound. I have to say – it's a really exciting sound, and I jump up and down every time I hear it. Although, I'm even happy when someone downloads my free stuff. If you are a member of TpT and sell products, you net about half of the sale price with a basic membership (Premium members earn a larger percentage in exchange for a yearly membership fee).
Creating and selling educational products on TpT is fulfilling. It's very satisfying when you successfully teach your child a concept. That feeling of satisfaction is multiplied when other homeschoolers or teachers chose something you have created to use with their students.
I think you'll find Teachers Pay Teachers is a great resource for homeschoolers.