Lately my golden retriever, Simon, has been exhibiting some unusual for him behavior. He is eleven years old, has a history of seizures and allergies and a recent bout of four seizures over the course of two hours has left him on Phenobarbitol on a daily basis and back legs that tend to collapse at random times. Add this to the Rimadyl for arthritis and the apparent senility and he is acting quite strange.
His most concerning behavior, however, is the fact that after eleven years of life he has started "cruising" the counters in the kitchen for food. He has eaten everything from actual food to paper towels and plastic bags. He even went so far as to knock a whole coconut off the counter in an attempt to eat it.
Because we have two dogs, I wanted to be sure it was Simon and not our smaller dog Toby so I setup a web enabled camera, set out some bait, and left the house with the app on my smartphone turned on so I could watch the video footage. It didn't take long before I caught him in the act – check out the video below for his antics.
I usually don't buy raisins, but my daughter had been asking for them and considering what they don't get to eat, I figured I'd oblige even though they are just basically sugar. We bought a big 15 oz package of organic raisins and normally they stay in the cabinet. Until last Wednesday when I accidentally left them out on the counter, that is. We returned home from my son's baseball practice to find that the dogs ate the entire container of raisins (only a handful had been eaten by my kids from the new container).
I immediately panicked because I knew.
RAISINS CAN BE DANGEROUS FOR DOGS.
TOXIC.
LEADING TO DEATH.
And my dogs ate a whole lot of them.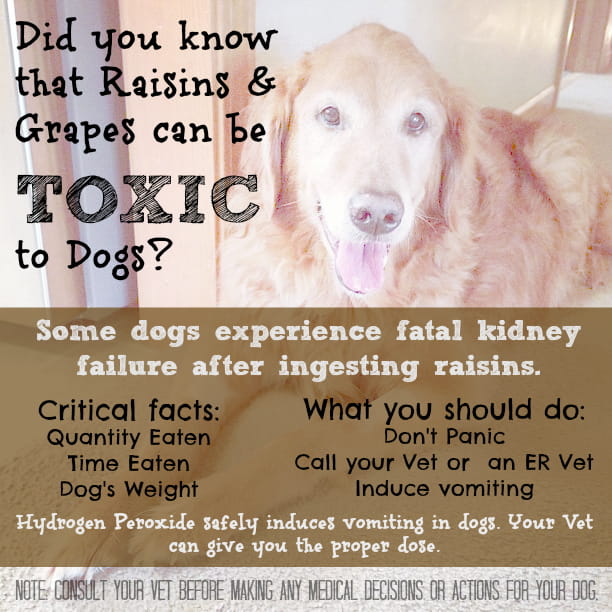 Are raisins toxic to dogs?
The ASPCA has this to say about grapes and raisins:
At the current time, we know that grapes and raisins appear to cause renal failure in dogs who've ingested large amounts. However, we have not determined with certainty the toxic component, or the exact mechanism that causes renal failure. It is also not clear if only certain dogs are affected, or if long-term ingestions can lead to the same effects that a large one-time ingestion can. Because there are still many unknowns regarding the toxic potential of grapes and raisins, it is advisable not to give grapes or raisins to dogs in any amount.
Eating grapes or raisins has led to death in many dogs and there doesn't seem to be any rhyme or reason to the amount of raisins eaten and the size of the dog. According to a local emergency vet "some large dogs can eat just a couple of raisins and experience kidney failure, some small dogs can eat a whole lot of raisins and be just fine." They just don't know enough about it.
For more information about people food that is toxic to pets visit: Animal Poison Control
What to do if your dog eats grapes or raisins
I immediately called my vet and they were closed for the evening so I had called a local emergency vet. They strongly recommended that I bring both dogs in for fluid IVs, blood tests and monitoring for 2-3 days to flush out their systems and lesson the chance the potential toxins will not affect them. however, the first thing they told me to do was make them vomit.
What?
How?
How to make your dog vomit
(yeah I was not thrilled with this either)…
I had no idea before, but hydrogen peroxide is safe for a dog to ingest yet induces vomiting. For more information on when to induce vomiting in your dog and how, check out this article: how to inducing vomiting in pets.
Because I knew my dogs had only eaten the raisins with the last hour (thanks to my trusty hidden camera), they said if I can get them to vomit they have a really good chance of throwing the raisins up before they start to digest and the toxins get into their systems.
I really thought by this point that I killed my dogs by leaving those raisins out.
Luckily I had the hydrogen peroxide they said I needed and I wrote down the recommended doses for each dog based upon their weight. I hung up with the vet and set to work.
They were not happy with me.
Toby went first because he is smaller and frankly is much younger. I felt bad having to make that decision but it had to be made. He threw up right away (only about 8 times) and I had the fun job of sifting through it to find raisins. I found two. Simon refused to vomit and by the time he had another dose of peroxide he was running scared from the turkey baster I was using. Finally it worked and I can't even begin to describe how many raisins came up. It looked like hundreds. Both of them threw up until nothing but liquid came out so I felt fairly confident there were no raisins left in their bellies.
I called the emergency vet back and they still recommended I bring them in for IV therapy for 2-3 days and regular blood tests during that time. They also suggested I call poison control (which costs $65) and see what they said.
I did neither.
Based upon internet research, my feeling that the raisins all came out, the fact they hadn't had time to digest them plus the insane cost of 3 days at an emergency vet for 2 dogs and putting them through the emotional stress of this strange place, I opted to wait until the next morning and take them to my regular vet.
I didn't sleep that night.
They seemed fine in the morning but I called and brought them in to our regular vet.
Based upon an intensive physical exam and all the details I gave them, my vet said Toby should be fine because of how few raisins he ate. My vet said that there is a rule of thumb for the toxic amount of raisins based upon a dog's weight and Toby was nowhere near that with his 32 lbs and two raisins. Simon, however, was right on the lower end and because he is on phenobarbital they recommended keeping him for IV fluids and a blood test at the end of the day. His levels all came back normal.
A few days later both dogs are fine and escaped the GREAT RAISIN CAPER unscathed. I did not. It cost me over $500 for the vet visit.
Do people overreact about raisins and dogs?
Obviously I will never leave raisins out again. Ever. But the question still remains, is the raisin/grape toxicity in dogs something to worry about? Do vets overreact? Is the recommended course of treatment (IV fluids for 2-3 days) the best way for every dog? Or are the rates of raisin toxicity so low that while it is serious and there is no way to know which dog will be affected, the odds are your dog will be fine?
According to my vet, they are learning more about raisin toxicity but not enough to predict which dogs will have a reaction. He was conservative treating Simon because Phenobarbitol relies on proper kidney function and he could be more susceptible because he is on that drug for his seizures. Otherwise he would have sent him home. He did give us a list of things to watch out for but he was very confident they would both be fine.
But had we had a different outcome I would sorely regret not listening to the emergency vet.
Prevention
The best course of treatment for this issue is prevention. I know a lot of people don't know that grapes and raisins can kill dogs so prevention and education is key for dog owners. If you know a dog owner, make sure they know to keep raisins out of their dog's diet and put away at home to avoid accidental ingestion. It's just not worth the stress and money and time we spent making sure our dogs were ok.
Did you know that grapes and raisins can be toxic to dogs?