White asparagus is a spring delicacy that deserves a place on your dinner table. From soups to salads and mains, these 15 recipes showcase the versatility of this ingredient.
Whether you're a seasoned cook or just starting out, these dishes are sure to impress with their unique flavors and textures.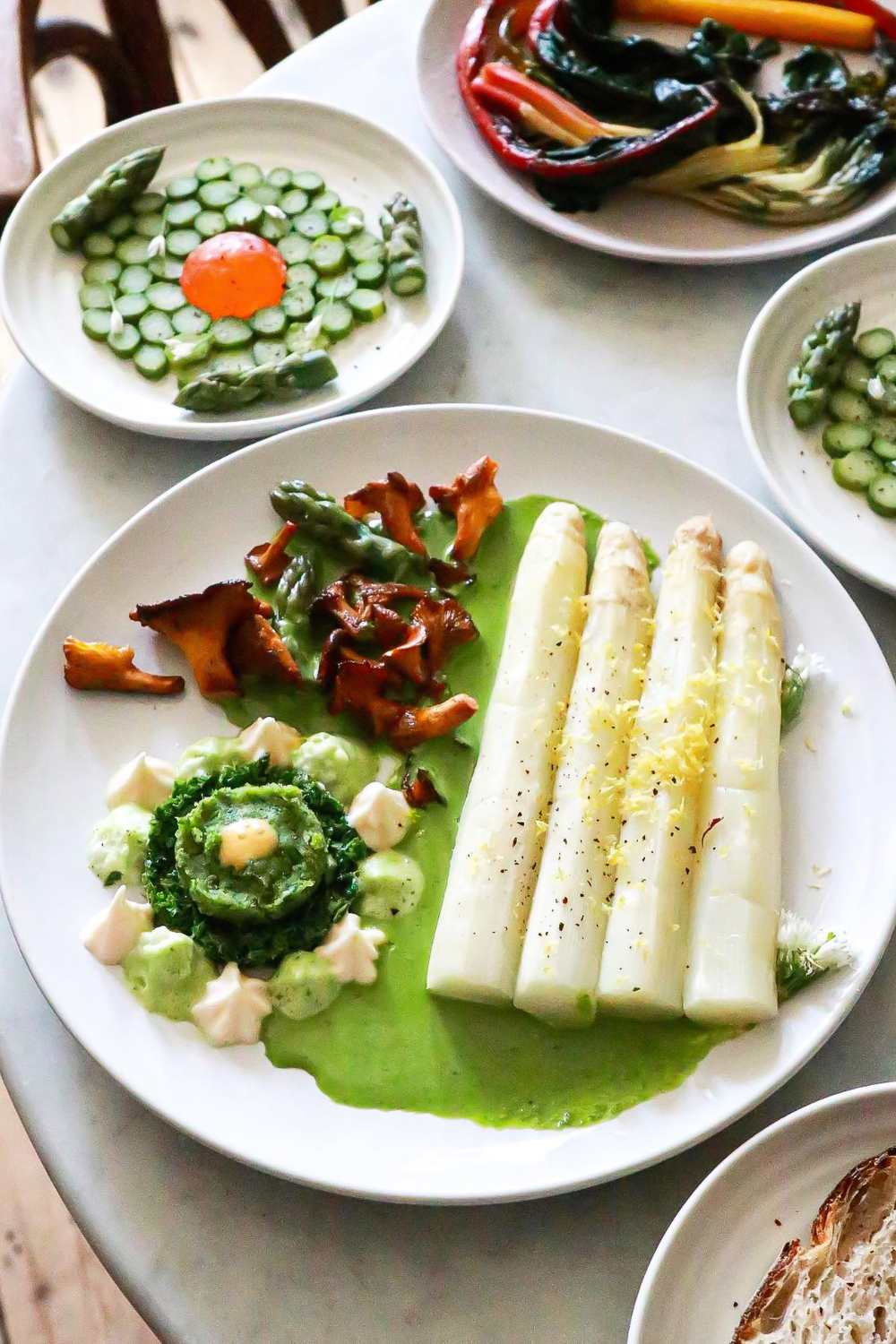 What Is The Difference Between White Asparagus And Green Asparagus?
White asparagus is grown underground and protected from sunlight, while green asparagus is grown above ground and exposed to sunlight. This makes the white variety more tender and mild in flavor, with a slightly sweeter taste. Both types of asparagus are packed with healthy nutrients like fiber, folate, and vitamins C and K.
How Do I Select The Best White Asparagus At The Store?
When selecting white asparagus, look for firm, straight stalks with tightly closed tips. The stalks should be smooth and free of any bruises or discoloration. Also, try to choose asparagus that is relatively uniform in size, as this will make for more even cooking. White asparagus is a healthy and delicious addition to any meal, so be sure to choose the best quality you can find.
15 Recipes With White Asparagus
From classic soups to unexpected salads, these 15 recipes with white asparagus will add a touch of elegance to your table without sacrificing simplicity or taste:
Get ready to pamper yourself with this Creamy White Asparagus Soup, featuring an irresistible combination of hazelnuts and brown butter! This velvety delight is a must-try for asparagus lovers seeking a delectable twist. The recipe is versatile, offering options for various dietary needs like lactose-free, vegan, or soy and oat milk alternatives.
The blend of fresh chives and toasted hazelnuts adds a lovely contrast to the smooth soup, while the brown butter drizzle elevates the dish to heavenly heights. Give this cozy, heartwarming soup a try, and feel the magic in every spoonful!
After that heartwarming soup, let's pack our bags and head to France with this Roasted White Asparagus with Herbes de Provence recipe! The alluring mix of fragrant herbs adds an aromatic touch to the tender asparagus, transforming a simple side dish into a flavorsome experience.
Oven-roasted to perfection, this asparagus is both delightful and easy to prepare. Pair it with your favorite main course or enjoy it as a standalone treat. Either way, you'll be captivated by the French-inspired charm of this elegant dish. Bon appétit!
From the rustic charm of France, we now venture into the world of gourmet cuisine with this Asparagus Ragout with Cherry Tomatoes and Chervil Beurre Blanc. The tender white asparagus is lovingly bathed in a velvety beurre blanc sauce, bursting with vibrant cherry tomatoes and fresh chervil.
The dish boasts a beautiful symphony of flavors and colors, bringing an air of sophistication to your dining table. Impress your loved ones with this upscale recipe, and let them savor the sumptuous taste of culinary excellence in every bite. Simply divine!
Our culinary journey continues with a delightful twist on a classic Italian dish: Orzotto with Green and White Asparagus. This comforting creation combines the creaminess of orzo pasta with the fresh zest of lemon and a delightful mix of green and white asparagus.
The Parmigiano-Reggiano cheese adds a touch of indulgence, while the minced parsley provides a refreshing finish. Perfect for a cozy family dinner or a casual gathering with friends, this orzotto will whisk you away to Italy, where warm hospitality meets exquisite flavors.
Continuing our love affair with white asparagus, we present the White Asparagus with Butter Vinaigrette, a simple yet elegant recipe that showcases the natural goodness of this springtime favorite.
The tender asparagus is gently cooked and adorned with a luscious butter vinaigrette, featuring tangy wholegrain mustard, lemon juice, and sherry vinegar. A sprinkle of chopped parsley adds a fresh touch to the dish, making it a delightful side to complement any meal. Experience the joy of simplicity and let this heavenly combination of flavors take you on a blissful culinary adventure.
As we celebrate the arrival of spring, let's cozy up with a bowl of Creamy White Asparagus & Potato Soup. This delightful dish combines the delicate flavors of white asparagus with the comforting warmth of potatoes, creating a luscious, velvety soup that's perfect for those chilly spring evenings.
Elevate your meal with crispy pancetta, a splash of dry sherry, and fresh basil leaves, then pair it with a crusty baguette and a glass of crisp Riesling. This soup is not only a tribute to the magic of spring but also a culinary hug, warming you up from the inside out.
Embark on a delightful culinary journey with Poached White Asparagus with Hollandaise Sauce, an elegant and classic dish that will sweep you off your feet. Tender white asparagus spears are gently poached to perfection and served with a silky, rich hollandaise sauce that will make your heart sing.
The addition of fresh herbs like tarragon, parsley, or chervil brings a touch of brightness, creating a harmonious balance of flavors. This refined dish is perfect for those special moments when you want to treat yourself and your loved ones to a sophisticated and delectable experience.
Take a trip to the Mediterranean with this dish for Roasted White Asparagus with Caper Berries. Savor the wonderful ballet of tastes as crisp white asparagus stalks and tart caper berries come together.
The Mustard Dill Dressing takes it to the next level of deliciousness, making your taste buds do a happy dance with every bite. Delicious and healthy, this dish will quickly become a household staple. Imagine the bright sun and gentle breezes of the Mediterranean while you savor this dish.
Welcome the warmth of spring with this delightful White Asparagus Pasta dish. The tender, delicate white asparagus takes center stage, gently complemented by the subtle tang of lemon zest and the luxurious creaminess of the sauce.
Served with your favorite pasta and a generous sprinkle of Parmesan, this dish is a celebration of the season's finest flavors. The simple yet elegant recipe is ready in just 20 minutes, making it an ideal choice for a weeknight dinner or a leisurely weekend lunch.
Gather your loved ones for a taste of springtime with this heartwarming White Asparagus Recipe. Showcasing the delicate flavors of white asparagus, this dish is accompanied by tender new potatoes, juicy ham, and a fragrant blend of parsley and chives.
The hard-boiled eggs, seasoned with smoked paprika, add a delightful contrast, while the rich, nutty aroma of the browned butter ties everything together. Relish the warmth of a home-cooked meal as you share laughter and stories around the table.
Prepare to drool over this mouthwatering experience: Herb Pangrattato on White Asparagus. Just before you take a bite out of this delicious dish, try to picture yourself in a bright garden, surrounded by the aroma of freshly picked herbs.
Flavors that will make your taste buds do a happy dance include zesty lemon, fresh chives, parsley, and crunchy walnuts, all supporting the star of the show: tender white asparagus. This golden coating takes ordinary asparagus to a whole new level after being sautéed in a wonderful mixture of butter and olive oil. This wacky dish is delicious on its own or as a topping for pasta and casseroles.
Following the garden-inspired Herb Pangrattato on White Asparagus, let's whisk ourselves away to the sun-soaked Amalfi Coast with Lemony White Asparagus Piccata! This zingy dish showcases perfectly steamed white asparagus smothered in a luscious piccata sauce that bursts with bright lemon flavors and tangy capers.
The combination of buttery garlic, white wine, and a hint of vegetable stock creates a velvety texture that envelopes each tender asparagus spear. Enjoy this Italian-inspired delight and let the tangy, refreshing taste transport you to a cozy trattoria by the Mediterranean Sea.
As we continue our white asparagus escapade from the Amalfi Coast, let's hop over to Germany to celebrate Spargelzeit with this traditional German White Asparagus recipe! A beloved annual event, Spargelzeit marks the arrival of white asparagus season in Germany, and this dish honors that tradition.
Simmered in a flavorful mix of water, salt, lemon juice, and butter, these tender asparagus spears absorb the delicate, savory taste of the cooking liquid. Carefully tied in bundles, they're cooked to perfection, capturing the essence of German cuisine. Share this delightful treat with friends and family, and immerse yourselves in the joy of Spargelzeit!
Continuing our global white asparagus adventure, we now find ourselves in the cozy, rustic warmth of a French country kitchen with White Asparagus Gratin. Luxuriously smothered in a creamy Dijon mustard-infused sauce, the asparagus is then sprinkled with nutty Gruyère cheese and crispy bacon bits for an irresistible, mouthwatering topping.
Fresh tarragon and a dollop of Greek yogurt or sour cream bring a delicate balance to the dish, while it's baked to golden-brown perfection. Gather around the table and delight in the comfort of this heavenly gratin, connecting you to the heart of French countryside cuisine.
Having left the cozy French countryside behind, we are now transported to the picturesque countryside of Italy with this Creamy Risotto with White Asparagus. This comforting dish features tender white asparagus spears, sautéed in butter and olive oil, nestled within a luscious bed of arborio rice.
The risotto is infused with aromatic thyme, rich chicken stock, and a splash of white wine, elevating its flavor profile to new heights. Topped with a crispy Parmesan cracker, this Italian masterpiece is the perfect blend of creamy goodness and delightful crunch.