Whether you're a home cook, hobby chef, or aspiring professional chef, this article helps break down the differences between 3-ply and 5-ply roasting pans. I started creating recipes in 2008 and have more than a decade of hands-on experience with roasting pans.
If you're short on time and want to buy the best roasting pan under $100. Buy the 3-Ply (Triple Ply) Cuisinart MultiClad Pro Stainless Steel Roasting Pan. If you have a few minutes to spare, keep reading for comparison between 3-ply and 5-ply roasting pans and learn more about other important considerations.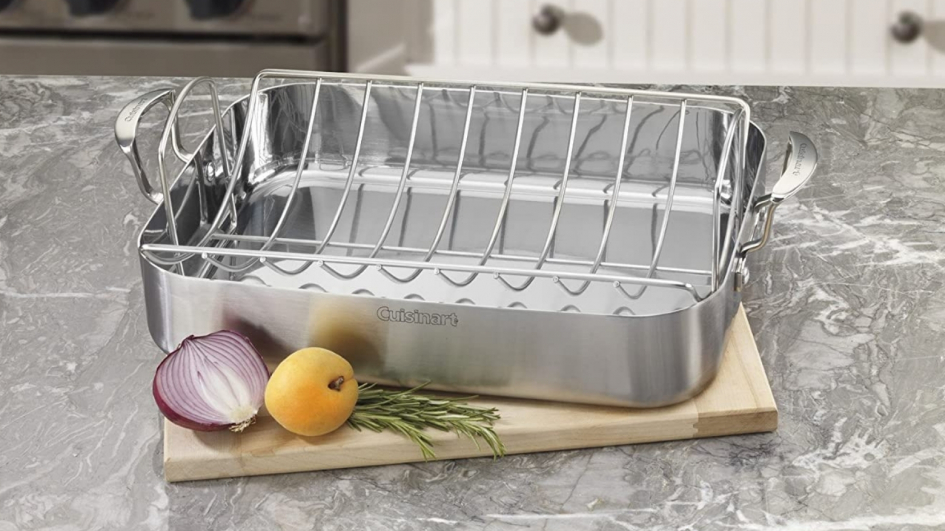 If you own or your planning to buy a stainless roasting pan or stainless steel set, check out this article on the best methods for cleaning your pans, along with a few tips on care and maintenance.
Contents
The best Stainless steel roasting pans come with racks that provide good air circulation and excellent heat conductivity, allowing the food to be browned and evenly cooked. Perfect for preparing for your next holiday turkey or large bottom round roast.
And I love the fact I only need one pan from start to finish, from roast to gravy. When it comes to buying the best roasting pan, there is a ton of information to sift through.
Which roasting pan is better, 3-ply (tri-ply) or 5-ply? Many top cookware brands are now offering 3 and 5 ply options. The following article will help you understand the terminology and the pros and cons of buying your next roasting pan. Whether you are a passionate chef or cook looking to achieve superb quality and performance, you will find the "perfect" stainless steel roaster to fit your need and budget.
You can take a deeper dive into roasting pan racks, best materials for roasting pans, 7 roasting pan alternatives and how to clean stainless steel pans before investing in your next roasting pan.
What does ply mean?
Ply means the number of layers of material used when making the roasting pan. Each material has unique properties. Stainless steel is not the best heat conductor, so manufacturers generally bond it with layers of aluminum or copper. Aluminum is light and an excellent heat conductor, so it pairs perfectly with stainless steel to produce even heating across the entire cooking surface.
What does cladding mean?
Cladding is the method of bonding metals together to make a new, single sheet of metal. Manufacturers use a heat conductive metal (copper or aluminum) and then cover it with a non-reactive material, usually stainless steel or copper. This means the metal is the same thickness from the bottom of the pan as the sides. Higher-end fully clad stainless steel pans are made with layers of copper rather than stainless steel. Copper is a better heat conductor, which means a slightly better overall performance; however, it is expensive.
How does thickness affect cookware?
The number of layers does not necessarily guarantee that your food will taste better or cook faster - it is dependent on the thickness of the heat conductive layer. The following information will help you determine which one of the PLY roasting pans works best for you.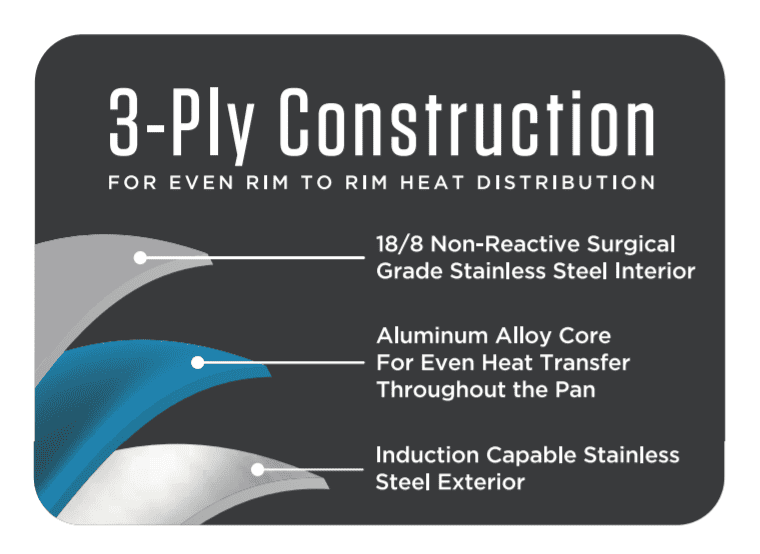 3-ply Roasting Pan
If you are looking for good quality and value for your money, a tri-ply (3-ply) stainless steel roasting pan with a removable nonstick roasting rack is an excellent choice. Most offer a brushed stainless steel exterior, aluminum core, and stainless steel interior. The stainless steel protects the aluminum from scratches, discoloring, and reacting with acidic foods. Another popular choice of chefs and cooks is All-clad stainless steel cookware. It uses stainless steel, aluminum, and magnetic stainless steel, which also works on induction stovetops.
I've used both options below for nearly two years now and find both options are sufficient for home chefs. I recommend either of the following 3-ply roasters for your consideration:
Cuisinart MultiClad Pro stainless steel roasting pan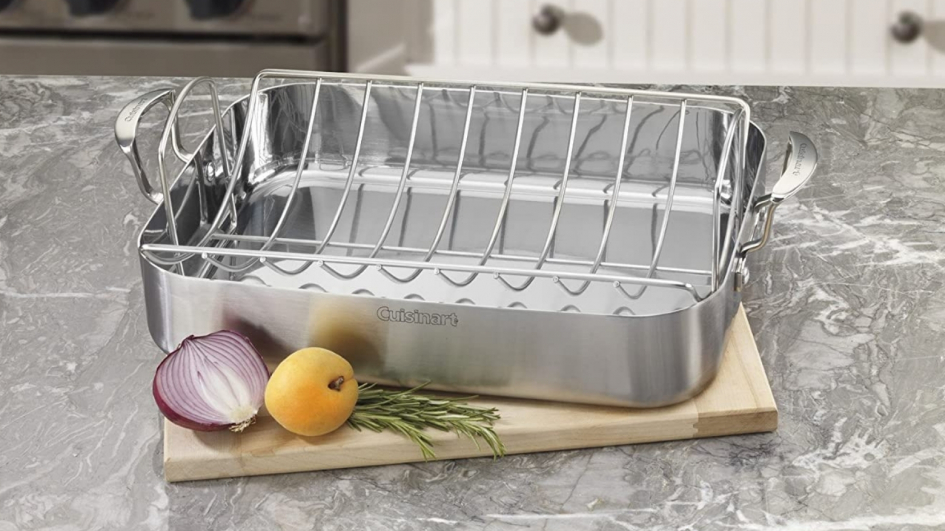 This roasting pan is perfectly designed and has a removable rack – it ticks off all the essential boxes. The Cuisinart pan material is pure aluminum which is a great heat conductor and finished with brushed stainless steel, so a beautiful shiny finish, which I love. The cool grip hands are riveted to the pan, making it so much easier to handle cooking a 20-pound turkey or large bottom round roast for the family. The removable roasting rack allows you to use this pan to make vegetables, casseroles, lasagna – it is the perfect size if you are cooking food for a large group of guests. This tri-ply pan is easy to clean, nonstick, multi-use, and ideal for all home cooks. The price is very reasonable for this quality professional-grade roaster. With an MSRP of $100, this is a roasting pan everyone should own. Check the price; I've seen this same roasting pan on sale on several occasions.
Viking 3-Ply stainless steel roasting pan with nonstick rack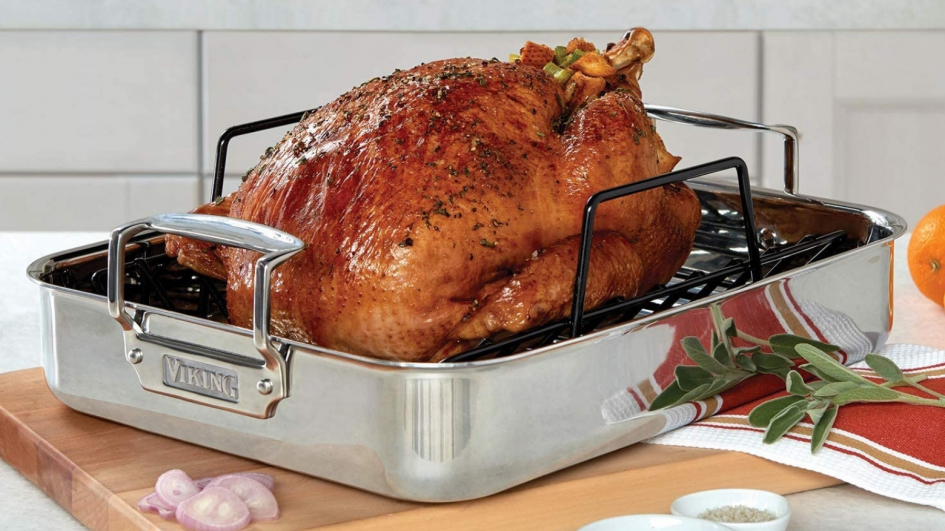 The Viking Stainless Steel Roasting Pan is a step up from the Cuisinart and geared more towards home chefs vs. home cooks. Either way, I believe investing in quality pans makes sense.
This large roasting pan is durable and bonded with aluminum, which ensures air circulation and heat distribution on the roasting pan's bottom and sides. The inverted handles are designed for comfort and balance and are sturdy, making it easy to pop in or remove roasts from the oven. It comes with a V-shaped nonstick rack that elevates the roast and also cooks it evenly. I prefer the v-rack myself as it holds my roast or turkey in place. It is perfect for passionate chefs or cooks looking to achieve superb quality and performance. A little on the pricier side, this beautiful roaster is well made, functional, dishwasher safe, and has a limited lifetime warranty. Check the price; Typically in the $200 range but worth every penny as it will last a lifetime.
5-ply roasting pan
If you are looking for a higher-end roaster and can spend a bit more, this could be a good choice for you. A 5-ply roasting pan means it is made with 5 layers rather than 3 layers, so it typically has a greater thickness. A thicker base reduces the chance of warping however does increase the weight of the pan. The additional layers in the middle improve heat conductivity and heat retention. This stainless steel roasting pan can withstand higher heat, are compatible with all cooktops, and are induction safe. Heat is distributed faster and more evenly with 5-ply clad stainless steel cookware. A 5-ply roasting pan features long-life durability, a nonstick surface, easy cleanup, and an elegant finish. When loaded up with food, the extra weight of this pan is worth considering. 5-ply roasting pans are considerably more expensive than 3-ply pans but often less than replacing lower quality roasting pans.
There are a few 5-ply roasting pans worth mentioning. I'd love to try the Mauviel M'Cook 5-Ply Stainless Steel roasting pan (regularly $245, check the price as it is often on sale), and the Zwilling Demeyere Industry 5-ply roaster (regular price $438, with average sale price around $350).
When buying stainless steel cookware: Total thickness wins!
Lots of brands use the terms 3-ply, 5-ply, and 7-ply to promote their cookware. When in doubt, trust the total thickness of the layers. A 3-ply pan can have a thicker total layer than a 5-ply pan, thus making it a better overall investment.
Related Cooking How Tos
Recipes Perfects for Roasting
Which roasting pan should I buy?
I own both the Cuisinart and Viking Roasting pans for over two years and feel confident recommended both. If you're looking for an all-around roasting pan under $100, buy the Cuisinart Roasting pan. And if your budget allows, definitely consider the Viking and 5-Ply roasting pan options.
Try one of my easy recipes for your next family meal! And if you have any questions, I'm here to help!