The word challenge is in the title of this for a reason.
It's not easy being a "total mom".
Fitting everything in.
Taking care of everyone else.
Taking care of yourself.
We had a lot of sickness this week, and normally I wouldn't feel this guilty for not working out very much.  But considering I have to come here and write a post about my experiences the past week with the Total Gym, without much to report I just feel like I didn't live up to my end of the bargain.
But seriously there was vomit.  Lots of it.  Some even ON me.  There were two days straight where I got absolutely no sleep.
I have excuses.
Reasons.
Legitimate reasons.
But here's the thing.  This is life.  Real life.  Vomit happens.  And I'm not supermom.  As much I wish I was, I'm not.
Maybe part of the challenge is letting myself off the hook?
One thing that I think is important to note about this whole thing is that getting fit is not simply an 8 week evolution and then you stop.  For this blog series, it is 8 weeks, but I fully believe that the Total Gym is a permanent part of my my lifestyle.  So missing almost a week in an 8 week challenge may seem like a lot, but missing almost a week in the course of the rest of my life really isn't something I need to beat myself up about.  That might be the very reason people quit.
I intended to write about the benefits of weight training today.  I guess I got off-track.
I just found this video of Christie Brinkley doing her 5 favorite Total Gym exercises.  I love stuff like this…it inspires me.
You watch, I'm going to workout!
Check out my previous posts:
If you are interested in the Total Gym, you can use this link for 15% off! Total Gym Coupon Did you know that the Total Gym has a 30-day free trial?  Try it for 30 days.  If you don't like it, return it for a FULL REFUND.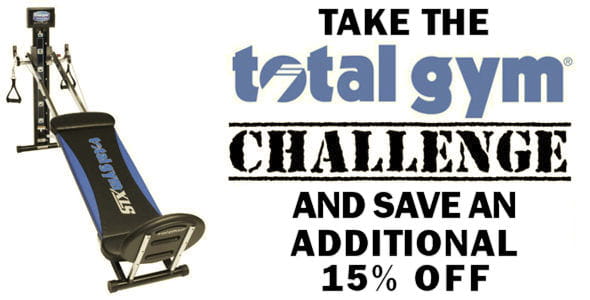 I was provided with a Total Gym XLS system that was through Blog Friendly PR. Opinions expressed are my own.
Post may contain affiliate links.