My kids see me working out and they want to workout too.  We sometimes will pop in an exercise video and they will try and keep up with me – we always have a lot of fun, even if mostly what they end up doing is laying on the floor.  When it comes to the Total Gym, they are even more interested than ever, and I love that they have a desire to stay fit at such a young age, but I had been hesitant to let them try the Total Gym.
Then one day I discovered that the Total Gym actually has a workout card in the exercise deck geared towards kids!
My daughter is too young.  But my son is almost 7, and although the card said it is designed for ages 8 and up, I decided to let him give it a try with my supervision.
My son is somewhat of an athlete.  He just finished his second season playing tackle football, he likes to run, he is always playing outside with his friends at various different sports.  So I figured even if all this does is make him feel like he is building muscles he is excited about being able to share this activity with me.
It is going to take him awhile to figure out how the machine works in relationship to his body, and even longer to develop proper form, but he had a lot of fun trying a few of the exercises for the first time.
I really think that the Total Gym is a great way to get the whole family involved in working out and getting fit together.  It's easy to take turns doing sets and help each other with proper form, and simply root each other on.  This was my son's first workout on the Total Gym, I'm pretty sure that from now on he'll be BUGGING me to workout on a daily basis.
Who can complain about that?
Check out my previous posts:
If you are interested in the Total Gym, you can use this link for 15% off! Total Gym Coupon Did you know that the Total Gym has a 30-day free trial?  Try it for 30 days.  If you don't like it, return it for a FULL REFUND.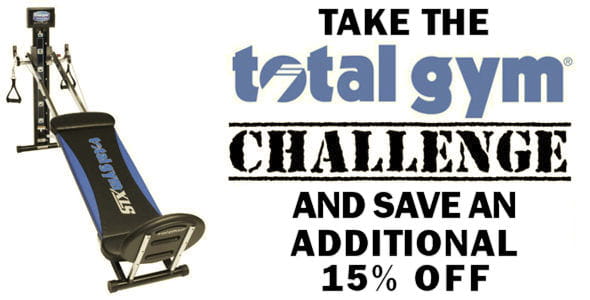 I was provided with a Total Gym XLS system that was through Blog Friendly PR. Opinions expressed are my own.
Post may contain affiliate links.