I was sick this week with a head cold so I didn't quite workout with the same zest that I normally do.
I don't have any photos or videos showing my amazingly athletic prowess to share.
I don't have any glowing improvements to report (frankly I didn't even check my stats).
So….
What does one talk about?
One of the things that I keep going back and forth about on the Total Gym is trying to back sure I cover the good points and the bad.  I usually end up sharing with you the positive aspects because this is about improving myself.  But I thought it was only fair to those following along to share some "room for improvement" type things about the Total Gym.
Now, keep in mind that overall I recommend the Total Gym to those looking to add weight training to their fitness routine.  It has SO MUCH to offer, and I will continue to post about those things, but I also wanted to make sure you were aware of every aspect of it.
The Total Gym is HEAVY.  Folding it up risks smashed fingers and toes.  It takes getting used to the weight of it and adjusting to how it folds to get comfortable with it, but I still am afraid of smashed fingers.
People with strong legs might find that they can only do the leg exercises one leg at a time.  Even set on the highest angle, level 6, my legs are too strong to do most of the exercises where you use both legs at the same time.  Single leg exercises are still somewhat of a challenge at level six, however.
When I am done on the Total Gym my hands smell like rubber (of course you get a smell complaint from me).
I wish there was a way to store the accessories and cards ON or IN the machine when it is folded up and not in use.  I just don't know where to put everything, I would like to see a storage pouch or something so I can keep everything with the machine.
The foot platform squeaks when I do leg exercises.
That's really all I can think of about the Total Gym that would qualify as "room for improvement".  None of them are deal breakers, the good far outweigh the bad for me.
Check out my previous posts:
If you are interested in the Total Gym, you can use this link for 15% off! Total Gym Coupon Did you know that the Total Gym has a 30-day free trial?  Try it for 30 days.  If you don't like it, return it for a FULL REFUND.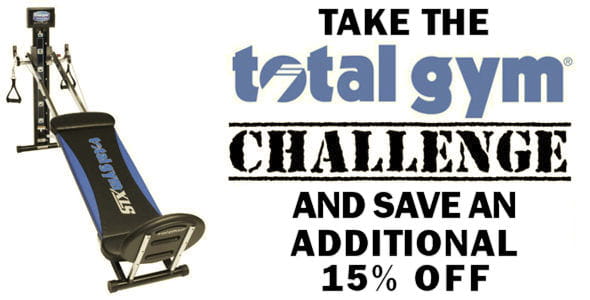 I was provided with a Total Gym XLS system that was through Blog Friendly PR. Opinions expressed are my own.
Post may contain affiliate links.