This week I killed my legs.
Killed them.
My thighs feel like trucks are sitting on them.
An observation, not a complaint.
I really like pushing my muscles and seeing the strength I am getting with the Total Gym.
I had this grand delusion that I could make a fancy video for you with captions and all sorts of great stuff to show you how the Total Gym works.
Um.
First of all, my video camera uses up 2 AA batteries PER 1/2 HOUR.  It's terrible and kept turning off.
Second, my editing software kept crashing my computer so I couldn't edit it properly.
Third, I had no idea where to stand to make sure I didn't look headless in the video.
In any case…enjoy…
(Oh and don't mock the pants, they are my super comfy karate pants that I love to workout in.  Don't knock it til you tried it.)
Oh and at one point I do bicep curls and you can hardly hear me and for some reason my elbows kept swinging up. Not great form..
(oh and the sit-ups…I have to hold on like that cause it's still kind of weird not doing them on the ground)
Check out my previous posts:
If you are interested in the Total Gym, you can use this link for 15% off! Total Gym Coupon Did you know that the Total Gym has a 30-day free trial?  Try it for 30 days.  If you don't like it, return it for a FULL REFUND.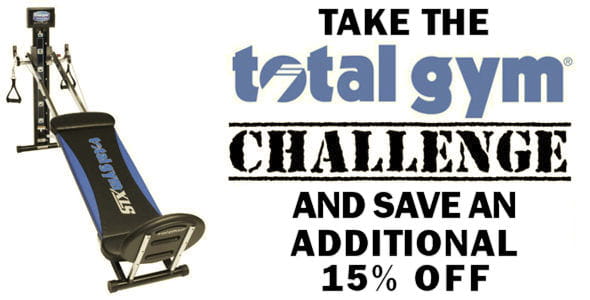 I was provided with a Total Gym XLS system that was through Blog Friendly PR. Opinions expressed are my own.
Post may contain affiliate links.