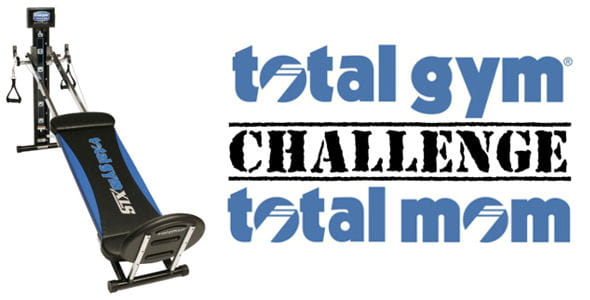 It's the end of my second week using the Total Gym!
I have to say it is addicting.  I feel myself getting stronger and I really enjoy using the machine.  I'm starting to not need the reference cards as much, except when I want to change things up a bit, and I'm getting much better at moving the height adjuster up and down.
If you don't know much about the Total Gym, it is a unique piece of exercise equipment that allows you to work almost every major muscle group in your body using your own body weight and gravity as resistance.  When in use the machine does take up a little bit of room, but you can fold it up and it stores easily out of the way.   It's kind of heavy, and does take some getting used to so you don't smash your fingers, but I now fold it like a pro after every workout.
I used to have a BowFlex machine and it was so complicated getting the right rods setup for the right exercise.  Half the time I spent adjusting it because I had the wrong weight.  With the Total Gym, because there are only 6 height settings rather than an unlimited number of weight combinations on the BowFlex, you learn quickly where you need to set it.  I generally do many of the leg exercises on the highest setting, and the arms ones on the 3rd or 4th depending upon whether I want to do fewer reps that are harder or more reps that are easier for more of a cardio workout.
And it is really easy to get a cardio circuit workout on the Total Gym.  I try and alternate my workouts each time for variety and to ensure I don't just add bulk – I want to to tone not compete for the title or Mrs. Universe.
I have a few favorite exercises on the Total Gym, one of which is the Pull-Up.  The Pull-Up requires an attachment (included) and took me a few tries to get adept at installing it quickly, but now I'm a pro at it.  The Pull-Up is the one arm exercise where I can feel EVERY arm muscle I have at work.  It feels great and I love watching the veins bulge out in my arms when I do it.  Kind of gross, but it's a sign that I am getting stronger.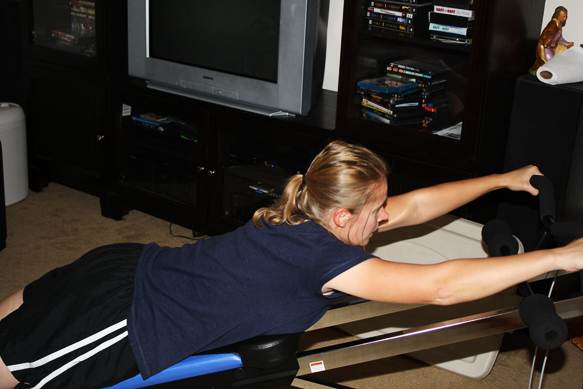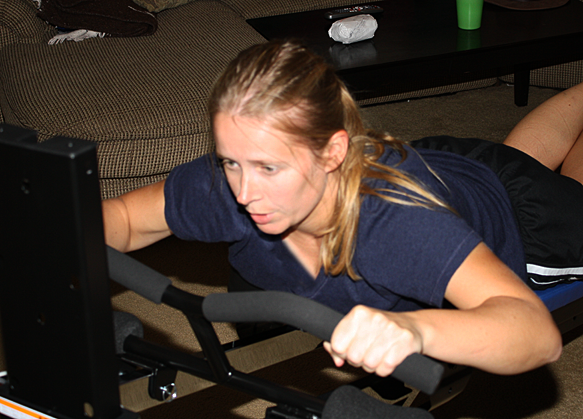 I lost track of how many times I worked out this week.  I want to say it was at least 4 times, and probably not any more than that because it was just a busy week.
I know you probably want to see the results.  This week was nothing stellar.  I still feel that I'm gaining muscle so the weight loss isn't significant, but none of the other numbers have changed from last week.  But again, my jeans do seem to fit better.
This coming week I'm aiming for 5 days of workouts.
Below are my current measurements compared to my starting stats and the previous week.
| | | | |
| --- | --- | --- | --- |
| | Starting #'s | Week 1 results | Week 2 results |
| Weight: | 155.4 lbs | 156 lbs | 154.8 lbs |
| Water level: | 47.7% | 48.1% | 47.4% |
| Body Fat: | 34.6% | 34.1% | 35% |
| Bicep: | 11 3/4″ | 11 1/2″ | 11 1/4″ |
| Thigh: | 24 1/4″ | 24 1/2″ | 23 3/4″ |
| Hips: | 40″ | 39″ | 39 1/2″ |
| Waist: | 35 1/2″ | 34″ | 34″ |
I'm a little suspicious about the body fat reading on my new scale.  I tried it 3 times this morning and each time it read a different number.  I know the weight is correct because I got the exact same reading on 2 different scales, but I'm just not sure about the accuracy of the body fat reading.
These ladies are all participating in the challenge as well so go check out their progress:
Shasta www.faithfullyfrugal-and-free.com
Stacie www.thedivinemissmommy.com
Candace www.dealectiblemommies.com
Jennifer www.jleighdesignz.com
If you are interested in the Total Gym, you can use this link for 15% off! Total Gym Coupon
I was provided with a Total Gym XLS system that was through Blog Friendly PR. Opinions expressed are my own.
Post may contain affiliate links.