Last week I told you about the fun new campaign I am participating in with Total Gym.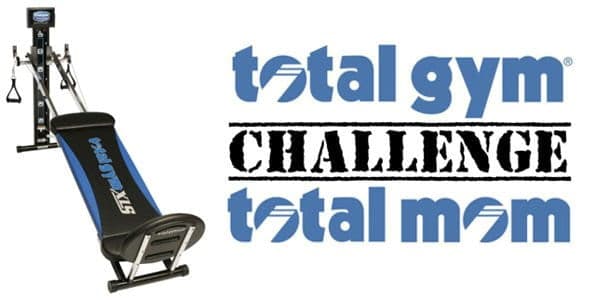 I showed you my "before" picture.
I gave you my measurements!
I spent the last week getting familiar with the machine.
They sent a Total Gym XLS.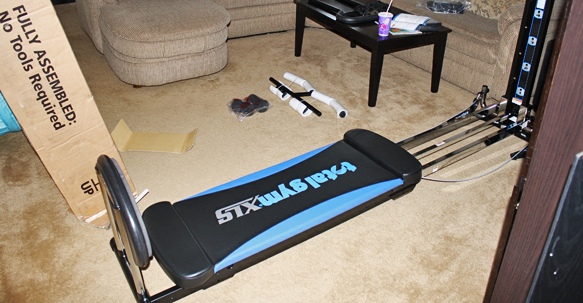 It came fully assembled! That was nice. It took some practice to get used to setting up the machine in the few different configurations for the over 80 different exercises but it really is SO EASY once you get the hang of it. It is heavy, and remains heavy and you can smash body parts, but once you understand how the machine moves, you don't notice as much.
My favorite, favorite, favorite part is the Total Gym Training Deck. It is a series of cards that comes in a plastic holder that attaches to the top of the Total Gym. These cards contain every different exercise you can do on the Total Gym and they are numbered. The beginning of the deck has a number of different routines depending upon your fitness goals and these cards make it quick and easy to switch to the next exercise.

I worked out on my Total Gym 5 days last week. I'd say 3 of those workouts were fairly intense, 40 minutes or more, the two were closer to 30 minutes. I knew I wasn't losing weight but my clothes seemed to fit better.
Below are my current measurements compared to my starting stats last week.
| | | |
| --- | --- | --- |
| | Starting #'s | Week 1 results |
| Weight: | 155.4 lbs | 156 lbs |
| Water level: | 47.7% | 48.1% |
| Body Fat: | 34.6% | 34.1% |
| Bicep: | 11 3/4″ | 11 1/2″ |
| Thigh: | 24 1/4″ | 24 1/2″ |
| Hips: | 40″ | 39″ |
| Waist: | 35 1/2″ | 34″ |
I gained weight but dropped my body fat % and lost an inch in my hips and waist. I am really enjoying using this machine, and can't wait to see next week's results!!!!!! And now that all the junk is moved out of my family room for my garage sale, next week I'll take some action shots and show you some MUSCLES.
Don't forget, these ladies are all participating:
Shasta www.faithfullyfrugal-and-free.com
Stacie www.thedivinemissmommy.com
Candace www.dealectiblemommies.com
Jennifer www.jleighdesignz.com
Trisha thinks she can kick my butt. She's delusional.
If you are interested in the Total Gym, you can use this link for 15% off! Total Gym Coupon
I was provided with a Total Gym XLS system that was through Blog Friendly PR. Opinions expressed are my own.
Post may contain affiliate links.