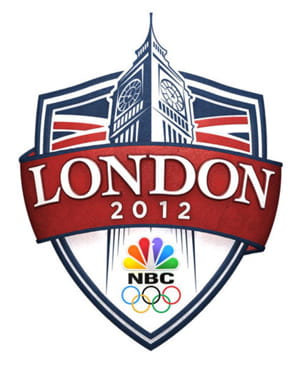 I have always loved the Olympics.
I loved rooting for the USA.
Watching the competition evolve over numerous days as athletes compete in hundreds of different events.
The teamwork.
The triumphs.
The heartbreaks.
Gymnastics, swimming and track & field are among my favorite summer sports, but I don't mind watching many of the others as well.  I also never miss the opening ceremonies.
This year the 2012 Summer Olympics are being held in London.  The Games of the XXX Olympiad will be from July 27 – August 12, 2012 and NBC is covering all 17 days.
NBC will broadcast 271 hours of London Olympic coverage over 17 days for the most extensive coverage ever provided by an Olympic broadcast network. Swimming — including Michael Phelps' quest to become the most decorated Olympian ever — track and field, gymnastics, diving, and beach volleyball, among other sports, will serve as the centerpieces of NBC's coverage, which begins with the Opening Ceremony at 7:30 p.m. ET/PT on Friday, July 27.
One of the things I look forward to about the Olympics is watching it with my kids.  My son and I both remember rooting on Michael Phelps in the 2008 Beijing Summer Olympics and with this supposedly being his last Olympics, we will be watching in awe as he swims each race and we root him on to victory.  My daughter is too young to remember the Beijing Olympics so this will be her first year enjoying it with us.
In order to help get us ready for the London Olympics, we had a little mini-Olympics of our own at home.  We were joined by my friend Paula, a food blogger, and her 3 kids, and we held Olympics games right here in my living room.  We intended to be outdoors but the rain and threatening thunderstorms kept us inside.  It didn't matter, the kids had a blast.
We started out our day with lunch.  It was round like the Olympic Rings but we didn't have 5 of them, we had 3 because, well, there was no way would eat 5 pizzas.  But  that doesn't mean it didn't have the Olympic spirit!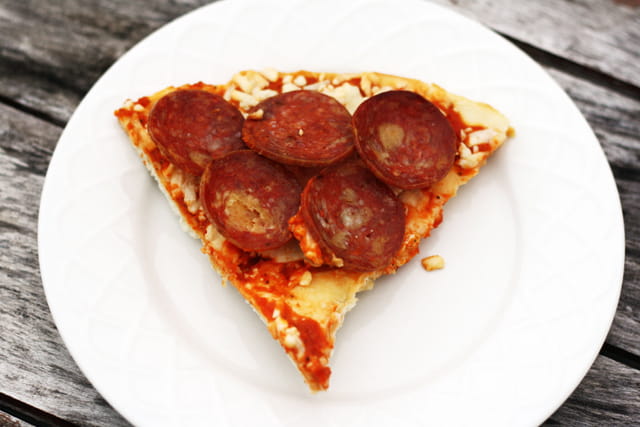 The kids played a series of games and earned medals for their accomplishments.  Below are some of the games they enjoyed: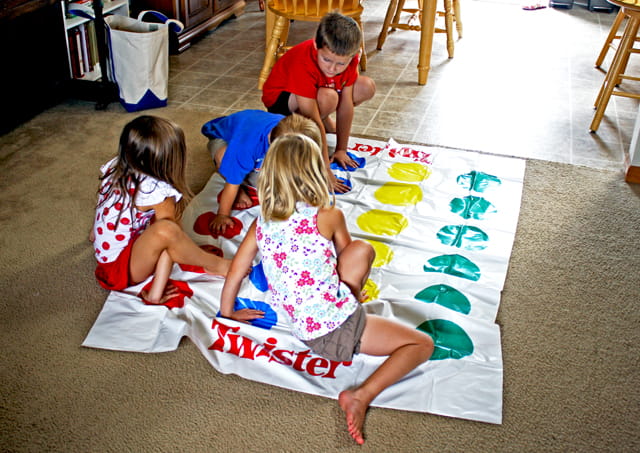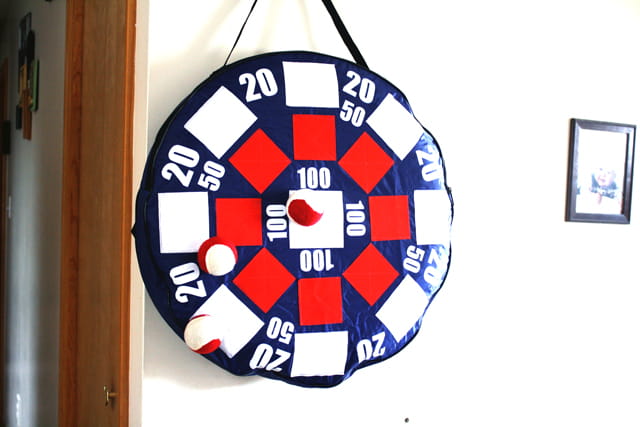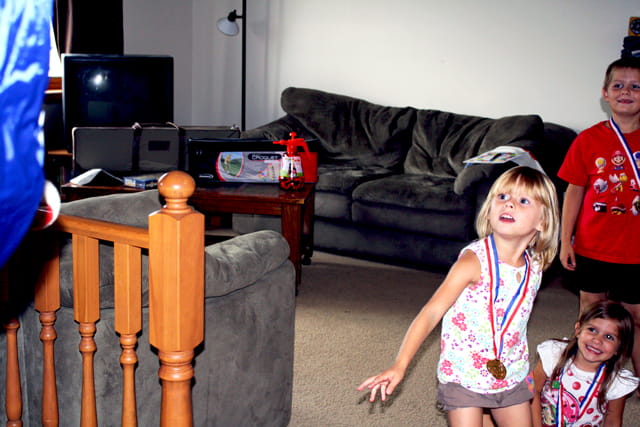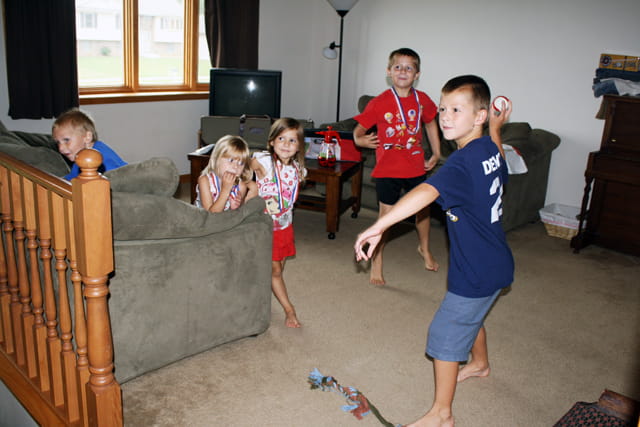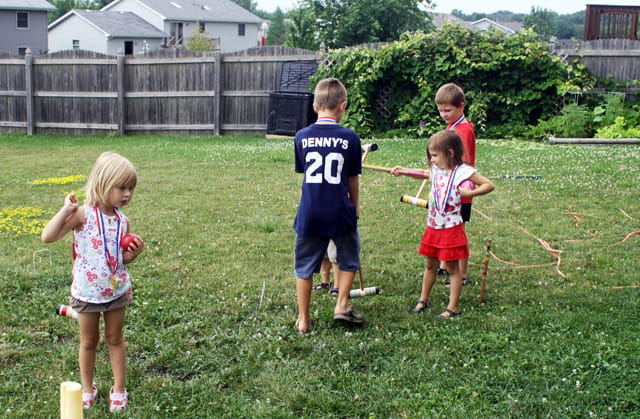 We didn't get a chance to play badminton because of the rain but we plan on having some friendly competition with that next time.  I love a good game of badminton!
The kids were super proud of their medals: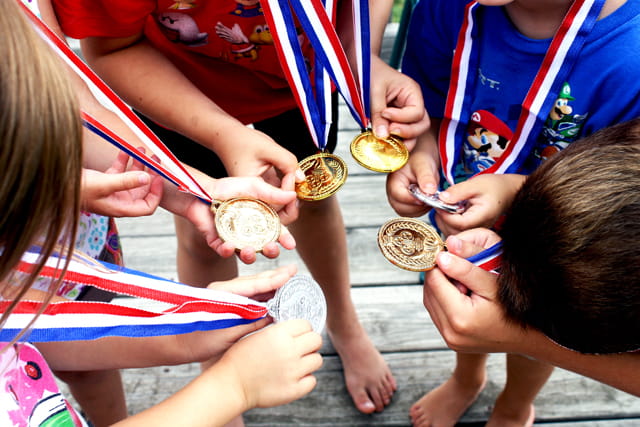 It was so easy to organize and setup our little party, the kids really got into it and the idea of winning a medal really made it extra special for them.  I actually think this is something we might do every year, maybe for the 4th of July.   The Summer Olympics may only come along every 4 years, but there is no reason we can't celebrate them every summer.
Again, the London 2012 Summer Olympics take place July 27th – August 12th and they air on NBC.  You can check your local listings here.
Note: NBC provided party merchandise & compensation but opinions expressed are my own and not those of NBC.