Note: I received the water test kits shown to facilitate my review.
Do you know what's in your water? Seriously, I'm asking. Have you ever thought about the quality of your tap water? The water you use to cook, make ice cubes, drink and give to your pets? Do you just assume that is safe?
My town publishes an annual water report and on paper everything looks fine. There aren't any levels of anything that exceed and EPA maximums or even come close to being questionable. On paper, our water looks perfectly fine and safe.
A couple of weeks ago, however, we began to notice a change in the taste of our water. It was so bad that we couldn't drink it. I had bought some bottled water to compare and the bottled water tasted so fresh and pure. It made me realize that even before this distinct change in the taste of our water, that it never really tasted that good.
So if the water report says it is safe, but the taste implies otherwise, what do you do?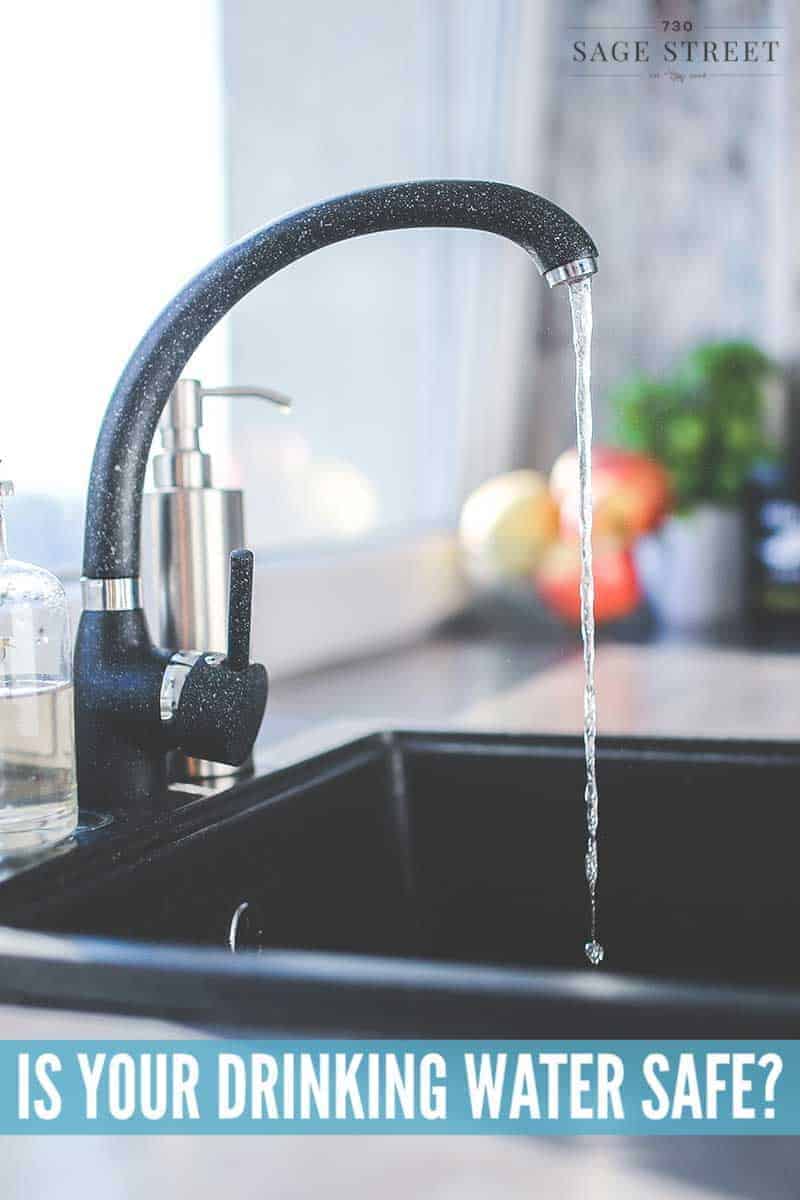 Is your drinking water safe?
It seems that more and more potential pollutants are making their way into our water. From manufacturing plant runoff, to household products, the safety and quality of our drinking water is suffering. The very basic thing that we need to survive, may contain contaminants that can make us sick. Potentially even cause cancer. Sad and very, very scary.
So how do you know if your drinking water is safe?
First, make sure you are reading the reports from your local water department when they send them to you. Just because something doesn't exceed EPA maximums, doesn't mean it's something that you really want your family ingesting if you can avoid it. Also, the EWG has a tap water database where you can access 30 million state water records. Simply input your zip code to see what pollutants were found in your water.
The best way, however, to find out if your water is safe, is to test it.
What is the maximum contaminant level for drinking water?
The United States Environmental Protection Agency (EPA) is responsible for creating the standards and regulating the level of contaminants allowed in drinking water as per the Safe Water Drinking Act. Currently the EPA regulates over 90 contaminants but they are always reviewing and evaluating new potential contaminants. Because there are over 90 contaminants, there is no quick and easy answer to the maximum contaminant level. Each specific contaminant has it's own allowable level. You can grab a printable version from the EPA here: National primary Drinking Water Regulations.
Can you test your water at home?
You can test your water at home, and it's actually fairly easy. There are a number of different types of water testing kits, some where you collect the water and send it to a lab, and others where you do the tests yourself using test strips and get almost immediate results.
Water Testing Kits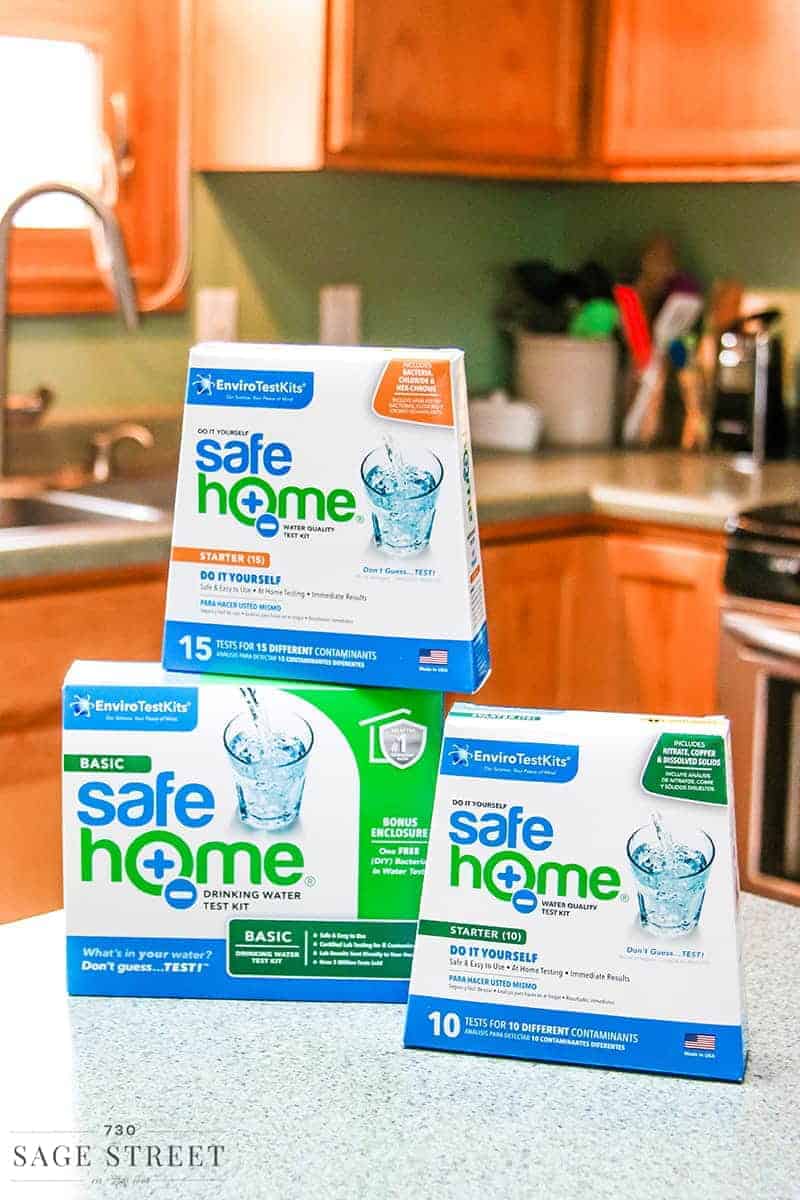 EnviroTestKits has a complete line of Safe Home water quality test kits, both DIY at home kits and kits where you send samples of your water in for their lab to test. I was able to try both. Because I had noticed such a distinct change in the taste of our water, I wanted to be thorough. I also ran two of the do-it-yourself test kits, one with the water as it comes into the house, and the second with the water after it flows through our whole house water filter. Despite having the filter, the water still tasted funny and we wanted to see if we could figure out why.
The full line of Safe Home water test kits are available on the EnviroTestKits website, but you can purchase some of the kits from Amazon.com.
All of the kits are easy to use and there are essentially two test types. The DIY test uses test strips that you dip in water for a designated period of time. The lab and bacteria tests involve collecting water in a vial. For a lab kit, you then send your collected water vials back to the lab and they will email your results to you when they are ready. For the DIY kits, you get almost immediate results. The bacteria test is done at home and delivers results in around 24-72 hours.
The video below gives you an idea of how easy it is to do the DIY test kit at home.
My Results
As I mentioned, I ran two sets of DIY tests, one with the unfiltered water as it comes into our house, and the other with the filtered water. We chose to do the lab kit on the unfiltered water.
Lab Kit Results
The lab kit I received tested copper, lead, nitrate-nitrite and water hardness. I received my results via email within two weeks of sending in the kit.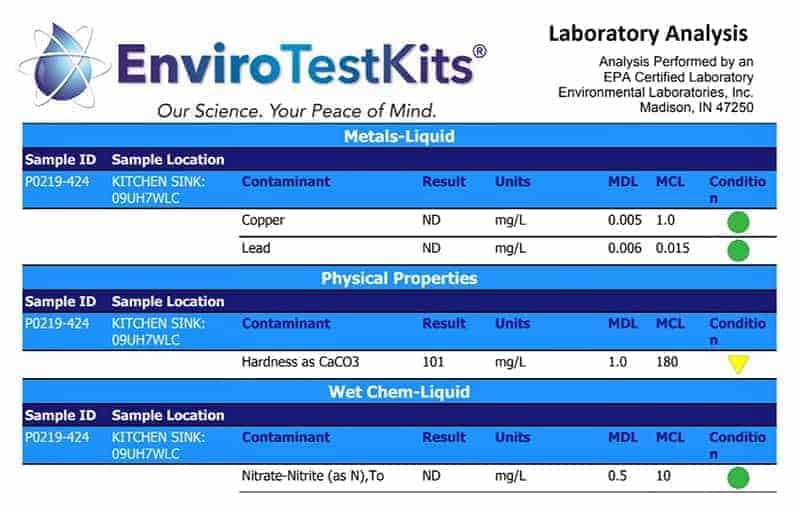 It was nice to see that copper, lead, and nitrate-nitrite were not detected by the lab in our water. This backs up the results we had with our DIY test kits. We do have some water hardness, which we suspected, but now we know exactly what level of hardness.
DIY Kit Results
Unfiltered
Our unfiltered results using the Safe Home Starter 15 kit, indicated a couple of potential problems.
First, the chloride level of 500 ppm exceeds the EPA maximum level of 250 ppm. We don't have a filtered result for this, but our whole house filter does not remove chloride so we will assume the level is the same for the filtered water. Our free chlorine level is 1, and our total chlorine level was 0.2 ppm but both still below the EPA maximum level of 4 ppm. Our sulfate level is 250 ppm which is the EPA maximum level so this could be an issue affecting our water quality. Finally, our level of total dissolved solids is >750 ppm and the EPA maximum level for that is 500 ppm.
Full results of our unfiltered water: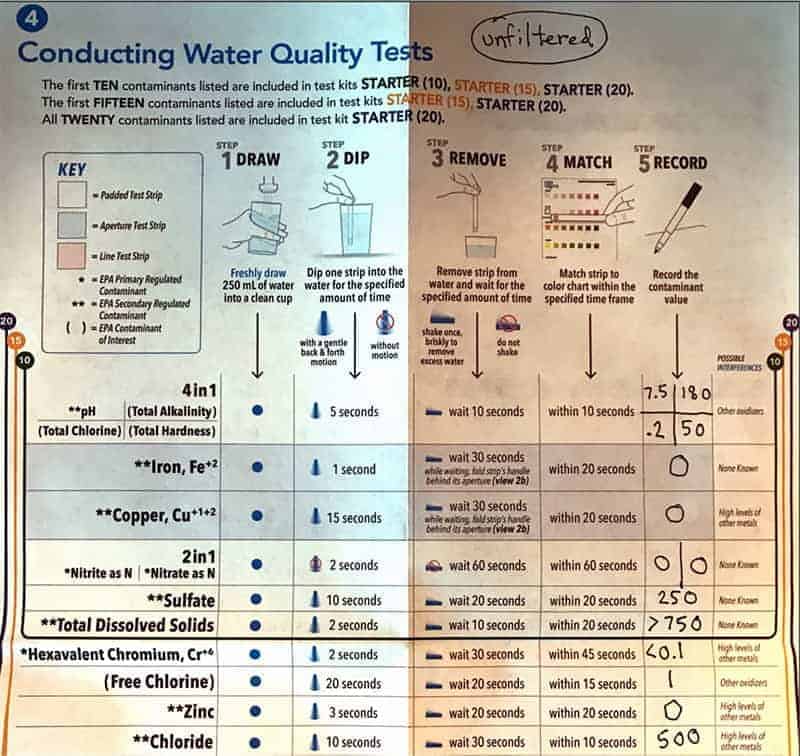 Filtered
Our filtered results using the Safe Home Starter 10 kit, indicated some improvement but still had some concerns.
With our filter, both chlorine levels dropped to 0, which is one of the things our whole house filter is supposed to remove. So it is doing its job there. Our sulfate level remains the same at 250 ppm which again is the EPA max level. Our pH and total alkalinity increased with the filter. The pH went from 7.5 which is the middle of the acceptable level, to 8.5 which is the high end of the acceptable level. The alkalinity went from 180 unfiltered to 240 filtered. 180 is the high end of the moderate level, 240 is considered high.
Our copper went up with the filtered water but because both the lab kit and the unfiltered water showed 0 ppm for copper levels, I am going to assume that is an anomaly or a mis-reading of the test strip. Finally, our total dissolved solids still remains above the EPA maximum level. Our filter is supposed to reduce sediment, this number would indicate to me that it is not removing it or the unfiltered water has such a high level of total dissolved solids that it didn't even register on the chart.
Full results of our filtered water: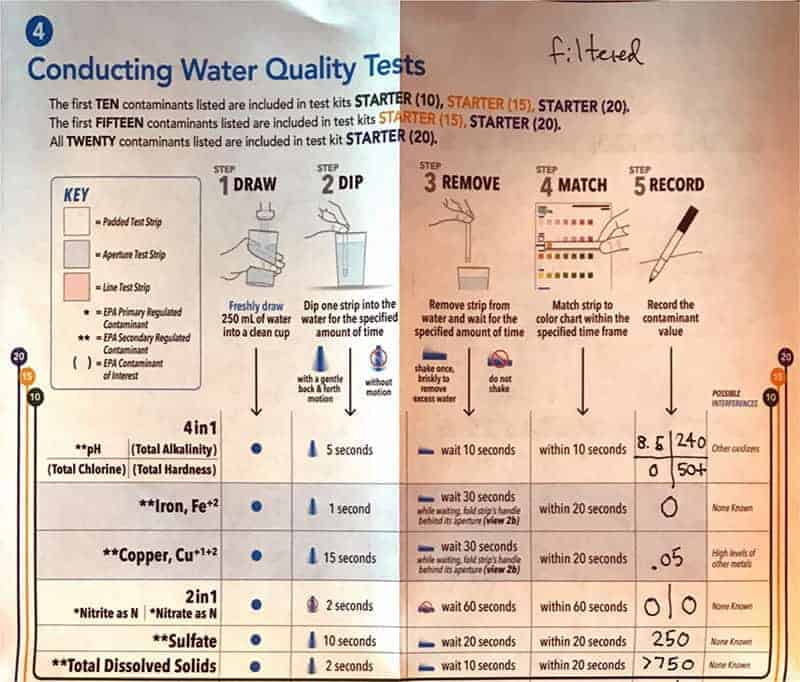 So, what now?
So now that I have my results, what do I do? That's a really good question and one that I haven't fully answered yet. I am still researching solutions like reverse osmosis and other systems that will completely purify our water. After this experience, and knowing that we only tested for a handful of the over 90 contaminants recognized by the EPA, I am hoping to find something that will provide as close to distilled water as possible. A distiller is an option as well, but I'd like to find a solution that isn't just for the counter. Something that will ensure that we get safe water from every faucet in the house.
In the meantime I have purchased a Zero Water pitcher for our drinking water. It brought our total dissolved solids down to zero according to the tester that comes with the pitcher. The water tastes amazing but it's not a long term solution for us. I already fill it up daily just for our drinking water. If I were to cook with it, make coffee with it and fill the dog bowl with it, I'd be filling the pitcher at least twice a day. And it's not one of those filters that filters as you pour. This one takes some time to filter everything out. You can also get a Zero Water pitcher at Target and they seem to have a good price on a four-pack of the filters.
Test your water
If you are concerned about the quality and safety of your drinking water, I highly recommend that you pick up a Safe Home Water Quality Test Kit. After using a couple of different kits, I'd recommend that you choose the most thorough, complete kit that you can afford. Safe Home has an ULTIMATE lab test kit for city or well water that tests for 200 contaminants in the EPA certified lab. Their most comprehensive DIY home kit tests for 20 contaminants.
Your family deserves safe water!