But Mercola certainly wants you to think it did.
1,744 people have shared their article on Facebook at the time of my writing this.
And those who see the share see something like this: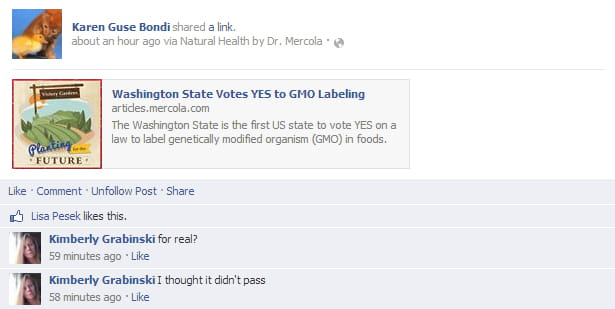 "Washington State Votes YES to GMO Labeling"
And the description corroborates this statement.
But when you click over, the article discusses the vote and why it is important, but obviously makes no mention that the law passed because likely IT DIDN'T PASS.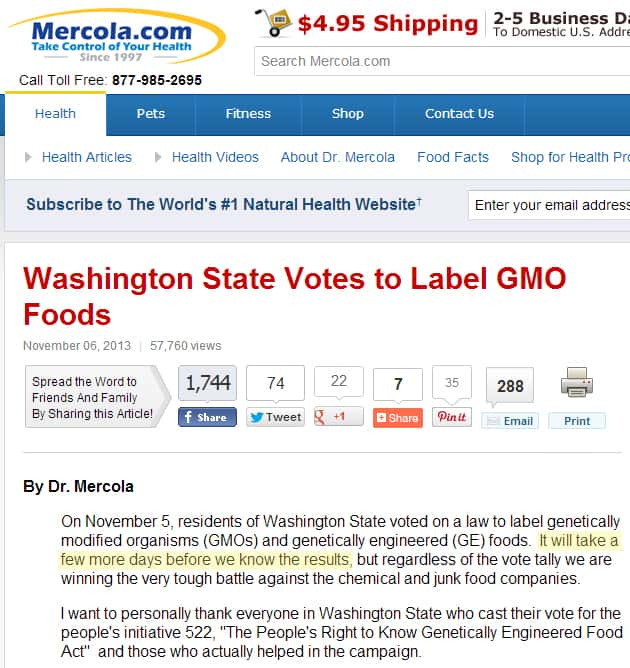 Obviously I fell for it.
I clicked over to the Mercola website and am one of the over 57,000 views on that article.
When I go to share the article, the same misleading title and description pop up: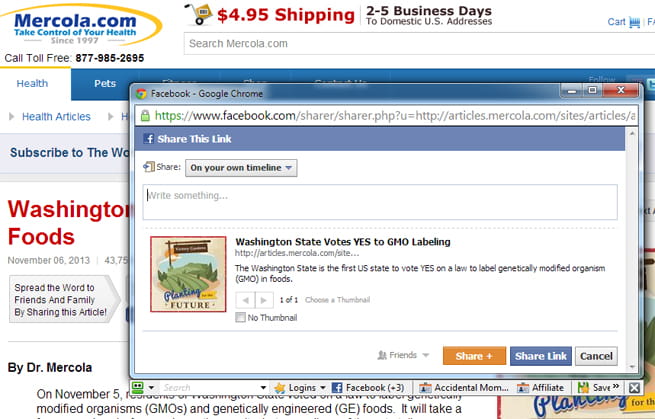 This is link bait.
Clearly.
But is it a big deal?
I was EXCITED to read that title when I saw it in my Facebook feed, only to be very let down. This is a cause near and dear to my heart and I was rather taken aback that Mercola, who I thought was fighting the same fight, would deceive me like that. I was offended, even. And how many others are sharing this on Facebook without even clicking over to see the article, thinking the labeling bill did pass?
Does this go beyond link bait to deception?
And BTW, I setup this article the exact same way Mercola did. So if you post the link to this article on Facebook, it will have the same title and description that his did to show how easy it is to manipulate.
This is sort of a "sharer beware" for Facebook. You might be spreading false information if you don't verify it first.
Join our newsletter!
Subscribe to get updates and great stuff via email including subscriber-only goodies like free printables and giveaways.