Life is funny.
Not funny haha – well, sometimes it's funny haha, but often it is a different type of funny.
The kind of funny that leaves you trying to sort out exactly what you are supposed to do next.
I applied to be a volunteer firefighter last month and took the agility test a couple of weeks ago. It wasn't easy and I wasn't under the impression that I passed with flying colors, but I did feel like there was still hope in making it based upon their input and attitude. I felt like with proper fitting gear, the experience of knowing some tips like that I need to lean forward when dragging the hose instead of standing upright, and the 6-month training that I could do the job required and do it well.
I was excited by the possibilities that I could serve my community in such an important way.
It felt like a great fit for me because I've never really fit in with the typical things that women do to volunteer, or even just socially. The PTO was not my speed. I am not great with children. I don't make small talk. I've always had a desire to help but just never found that one thing that clicked for me. I like to do physical things, I am strong and fit and have always been fascinated with public service jobs.
I have never felt so confident in a decision that would change my life so drastically.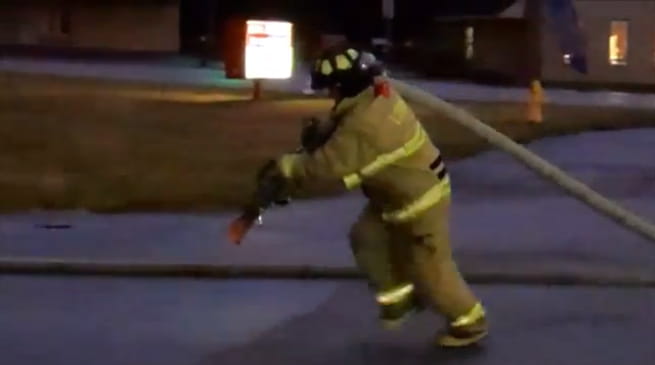 Then I received a rejection letter.
It ended with an invitation to try again the next time they have the test – IF they have it.
And I might.
But I might not.
This is where the funny comes in.
Trying to determine if it's just not meant to be or if it's meant to be but first I have to prove how much I actually want it before I can have it. Like that test wasn't hard enough.
I don't want to waste their time or mine going after something that isn't in the plans God has for my life.
I've had such a wide range of emotion about this. I guess I did more than most – I gave it a shot. And at one point I really was just proud of having tried, but the more time passed, the more I realized that I really, really wanted to do it. I was willing to sacrifice my time for the schooling and beyond that for the "job" because it just felt right.
It felt like it fit.
So now I'm kind of a bit lost.
And then there is that whole failure issue, but I don't battle that demon as much as I expected because I know that even just trying was a huge feat.
It really is more about the disappointment that at 41 years old I just wanted to become a firefighter.
Join our newsletter!
Subscribe to get updates and great stuff via email including subscriber-only goodies like free printables and giveaways.