If you enjoy sharing a roast or turkey with family and friends, then you know the importance of a quality roasting pan. However, with all the different rack types out there, choosing the right roasting pan rack can be confusing, especially if you don't know the benefits each roasting rack.
Below are my favorite roasting pans that feature the V rack and the flat rack designs. If you have time take a deeper dive into materials for roasting pans, 3-ply vs 5-ply roasting pans, roasting pan alternatives and how to clean stainless steel pans before investing in your next roasting pan.
Contents
My Favorite V Rack Roasting Pans
V-shaped racks are my favorite; they hoist the roast a few inches off the pan's bottom. If you're looking to buy a V rack, I use and recommend two brands based.
Best 'V Rack' roasting pan under $100
Cuisinart MultiClad Pro Stainless Roasting Pan
Best 'V Rack' roasting pan over $100
Viking Stainless Steel Roasting Pan
Cuisinart Multiclad Pro roasting pan - under $100
Cuisinart MultiClad Pro is the perfect family dinner roasting pan; not only is it easy to handle and clean, but it also ensures that you are roasting your meat evenly. The Cuisinart Roasting Pans come equipped with a stainless steel rack for improved heat circulation while cooking, giving you a perfectly tender bottom round roast every time.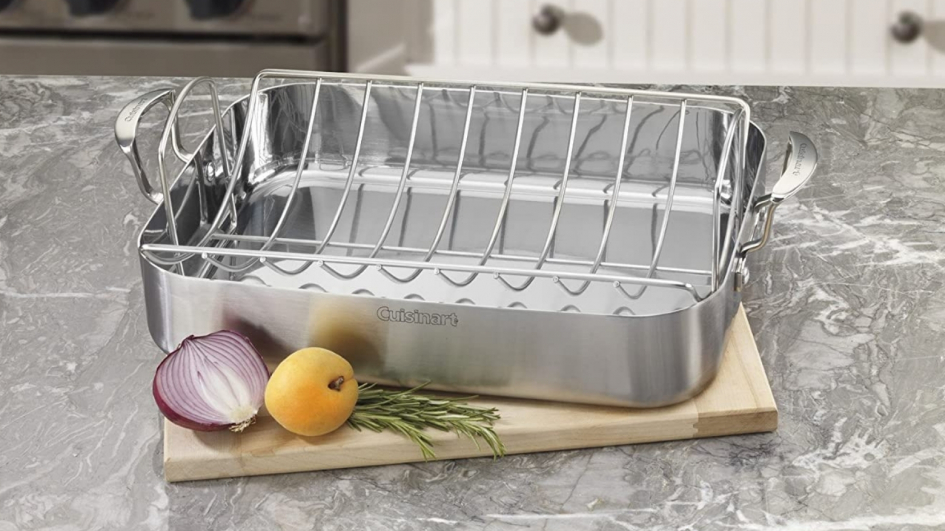 Pros
The Cuisinart Multiclad Pro Roasting Pan contains a core of pure aluminum and a brushed stainless exterior, which are non-reactive and will not react with acidic foods
This pan has a brushed stainless steel exterior that looks great in any kitchen
It's dishwasher safe, so you can easily clean it after use
The handles stay cool to the touch even when cooking at high temperatures
You can't beat this price for such a quality product
hassle-free replacement warranty
works with gas, stovetop, and induction
Cons
The handles on the pan are not long enough to fit over a stovetop
Only safe up to 500°F/260°C (serious complaints recorded)
Viking Culinary 3-ply Stainless Steel - under $300
The Viking Culinary 3-ply Stainless Steel is the perfect appliance for big family get-togethers. It has the capacity to cook a 25-pound turkey or other larger roasts, and it's induction-ready, so you don't have to worry about ruining that beautiful gravy by using an uncoated pan-the stainless steel cooking surface won't react with your food, keeping all those great flavors intact.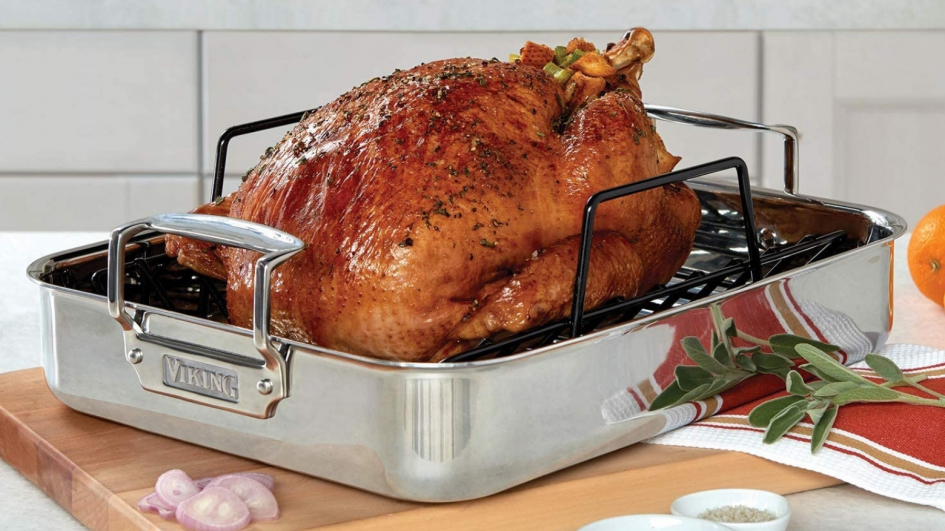 Pros
The Viking Culinary 3-ply Stainless Steel Roasting Pan contains a layer of aluminum sandwiched between heavy-gauge stainless steel for superior performance, which means it will last a lifetime
It has an aluminum core to provide even heat distribution.
The pan can be used for roasts, poultry, and vegetables.
Unlike other pans in its class, the Viking Culinary 3-ply Stainless Steel Roasting Pan doesn't have rivets that could come loose over time
You can use metal utensils with this pan without damaging the surface or scratching it up
Safe to 600°F/315°C
Cons
It's a little heavy
High price point
My Favorite Flat Rack Roasting Pans
It's always nice to have plenty of space. Flat racks offer more surface area than 'V Racks' and are perfect for accommodating large roasts, lasagnas, and vegetables as well!
Best 'Flat Rack' roasting pan under $100
Cuisinart Lasagna Pan

Best 'Flat Rack' roasting pan over $100
Viking Oval Roasting Pan 3-Ply Mirror

Cuisinart Lasagna Pan - Under $100
Cuisinart's Lasagna is an elegant mirror-polished stainless steel lasagna pan with riveted, comfort-grip stainless side handles that make placing lasagnas into the oven and lifting them out safe and easy. The stainless-steel interior is an excellent surface that doesn't react with food meaning your meal's flavors stay intact. And with the perfect shine of the exterior, this pan will make your presentation look stunning.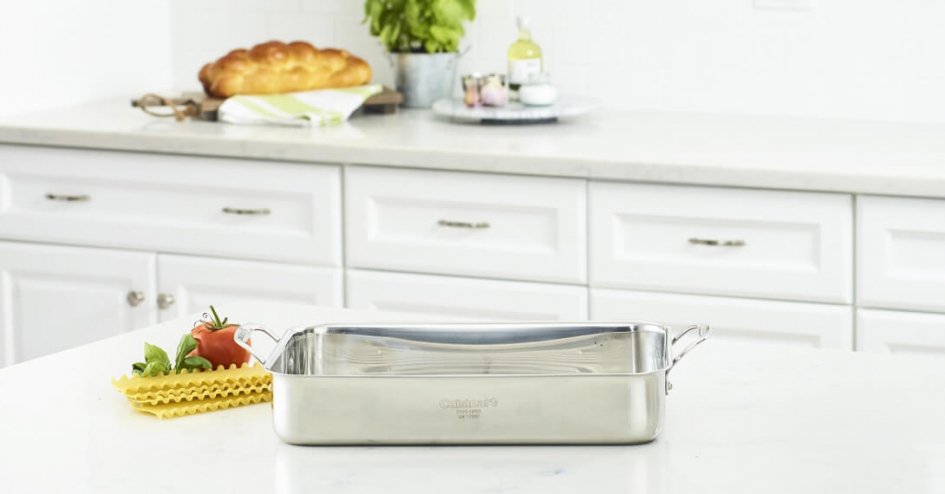 Pros
Affordable Roasting Pan
It's dishwasher safe for easy cleanup
The lasagna cooks evenly in the pan, with no need to turn it over halfway through cooking time
You can cook a variety of dishes in this pan, including lasagna and casseroles
Cons
It's hard to clean the rack
The pan is oven-safe up to 500 degrees
Viking Oval Roasting Pan 3-Ply Mirror
The Viking 3-Ply Stainless Steel Oval Roaster 3-in-1 Roasting Pan is a versatile cooking pan used as an open or covered roaster, Dutch oven, and stockpot. The lid can also be used separately for additional cooking and serving options. This stainless steel trivet features rounded corners to help prevent scratches on your kitchen countertop surfaces and has holes in the pan's bottom for better heat distribution when using it as a roaster or Dutch oven.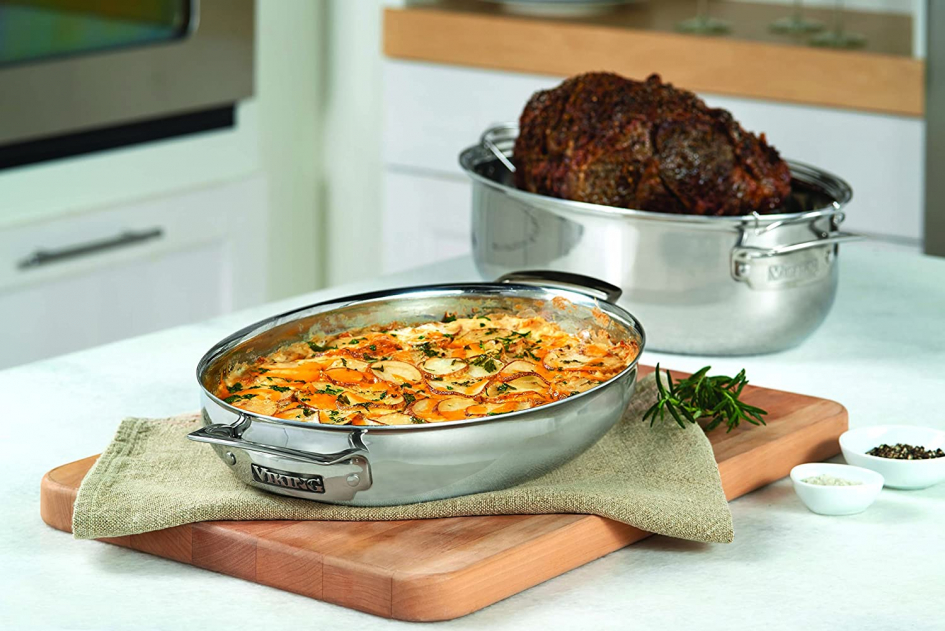 Pros
The Viking 3-Ply Stainless Steel Oval Roaster contains a layer of aluminum sandwiched between heavy-gauge stainless steel for superior performance
It's dishwasher safe and oven safe up to 350 degrees Fahrenheit, which means you can cook with it or clean it in the dishwasher without worrying about damaging the metal
The roaster is big enough to fit a 15-pound turkey or 12 pounds of ribs, so you'll be able to cook for your whole family at once!
You can use this roaster on any stovetop surface - gas, electric, ceramic glass top - because the heat will distribute evenly
Lifetime warranty
Cons
The oval shape is not ideal for roasting large turkeys or hams
It can be challenging to clean the inside of the pan
High price point
Roasting Pan Buyer's Guide
Best Materials for a Roasting Pan
The best material for roasting pans varies depending on what you plan on cooking with them most often. For instance, if you mainly use your roasting pan for baking chicken, then a Nonstick Roasting Pan would be more appropriate than one made out of Stainless Steel because food doesn't stick as easily in Nonstick Pans. In contrast, stainless steel pans are easy to clean and are much more resistant to heat. While anodized aluminum makes it difficult for you to monitor the food because of its dark interior.
Continue reading about the best materials for roasting pans.
Which is better 3-ply or 5-ply roasting pans?
The number of ply (cladding) can distinguish higher-quality cookware. However, this not always the case. The greater the number of plys or layers, the more heat conductive it is and will hold more heat in the roasting pan. Of course, this depends on how thick each layer is and the materials used.
Continue reading about ply or cladding for roasting pans.
Best Roasting Pan Alternatives
Whether you're looking for a way to save space or want some help coming up with new ways to use your baking sheets, rimmed baking sheets are the perfect solution. Not only do they double as roasting pans, but rimmed baking sheets also make handy work surfaces in small spaces.
However, it's important to ensure that the baking sheet is rimmed so the liquids don't overflow. You may also want to place a sheet of aluminum foil under it to catch any unexpected spills.
Continue reading about 7 roasting pan alternatives for more options.
Brands Worth Considering
Two brands worth considering are All Clad and Made In due to their quality and popularity. However due to the price range of these brand we've dedicated pages to each brand.
Related Roasting How Tos
Conclusion
Do you have an appetite for roasted meat? Try our proven bottom round roast recipe in your new roasting pan, and let us know what you think.
Love this dinner recipe? Please leave a 5-star 🌟rating in the recipe card below and/or a review in the comments section further down the page.

Try one of my quick, easy, and affordable dinner recipes for your next family meal! And if you have any questions, I'm here to help!