Disclosure: Post sponsored by Lunchbox but all opinions are my own. This post is for my participation in the Intel Program.
Whenever I am in need of a laptop, the first place I check for prices is Walmart! Did you know that they carry Intel laptops? My laptop before this one I'm currently using was from Walmart and it lasted me years! It was a great computer and actually is still in use at my cousin's house. I would definitely suggest going to Walmart to #UpgradeWithIntel.
Walmart is currently featuring the Dell Inspiron Black 15.6 Laptop
15.6″ LED-backlit touchscreen with HD resolution
720p webcam
3-in-1 memory card reader
Bluetooth 4.0
1 x USB 3.0 ports, 2 x USB 2.0 ports, 1 x HDMI port, 1 x headphone/microphone jack, 1 x RJ-45 Ethernet port
4-cell battery for up to 6 h 33 min battery life
Right now Walmart is giving away a Dell Inspiron Black 15.6 Laptop in their #UpgradeWithIntel contest! Click the contest link and you will be taken to a site where you then click on the contest tab to enter. In 400 characters or less you will describe how would a Dell Inspiron 15.6 Laptop make your life more amazing. You get one entry per email, per person, complete Terms & Conditions are found on the site.
A Dell Inspiron 15.6 Laptop would make my homeschooling life more amazing. Both of the older kids do their math on a laptop that is old and slow. Plus having only one school laptop makes it a little annoying when they are both wanting to do math. The oldest also has to do encyclopedia work on the computer for his research he has to do for school. Not to mention the 6 year old also wants to play some educational games once he finishes school.
Having an extra laptop for school would be amazing!
Don't forget to enter to win a Dell Inspiron 15.6 Laptop! I'd love to hear how it'd make your life more amazing as well, but keep in mind it does not enter you in the #UpgradeWithIntel contest, you can only enter by clicking the image below: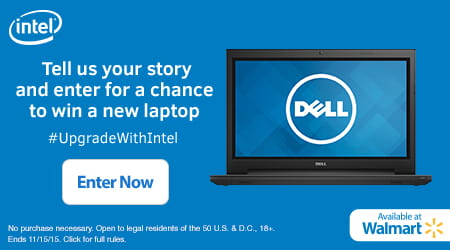 This post is for my participation in the "Upgrade With Intel" Program
Join our newsletter!
Subscribe to get updates and great stuff via email including subscriber-only goodies like free printables and giveaways.