Learn everything you'd ever want to know about Adobo seasoning! Below I'll answer frequently answered questions and more. You'll leave here an expert on Adobo Seasoning.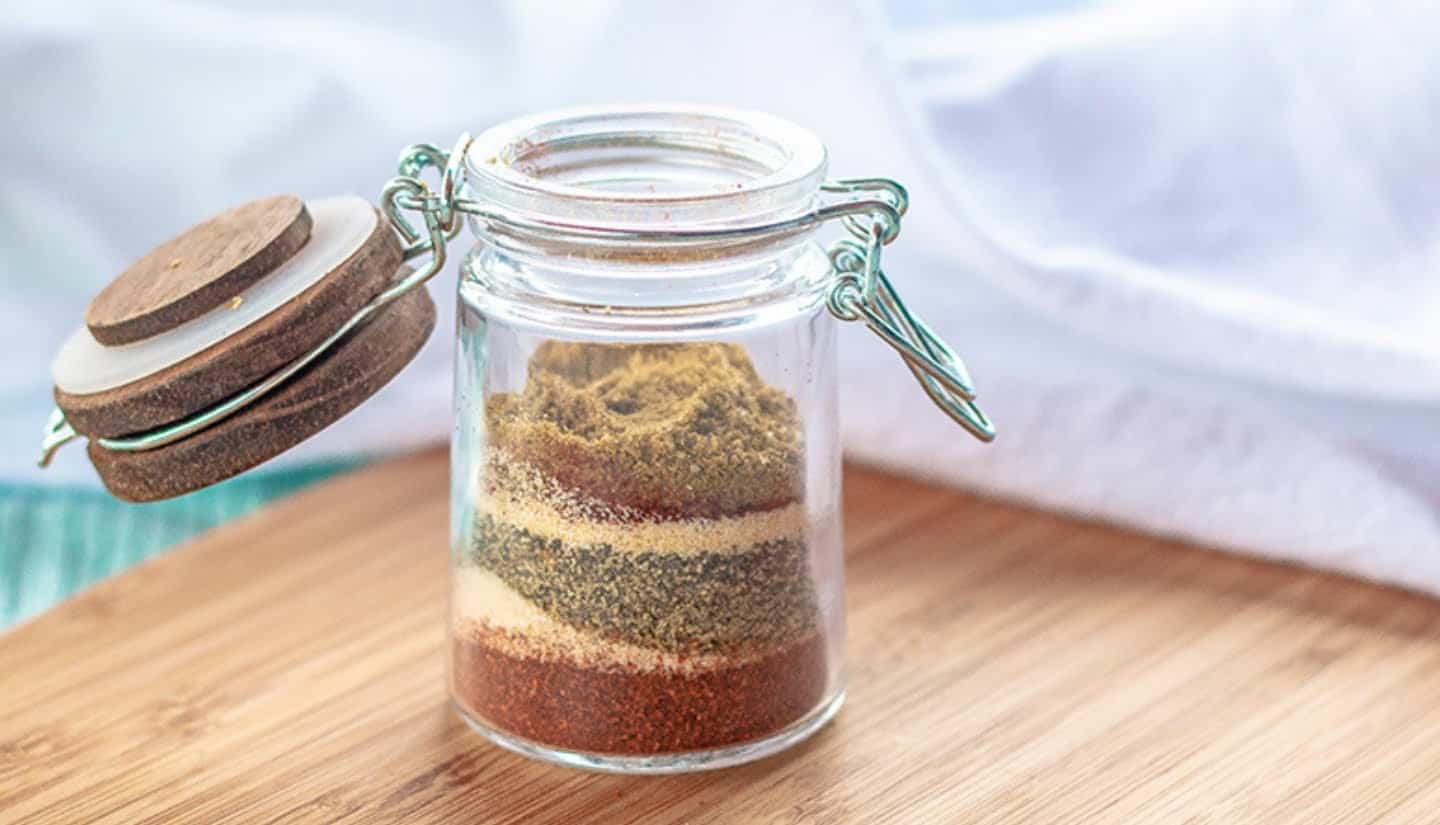 Contents
What is Adobo Seasoning?
Adobo is an easy-to-use spice blend in the form of a dry rub or wet marinade that's mostly lime juice and olive oil-based. While the former is significantly more popular, both are used in Latin American and Caribbean cooking.
Essentially the flavor profile of the spice blend included black pepper, onion powder, oregano, salt, granulated garlic, and sometimes turmeric and dried citrus.
What does Adobo Seasoning taste like?
This seasoning is rich in taste. Generally, it is savory and salty from onion powder and garlic powder, spicy from black pepper and chili or paprika powder, and a bit tangy and aromatic from ground cumin, oregano, and other herbs.
How to make adobo seasoning?
Homemade Adobo seasoning can be made by using 7 key ingredients. You can create a distinctive adobo seasoning blend for particular recipes and another mix for different cuisines.
We have a complete guide for this homemade spice mix if you want to know the step-by-step method. Our homemade Adobo seasoning is fantastic, including some valuable tips to create this foolproof seasoning mix.
Do you want to know the perfect measurement to make this homemade spice mix? Check out our recipes, and don't miss a single thing.
Is adobo seasoning spicy?
How spicy Adobo is highly dependent on the manufacturer's spice blend recipes. Most of them are mildly hot because red powder or ground paprika is given in a low amount. However, if you create your spice blends, you can add flavor based on your own needs.
Popular Adobo Seasoning Variations
Although the term Adobo comes from the Spanish word adobar, the spice blends are common in many cuisines in North and South America. In short, adobo seasoning in each region has a unique flavor profile.
The Mexican style, for example, combines chili/chipotle powder, Mexican oregano, cumin, ground black pepper, and other spices.
On the other hand, the Puerto Rican version mainly uses garlic powder, ground cumin, kosher salt, onion powder, black pepper, turmeric, smoked paprika, and Dominican oregano.
But, most chefs and home cooks tend to add their spin on these classics while staying within the flavor family. That's why there are different recipes online as well as store-bought adobo seasonings on the market.
How to use Adobo Seasoning
Adobo is an all-purpose spice blend that works well with beef, chicken, pork, and seafood. Here are several dishes you can prepare with Adobo all-purpose seasoning.
Tacos
The most popular use is to add adobo seasoning for tacos. You can mix the spice blend with ground beef, chicken, and shrimp for the filling. To spice it up, add more chili or chipotle powder to season the meat.
Chicken
Chicken Adobo is another popular dish to prepare with this seasoning blend. There are plenty of cooking methods you can try to prepare this dish, including instant pot, grilling, stewing, and frying. Apart from the classic recipe, try cooking your chicken with the following recipes: creamy adobo sauce, enchiladas, pizza, and even salad.
Steak
This seasoning is good on steak. An excellent tip for delicious Adobo steak is to dry-rub the meat with a generous amount of Adobo seasoning mix and kosher salt. Add more oregano powder for a more robust flavor and aroma.
Dips
Level up dips with a pinch of Adobo seasoning to enhance the flavor. Mix sour cream, mayo, or softened cream cheese with adobo spices in a food processor. If you love spicy dips, add 1 teaspoon of cayenne pepper powder. To boost the flavor, add some lemon or vinegar.
After you decide what spice blend cuisine you will make, we will give a more detailed seasoning recipe for each dish.
Adobo Seasoning for Tacos
Tacos are a classic, easy to make, and fun Mexican dish.
To make the easiest taco recipe, from fridge to plate in under 30 minutes.
Preheat a large heavy-bottomed pan to medium heat. If you're using lean meat, add a touch of olive oil.
Take a large mixing bowl and add 1.5 pounds of ground beef, chicken, pork, or shrimp.
Add the juice of 2 limes, 3 teaspoons of homemade adobo seasoning, and salt to taste.
Optionally, add 1 teaspoon of chili, chipotle, or red pepper powder to create a more intense Mexican flavor.
Combine the meat and spices thoroughly and add to your preheated pan.
Cook the taco mixture for 5-10 minutes or until thoroughly browned and cooked.
While the taco meat cools, prepare corn or flour tortillas, cheese, and toppings.
Serve and Enjoy the best adobo tacos.
Adobo seasoning for steak
Select your steak of choice: rib eyes, t-bones, or steak strips.
Thoroughly season each piece of steak with adobo seasoning. We want the adobo seasoning to absorb into the meat.
Combine 1 cup of sour orange juice, salt, dry oregano, and 1 teaspoon of black pepper for a nice tangy zip.
Place the steak in a zipper bag, and add the marinade.
Marinate for at least 15 minutes in a tightly sealed bag.
BBQ, Grill, or cook in a pan until desired internal temperature.
Adobo seasoning for rice
For an authentic Tex Mex recipe, you must make adobo rice. Sauté ¼ finely chopped onion with olive oil in a large pot, then add 2 cups of rice.
Put ½ teaspoon adobo all-purpose seasoning and 8 ounces. of tomato sauce, then stir well. Add water and let it simmer until the water is reduced.
Add salt and a bouillon cube.
Lastly, add peas and cover the lid. Wait for another 10 minutes.
Adobo seasoning for fish
Fish adobo is the easiest seasoning recipe if you cook it in Asian style.
Add 800 grams of fish in a large pot or a wok.
Add ¼ cup of soy sauce, ¼ cup of vinegar, 5 cloves of minced garlic, 1 teaspoon of adobo seasoning blend, sugar, ginger, bay leaves, and 1 cup of water.
Bring it to a boil, then bring down the heat and flip over the fish.
Wait until both sides are tender.
Adobo seasoning for chicken
There are plenty of Latin American recipes to cook with this white meat. One of the most delicious is the Puerto Rican style.
Rub outside the skin and inside the body with a mixture of the adobo seasoning blend, more garlic powder, salt, balsamic vinegar, and finely minced garlic.
Place it on a baking sheet covered with oil. You can add slices of potatoes. Season them generously with salt and pepper. Cover the sheet with foil, then bake for 30 minutes.
Remove the foil, bake again for another 30-45 minutes while basting it with the juice and any sauce you use every 10 minutes.
Adobo seasoning for salmon
Use 5 salmon fillets for this recipe and sprinkle them with 3 tablespoons of this all-purpose seasoning and dried oregano on both sides.
Brush them with mayonnaise and lime or sour orange juice.
Bake for 10 minutes until the skin looks golden brown.
Adobo seasoning for pork chops
Use Adobo with bitter orange and kosher salt to rub your chops for this recipe, then place them in an airtight container.
Add sautéed onion, garlic, pepper, red pepper, and bay leaf (in the form of caramelized sauce) into it. Refrigerate for at least 10 hours before you grill it.
What is adobo seasoning made of?
Adobo seasoning consists of 7 key ingredients:
paprika
black pepper
onion powder
oregano
cumin
garlic powder
chili powder
Replace the chili powder with a lot of spicier chipotle for Mexican cooking or Tex Mex cuisine.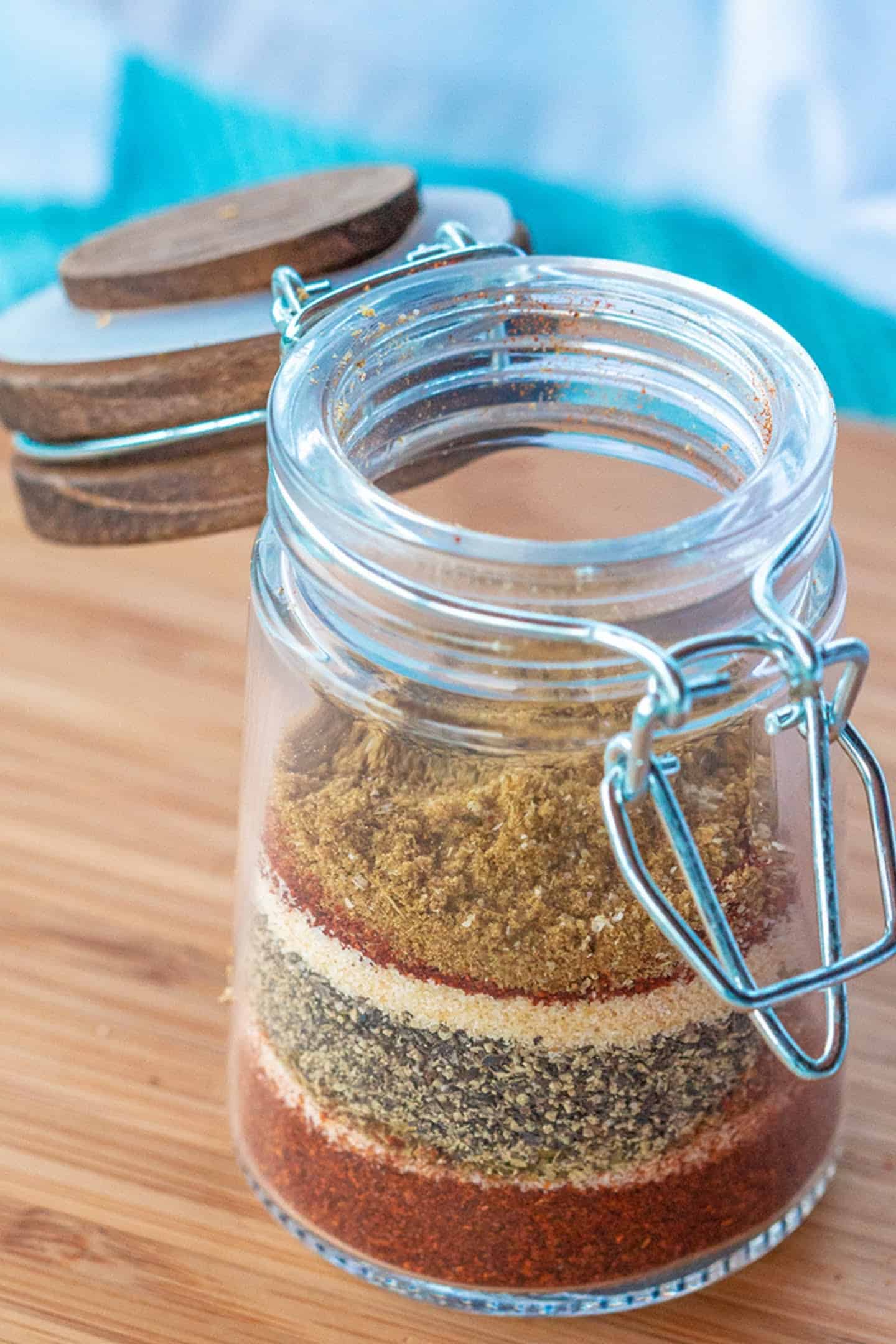 Where to buy Adobo Seasoning?
Purchase Adobo in a nearby convenience store. For more diverse types of these all-purpose spice blends, you can buy them in the following stores.
Spiceology
The four most popular variants include Honey Rub, Latin Blend, Honey Pork Tacos, and Honey Braised Pork. Be creative in experimenting with your new recipes.
Amazon
More flavors can be found in Amazon, from factory-made to special non-GMO adobo products to healthier your cooking experience. You can also find powder and paste versions to make a more diverse cooking recipe.
Trader Joes
Grab it from the nearest Trader Joe's store. Choose the brand and the size based on your preferences. Below are the guidelines:
What are the best Adobo Seasoning Brands?
Trust the three brands below if you hit the store and find so many choices along the alley. Goya, Badia, and McCormick are on the top list of user choices.
Goya Adobo Seasoning (best)
Goya has more variants among other brands, including regular, hot, cumin, lemon, bitter orange, coriander & annatto, without pepper, and bitter orange. Also, Goya comes in various sizes, from the smallest 8 ounces up to 120 ounces.
Badia Adobo Seasoning (backup)
Although the price is lower, Badia is said to have excellent spice blend flavors. It also comes in a smaller size of 3.7 oz. for anyone who only uses the spice occasionally.
Badia Adobo's variants are pink Himalayan salt, organic, cilantro & lime, complete with pepper, without pepper, and with sazon.
Mccormick Adobo Seasoning (for consideration)
McCormick Adobo variants are limited compared to Goya and Badia. Still, you should consider this brand when planning family recipes. The most popular variants are with pepper and without pepper.
Adobo Seasoning Compared
Adobo Seasoning vs. Taco Seasoning
You can use Adobo for cooking tacos. However, in taco powder, you may not find the intense punch of oregano as you generally find in Adobo. Based on your preference, you can choose one of them for your taco recipe.
Adobo Seasoning vs. Chili Powder
Chili powder is obviously from chili, without the addition of any other spices. Therefore, it doesn't have the tangy flavor that you generally find in Latin American dishes. For this reason, using the powder is not limited to Mexican or Tex Mex recipes.
Adobo Seasoning vs. Sazon
The flavor profiles for the two are so much different. The first has oregano, garlic, black pepper, and other Latin spices, while Sazon has garlic, cumin, coriander, and annatto. Therefore, Sazon has an orangish color from the annatto.
Adobo Seasoning Substitutes
If you cannot find Adobo, use the substitutes below that have almost similar taste to the all-purpose spice blends.
Adobo Paste
Since they are made from precisely the same ingredients, they can be a perfect substitute for one another. The only difference is the texture as -one is powder, and the other is paste.
Some chefs said that the powder version would give a drier and crisp texture, but the paste sauce will be a better marinade. You can find more recipes using the paste than the powdered version.
Cajun Seasoning
Both are made from almost similar ingredients, except Cajun has cayenne and thymes. Most Cajun blends are usually spicier since it contains more paprika powder. Use the same amount of Cajun seasoning as the substitute.
Greek Seasoning
This powder blend contains a lot of Mediterranean herbs and spices, such as dried basil, oregano, dill, parsley, marjoram, rosemary, and thyme. While it is somewhat different than Adobo seasoning, it offers a few similar ingredients.
Related Homemade Spices
Check put my easy sweet and smoky dry rub for ribs recipe. Trust me it is sooo good in a smoked pork ribs or for pulled pork!!