I admit that despite my indifference to makeup and all things cosmetic, my mood is often defined by the success or failure of my hair each day.
Good hair day = confidence.
So I am faced with a decision.
I can get up extra early to do my hair so that I can get my kids off to school on time, or I can find some other way to save time in the morning so I don't miss out on the confidence I need to get me through the day.
Getting two kids ready for school in the morning is fairly time consuming, something has to give if I want to be able to make time for good hair and get them to the bus stop before the bus actually gets there.
Especially when most days involve dealing with this "pleasant" little morning person.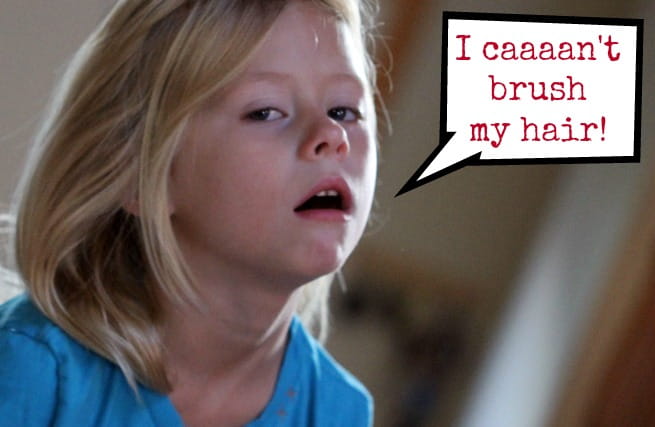 But thankfully Suave came to my rescue with "12 Tremendous Tricks to Trim 20 Minutes off Your Morning."
About Suave:
Look Good, Feel Good Everyday

Suave® offers products for the entire family so everyone can look good and feel good everyday! The best part – Suave® products are available at Walmart so you can get the best value locally.
Good hair takes time. First I must wash it in the morning after I get up. Then I have to blow-dry it at just the right time, and that much hair takes awhile to dry, especially on low heat to avoid damaging my hair.
Otherwise I'm left looking like Edith Bunker.
Ok, that's a wig. But clearly not the best look for me.
When I can make time for good hair, as I mentioned above, it helps me be more confident.
And I share this confidence by plastering pictures of my hair on my Instagram feed.
Thanks to the tips from Suave, we have shaved 20 minutes off our morning making it much easier and less stressful. So I no longer have to wear a wig. 20 extra minutes is EXACTLY what I need to get my hair Instagram worthy and send them off to school on time!
We started checking the weather the night before and they pull their clothes out so they are ready when they get up. No long, drawn-out, half-asleep decisions to be made. We prepare lunches the night before, and sometimes they even do it themselves! I already would get up 30 minutes earlier to make sure everyone stayed on schedule, now I actually have time to pour a cup of coffee in that time. We also have had a no technology rule in place for awhile. We turn the radio on for some "get moving" music but computers, iPods and iPads are not allowed to be used before school.

What about you –
Which of the 12 tips above do you use to help trim minutes off your morning?
Do you have additional tips that you use to get the kids off to school on time and ensure a good hair day for mom?
Note: this is a sponsored post but all opinions are my own.
Join our newsletter!
Subscribe to get updates and great stuff via email including subscriber-only goodies like free printables and giveaways.