It's no secret that I have lost a significant amount of weight in the last year. My scale says -48.2 lbs and I even had to buy new clothes because my old 'skinny' clothes were too big.
But being thinner than I was at my own wedding 10 years ago doesn't mean I'm done losing weight. In fact I still border on overweight where my BMI is concerned and frankly I'm not satisfied in a size 10-12.
I want to wear a size 8.
Not for looks.
Not for anyone else.
But for me.
Because I know that if I can reach that goal I'll not only have taken control of my life but I'll also have the peace of mind of knowing I've done as much as I possibly can to take care of my health.
I admit I don't exercise as much as I COULD. I bike ride, I swim, I walk or run on my treadmill, but none of it is regularly and most of it is leisurely more than anything. I am somewhat active with my kids and I make it a point to eat right. Those things have all led to my weight loss, but I know that if I am to obtain my goal, I need to add another level – I need to weight train in order to tone and strengthen.
With this in mind, when the opportunity to try the new Total Gym crossed my path, I was so excited!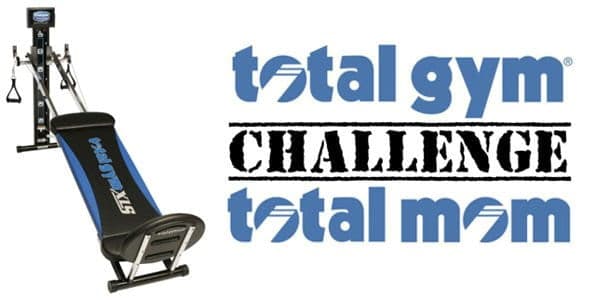 Total Gym provides an entire gym full of equipment in ONE machine and best of all, it just takes 10-20 minutes a day to reshape your body into the body you've always wanted.
The easy-to-follow exercise chart, training deck, and DVDs provide you with over 80 exercises to choose from so you never get bored… it's like having a personal trainer in your very own home!
It works by using a % of your body weight as resistance. You set the resistance level – higher to build muscle, lower to tone and slenderize.
The unique design allows you to easily move from one exercise to another without having to add or remove weights.
Because Total Gym is safe and easy to use it's great for ages 8 to 80 and from beginner to advanced.
No assembly required. It sets up in minutes out of the box and conveniently folds for storage under a bed or in a closet.
Best of all, it works! And there are real people with real results to prove it!
So, I am now a TOTAL GYM MOM!
For the next 2 months I will be reporting to you weekly on my progress. Providing information about the machine itself and showing you how I transform myself – because I plan on transforming myself.
According to my scale and a sewing tape measure, these are my starting stats:
Height: 5′-6 1/2″
Weight: 155.4 lbs
Water level: 47.7
Body Fat: 34.6
Bicep: 11 3/4″
Thigh: 24 1/4″
Hips: 40″
Waist: 35 1/2″
And this is a picture of me from last night wearing my workout gear.
My official before picture.  I look weird.  Not to mention the chubby legs.  Those HAVE to go!
And this wouldn't be as exciting if there wasn't a challenge involved…and there is. There are 9 other Total Gym Moms and we are competing to be the mom who sees the most progress using the Total Gym over the next 8 weeks.
Game. On.
Shasta www.faithfullyfrugal-and-free.com
Jennifer www.jleighdesignz.com
So stay tuned. It's gonna get intense!
I was provided with a Total Gym XLS system that was through Blog Friendly PR. Opinions expressed are my own.
Join our newsletter!
Subscribe to get updates and great stuff via email including subscriber-only goodies like free printables and giveaways.