Dual credit college classes are a great opportunity for homeschool families. Taken by high school students at a local community college, dual credit allows the student to earn both high school credits AND college credits for the same class. Read on for my Top 5 Reasons Homeschoolers Should Take Dual Credit College Classes.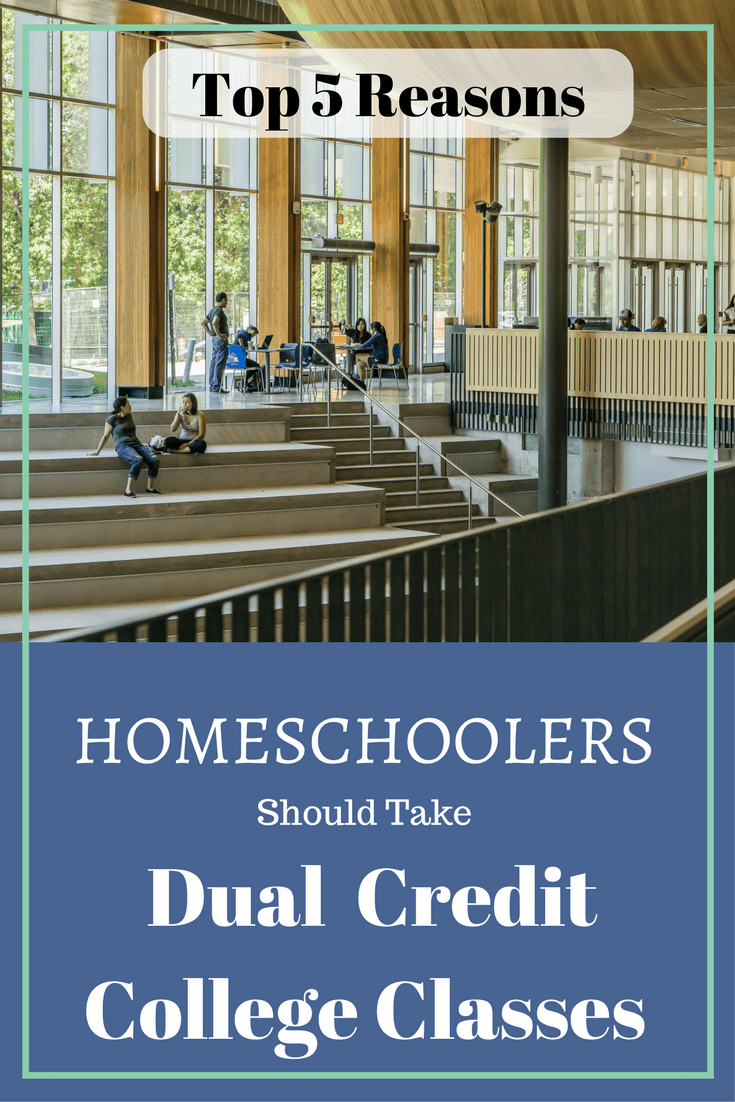 Our oldest has taken four dual credit classes, and combined with her full time load at community college this semester, will walk into her freshman year at university with almost thirty hours of college credit. She has completed Psychology 101, Astronomy 101, Biology 101, and a sophomore level psychology class as a dual credit student. Not only did these satisfy her high school graduation requirements, she will be able to apply those courses to her bachelor's degree.
Top 5 Reasons to Use Dual Credit
I'm a really big fan of dual credit, and I've come up with my top five reasons for homeschoolers to take advantage of it.
1.   Two for one
Students enrolled in dual credit courses earn high school credit and college credit. At the same time. Win-win! Bonus points: one semester of a college class is typically equivalent to one year of high school study. Consequently, it will be more work, but the student is able to take more classes.
2.   Advanced topics
Not an expert in biology? Was calculus your downfall? With dual credit, your teen can have college level instructors in advanced topics that you might not be able to teach. Community colleges have a truly diverse learning population; from 18 year olds to retirees and everything in between. The pace and challenge of classes will reflect that diversity. Dual credit classes are often in the sweet spot – harder than high school but not as difficult as those at a four year institution.
3.    Student accountability
Dual credit courses are an excellent way for your homeschool student to begin learning true academic responsibility. They are now accountable to someone other than you, and they are responsible for getting work done. No more nagging and arguing over assignments and due dates. This academic responsibility is one of the most important components of succeeding in college. Many high school students rely on teachers and parents to help them get assignments completed and in on time, or to make sure they get to class. In college, this is now their responsibility. Many students have difficulty with that transition and truly struggle with the independence  of college. Dual credit is the opportunity to learn that responsibility, but you're still there to help guide them. (Disclosure – yes, there will still be some nagging. ?)
4.   College Applications
Colleges rely primarily on the high school transcript and ACT/SAT scores to determine admissions. (It's not only those two, but extracurriculars or volunteering cannot make up for poor ACT/SAT scores or a bad transcript.) As homeschoolers, we can very easily lose one half of that equation with our transcripts. We are a challenge to college admissions officers for many reasons. Since we are the parent, teacher, and advisor all rolled in one, transcripts are often viewed as subjective and unreliable. How accurate are those grades? How challenging was that course? Is this really an accurate depiction of the student's high school career? Is this student able to function in a classroom setting? Admissions officers are looking for students who are college ready and who will thrive in the college classroom. Dual credit shows not only that your student is ready for college (since they have already been there), but that they can succeed. This will bolster your homeschoolers application immensely.
5.    College Credit
Dual credit classes are an excellent jump start on a college degree. Did you know that only 36% of students graduate with a bachelor's degree in four years? Thirty. Six. Percent. Oh my. Most bachelor degrees require 120 hours for graduation, which is an average of 15 hours per semester. A student taking only 12 hours a semester, for even a couple of semesters, can easily be off-track to complete a four year degree. Taking dual credit classes can take a big bite out of that 120 hours. Pre-requisites, remedial classes (such as high school math or English), and required electives can be taken care of with dual credit, and help get your student out of college in four years. Finally, and often most importantly, community college classes are cheaper than those at a university. The fewer years you have to pay full blown university tuition, the better.
As far as I'm concerned, dual credit classes are one of the best tools in the homeschooling high school toolbox. Take a look at your local community college and dual credit. It's a good idea.
See the other posts in my Homeschooling High School – The Big Picture series: