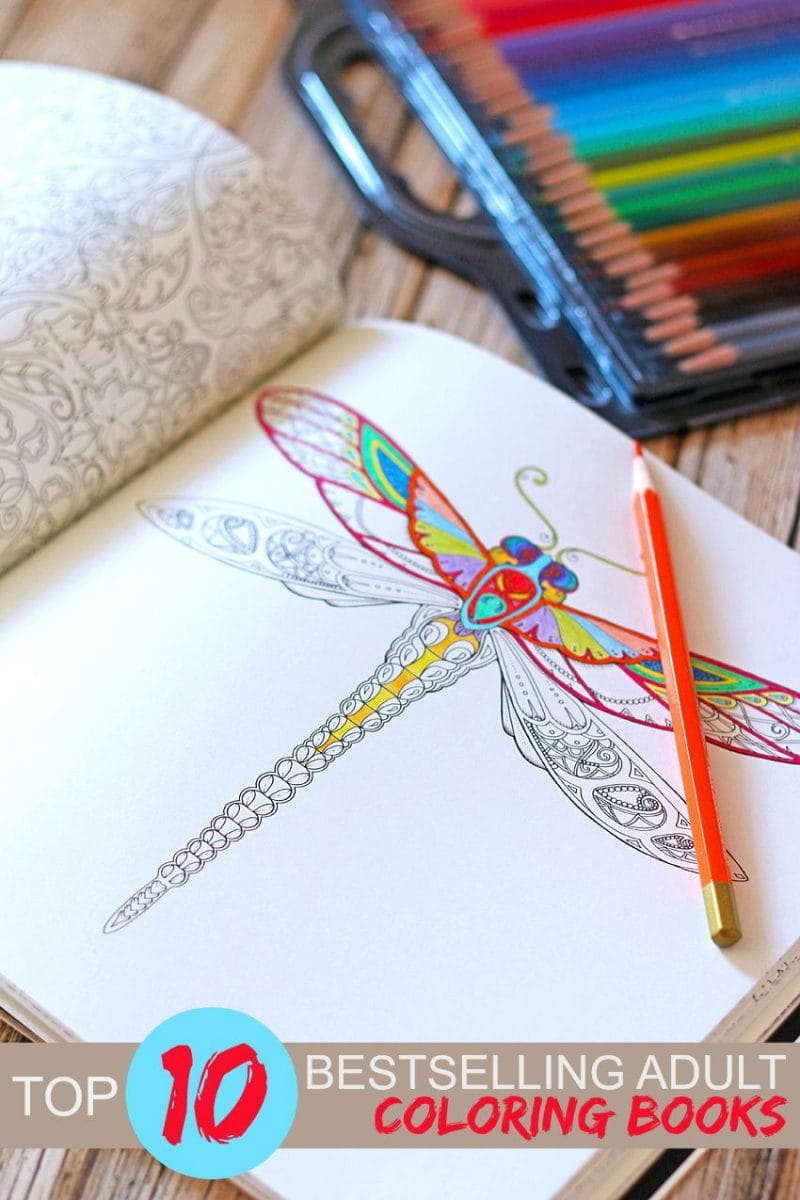 There is a new trend for relaxation among adults lately, and that trend is adult coloring books
. And no, I'm not talking about adult coloring books of the x-rated kind but coloring books for grown-ups. They are (at least all of the ones I have found) all "G" rated, but have more detail and are subject matter that will appeal to adults. Adult coloring books are a great way to relax, they offer almost meditative benefits and help keep your mind sharp and creative. They are a great way to escape the everyday. Amazon.com
has a great selection of adult coloring books at great prices. Below are the top 10 bestselling adult coloring books on Amazon.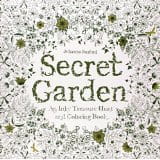 Secret Garden: An Inky Treasure Hunt and Coloring Book
by illustrator Johanna Basford
is a hand-drawn collection of intricate and whimsical garden scenes. All of the drawings were inspired by the illustrator's childhood in rural Scotland. The book contains 96 pages of gorgeous and detailed artwork just waiting for you to add your own creativity to. Save around 40% off list price buy buying at Amazon.com
.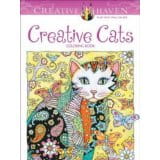 The Creative Haven Creative Cats Coloring Book
by author and illustrator Marjorie Sarnat
includes over 30 creative and detailed designs for cat lovers of all ages to color. Each page is a tapestry of hearts, flowers and paisleys in fun cat-shaped patterns. It is a fanciful book filled with intricate and beautiful designs. You will get lost within the world of these amazing feline designs and hopefully relieve some stress and experience much-needed downtime. This book is amazingly affordable with a list price of $5.99, and you usually pay less than list price when you buy from Amazon
.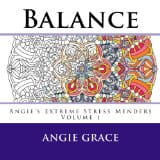 The coloring book Balance (Angie's Extreme Stress Menders Volume 1)
by artist Angie Grace
is a world of intricate and exquisite circular whimsical art that invites you to relax and explore. Not only will you find the opportunity for meditation, you may find yourself creating your very own unique keepsake art. Balance is suitable for colored pencils or markers and includes 50 different designs printed only on 1 side of the page. There are no rules and no limits except those that you create for yourself when coloring these delightful designs. You save around 20% off list price when you buy Balance from Amazon.com
.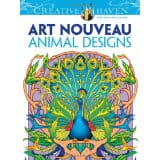 You can't get much more beautiful than the Dover Creative Haven Art Nouveau Animal Designs Coloring Book
by author / artist Marty Noble
. The book contains 31 elegant designs inspired by the works of M. P. Verneuil, Alphonse Mucha, and other Art Nouveau masters. The pages in this book are perforated for easily removal and are printed only on one side. This book is designed for more experienced color artists or for those who are up for the challenge of more intricate designs. Like most of the Creative Haven adult coloring books, this one has a super affordable retail price of $5.99 and you save around 35% when you buy it from Amazon.com
.
The Anatomy Coloring Book
is more of a textbook than a coloring book and may not promote as much relaxation as do some of the others on the list, but it is a bestseller on Amazon and is actually #1 best-selling human anatomy coloring book. The book is a fun way to learn more about the human body and is organized by body systems. It contains 162 two-page spreads and makes the study of anatomy interesting and fun. Whether you are interested in human anatomy as a hobby or plan to use the book to help with a class you are taking, the unique color-key system and detailed illustrations will captivate and educate at the same time. Save nearly 40% off list price on this book at Amazon
.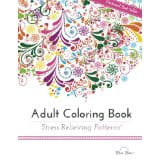 Adult Coloring Book: Stress Relieving Patterns, is a coloring book designed to provide hours of stress relief, mindful calm and creative expression. The book features of 45 patterns of varying degrees of intricacy and complexity from beginner to expert coloring levels.  You will find yourself lost in the peace and calm atmosphere these designs create, and inspired by the creativity you find deep within yourself that comes to life when you shut out some of the noise that distracts your mind. Pick up a copy of this book at Amazon.com
and get free 2-day shipping if you are an Amazon Prime
member! Try Amazon Prime 30-Day Free Trial
 if you aren't already a member.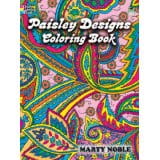 The Paisley Designs Coloring Book
is another beautiful book by Marty Noble
. The designs are crafted from exotic motifs inspired by the elements of nature, paisley patterns have decorated textiles and handicrafts for centuries. This 32-page book is absorbing and fascinating and appropriate for coloring artists of all ages. The lush drawings all reflect a paisley design arrangement inspired by trees, leaves, flowers, buds, animals, and birds. This pages in this book are 2-sided with a design to color on each side.  Get this book for only around $3.99 at Amazon
!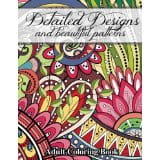 Relax and connect with your inner artist with the coloring book Detailed Designs and Beautiful Patterns
. The intricate designs in this book will help you center your mind, find focus and achieve an inner peace. The organic designs are visually and emotionally appealing containing symmetry and detail. The designs are printed on only one side of the paper making these perfect for creating your own personal works of art to cherish. Save over 30% when you buy this book from Amazon.com
.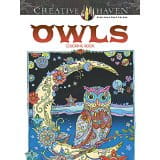 The
 Creative Haven Owls Coloring Book
is another amazing book from designer Marjorie Sarnat
. This book has over 30 fanciful designs showing owls in lush, tapestry-like settings. This book is designed for more experience colorists or those who are excited by the challenge of something more intricate and detailed. The pages in this book are perforated and the designs are only printed on one side. Shop at Amazon
and save around 30% off the list price on this adorable book.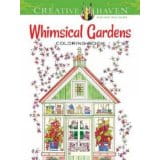 Creative Haven
does it again with their Whimsical Gardens Coloring Book
. This time illustrator Alexandra Cowell
takes you to a faraway place full of whimsy and relaxation. There are 31 detailed drawings in this book on perforated pages. They are printed only on 1 side so you can remove the pages and display all of your beautiful designs. The pictures in this book are imaginative and playful taking you into delightful gardens you will only find inside your imagination. The list price on this book is only $5.99 but is you shop at Amazon.com
, you will save over 10%!
Have you thought about jumping on this latest trend and finding out for yourself what the hype over adult coloring books is all about? I can tell you from experience that it is a lot of fun and is very relaxing. You don't have to spend a lot of money, the books are usually less than $10 and you can get a set of colored pencils for $10 on up. It really depends upon how picky you are. I use both Crayola colored pencils
and some watercolor pencils
from US Art Supply®
. I'm saving up for some Prismacolor pencils
, but honestly these are working just fine for me.
What book do you think you will start with? I started with one called Enchanted Forest: An Inky Quest & Coloring Book
.