This is a Sponsored post written by me on behalf of Comfort Zone® products for SocialSpark. All opinions are 100% mine.
When we first adopted Toby back around April of 2012, he was a sweet, happy still-a-puppy who just wanted to be loved. That all changed almost immediately upon entering our home. All of a sudden Toby became a mailman biter and a voracious protector of our home.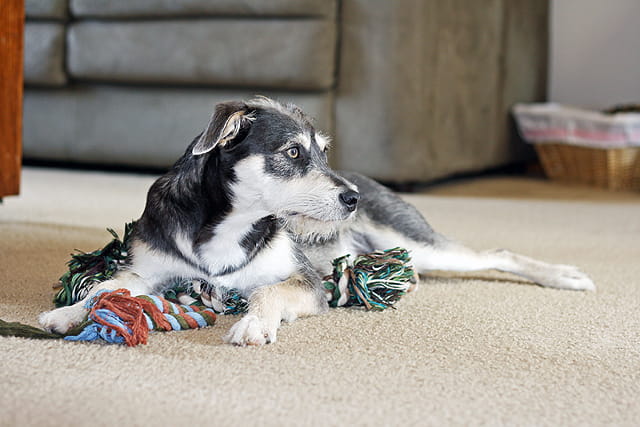 He wanted nothing to do with anyone but us. Not family. Not friends. And certainly not strangers.
He barked incessantly and made people afraid to be near him.
Without knowing his past, we assumed he was just tired of not having a real home and considered anyone who didn't live here a threat to his security and stability. But it was becoming a problem that we didn't know how to deal with – but it had to be dealt with.
We had a trainer come in and teach us a few things that did begin to work, but not completely. He still seemed to bark sometimes when people came into the house. It wasn't as mean of a bark, but it was still there.
Then we installed a Comfort Zone® with D.A.P.® unit and began to see a change.
About Comfort Zone® with D.A.P.®
Comfort Zone® products are 95% effective at reducing scratching and urine marking for cats and also helps reduce excessive chewing and barking for dogs.
Comfort Zone® with D.A.P.® (Dog Appeasing Pheromone) products for dogs helps control excessive barking, destructive digging, chewing and house soiling.*Data on file
Comfort Zone® with D.A.P.® for dogs helps manage stress-related behavior in dogs caused by thunderstorms, loud noises like fireworks, adjusting to a new environment, transitions, being left alone or traveling.
It can also help to manage nighttime whining during puppy transition from the shelter/breeder to a new home.
We have used Comfort Zone® with D.A.P.® for well over the recommended 90 days and Toby still has some issues when someone comes to the door. He still wants to show them who is boss. But overall when people are in the house he seems much calmer and much comfortable in their presence.
For more information, follow Comfort Zone® with D.A.P.® on Facebook.
Join our newsletter!
Subscribe to get updates and great stuff via email including subscriber-only goodies like free printables and giveaways.