Since cancelling our cable, there is one thing I miss having – our DVR. Streaming services are great but sometimes I don't like waiting days or a week to watch the latest shows. Sometimes I want to watch it an hour after it airs. Or, sometimes I want to watch shows that aren't available on streaming. But having an antenna instead of cable limits your choices and services.
At least it has in the past.
But TiVo has made it possible for us to have everything we want with the flexibility of a 2-tuner DVR and access to our favorite streaming services. TiVo also provides flexibility for the modern TV viewer by integrating wi-fi and mobile devices with TiVo services.
Television viewing has changed so much in the last few years and TiVo has provided a way for the modern family to watch their favorite content when, where and how they want.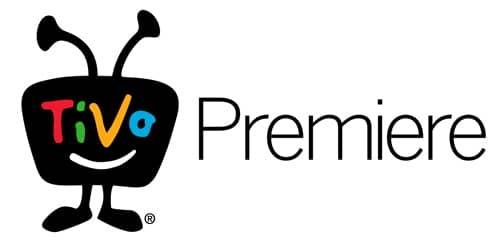 TiVo Premiere Features:
TiVo Premiere is so much more than a DVR! The TiVo box acts as a cable box, music box, movie box and a web box. It is a complete world of broadband entertainment.
Replaces your cable box. Or, if you have an antenna, TiVo Premiere works without requiring cable. Premiere 4 and Premiere XL4 only work with cable providers.
Full HD support with easy to use HD interface for search and discovery.
Premiere and Premiere 4 record up to 75 hours of HD programming and Premiere XL4 records up to 300 hours
Control live or recorded TV with pause, rewind (3 speeds), fast-forward (3 speeds), slow-mo and instant replay
Record two shows at once while watching a previously recorded show with TiVo Premiere; record up to four shows at once with the Premiere 4 or Premiere XL4.
Access on-demand movies with Neflix, HuluPlus and Amazon Instant Video.
Stay connected with the TiVo app for mobile devices. You can schedule recordings remotely and transfer recordings to your devices.
Listen to your favorite music from Pandora and other services.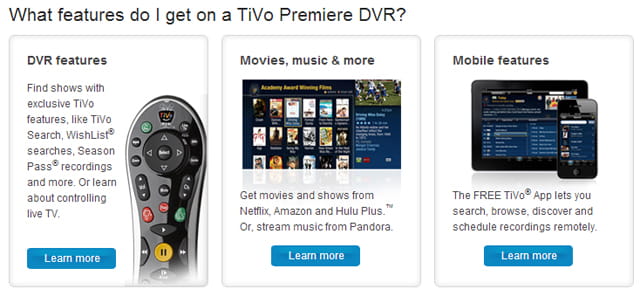 Additional TiVo Services:
TiVo Stream lets you stream your recorded shows and wirelessly transfer them to your mobile device.
TiVo Whole Home allows you the flexibility to start watching a show in one room, pause it, and pick it up again in another room, even if you are using 2 separate TiVo devices. It allows allows for TiVo Stream functionality and transfer shows between devices.
Benefits of TiVo for Antenna Users:
Record and enjoy free HD programming from a digital antenna—which delivers a higher-quality signal than even cable or satellite provides. TiVo® Premiere is plug-and-play compatible with HD antennas, so you'll be ready to start recording your favorite programs in minutes, including hits like Modern Family, Glee, Hawaii Five-0 and American Idol.* Premiere also complements your antenna lineup with virtually endless web entertainment from Netflix, Pandora®, YouTube™, Hulu Plus™ and more.

Whether you're living without cable or satellite or just want the additional options and quality an HD antenna delivers, nothing gives you options like the world's first Smart DVR.

Record and watch free HD programming from TV channels like ABC, CBS, NBC and FOX, including hits like Modern Family, Glee and Hawaii Five-0
Supplement your channel lineup with thousands of TV shows and movies from Netflix, Hulu Plus™ and Amazon Instant Video, plus get Pandora®, YouTube™ and more
Superior HD quality video—better than cable and satellite
14-day program guide shows you what's coming up and makes browsing simple
TiVo truly is leading the way with providing the products and services the modern TV watcher wants and needs. With TiVo, you don't need anything else!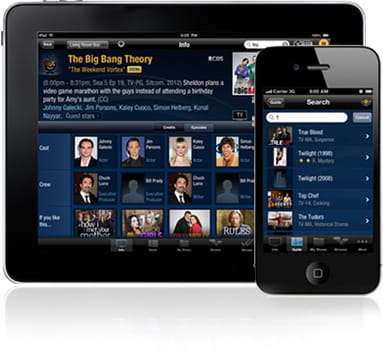 How will TiVo fit into your lifestyle?
Tell us how and you can enter to win a $100 AMEX Gift Card from TiVo.
ENTER TO WIN
To enter simply use Twitter to tweet at me (@WhatsThatSmell) which benefits you think will make the most impact in your home and with your family with the hashtag #ImwithTiVo. I included a sample Tweet below – PLEASE REPLACE BOLD TEXT WITH YOUR OWN.
@WhatsThatSmell (TIVO PREMIERE WORKS WITH ANTENNAS WHICH IS A HUGE BENEFIT TO MY FAMILY BECAUSE WE DON'T HAVE CABLE) #ImWithTiVo
Then fill out the Rafflecopter form below.
a Rafflecopter giveaway
Giveaway is open to the 48 U.S. contiguous states and ends on February 4, 2013 at 12:01 am EST. Winner will be selected at random from all eligible entries and will be contacted by email. Winner will have 48 hrs to respond. Please add kim@theysmell.com to your trusted email filter. If original winner does not claim their prize within 48 hrs, it is forfeit and a new winner will be selected promptly.
Note: I received compensation for my participation in the #ImWithTiVo campaign.