It's more and more common for people to spend 9+ hours every day behind a desk sitting in a chair. Without even taking the physical effects of poor posture into consideration, sitting is not actually a healthy activity for your body and is meant to be done only for small periods of time. And it's not just adults who sit too much. Kids do too! They spend 6 or so hours in school, then come home and do homework while sitting and then often sit the rest of the day playing video games or other stagnant activities.
According to WebMD, sitting has been linked to worse mental health, higher risk of heart attack, bad cholesterol, increased risk of death from cancer, obesity and more*.
While that might make for a rather funny excuse to get out of work or school, we just don't have the luxury of not sitting when so much of our work is not reliant on computers. So in order to make sure you reduce the potential negative effects sitting may have on your health, you need to make sure that when you are sitting for long periods of time, you follows these tips and tricks to help make your sitting healthier and pain-free.
Make sure your computer monitor is high enough. A monitor that is place too low can cause issues and pain in your neck. Most computer monitors (assuming your desk is at the proper height) sit way too low, you would think they would make them taller or adjustable.
Adjust your chair so that your arms are at around a 90 degree angle while using the keyboard or mouse. This causes the least amount of strain on the muscles of the arms. Your arms should also rest on the desk surface, so push your keyboard and monitor as far away from you as possible.
Get up frequently and do a series of exercises. For example, every half hour get up from your desk and do 3 sets of 10 push-ups or 3 sets of 10 squats. By the end of the day you'll have done a whole workout!
Don't eat at your desk. Instead, eat on the ground underneath a tree with your legs stretched out in front of you, or stand at a counter and eat. If you must sit and eat, at least do it elsewhere to make sure you get up and move around at meal times.
Keep your feet flat on the floor (or on a stool) and keep your knees straight and not twisted. It's actually easy to strain your knees just from sitting the wrong way.
Consider a treadmill desk, a pedal device or a balance ball chair for at least part of the time that you are sitting at your desk.
Stretch every hour. In addition to actual exercises, get up every hour and stretch out your legs, back and arms.
Let your feet do the walking. Instead of calling or emailing a co-worker in the next office or down the hall, get up and deliver the message in person.
Take the stairs. If your office has an elevator, opt for the stairs as often as possible in order to get some activity in and get your blood moving around to other areas of your body.
Use a posture correcting seat for your deck chair.
SitSmart by BackJoy is a simple solution for helping to make sure that you have correct posture while sitting. It can also relieve back pain too! SitSmart postitions your body automatically for better posture and provides all-day comfort. It tilts your hips upright and causes your spine to "float" over the seat.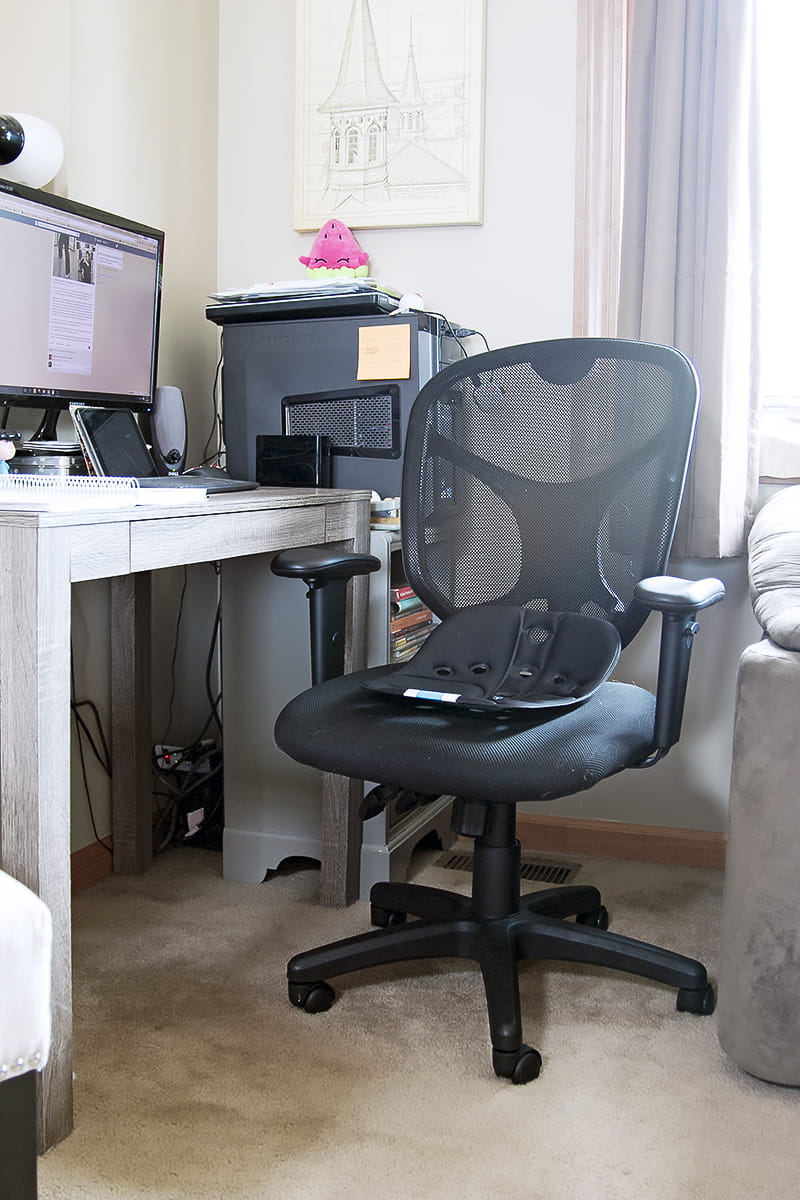 SitSmart comes in three different styles and in youth and adult sizes.
I felt the difference the second I sat down on it and it's nearly impossible to slouch which using it. I notice that my shoulders are more relaxed and upright when I sit in it and it feels like my neck is less stressed as well. It's amazing that something so simple can work so well! Excuse the dog hair on the seat, it pokes out like porcupine needles and I can't get it out, but below is a side view of the SitSmart: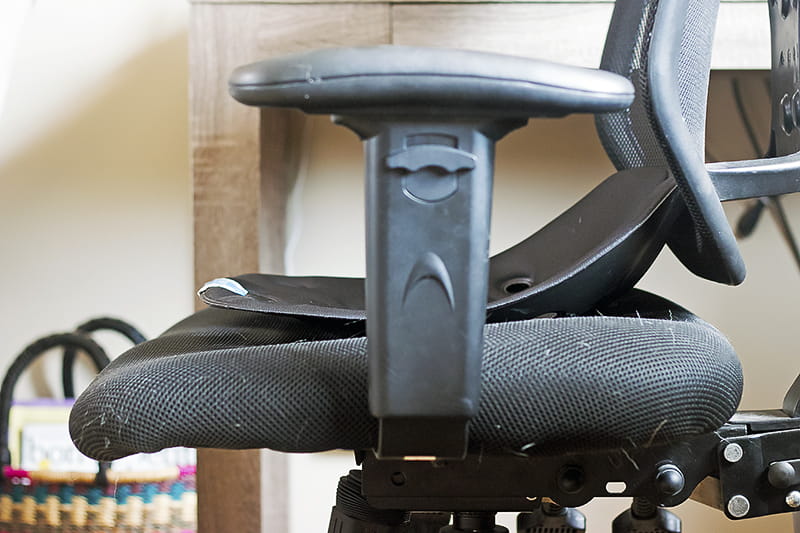 June is Employee Wellbeing Month so it's the perfect time to examine your work-life and the potential effects sitting may be having on your health. BackJoy is committed to inspiring people to take better care of their back, which is why they have created solutions like SitSmart – to help people take better care of such an important part of their bodies. They also strive to educate people about how to take better care of their back which is why they have created the 10 Day Office Wellness Challenge!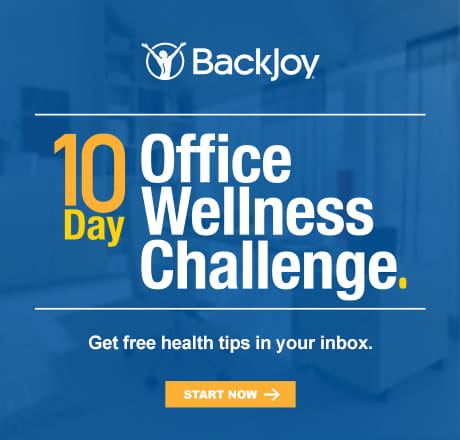 The 10 Day Office Wellness Challenge is a 10-day series that offers wellness tips, exercises and ideas for setting up an ideal ergonomic workstation. Every day you will get a new email with free tips and information to help you sit healthier. In addition to that, by signing up for the challenge you are eligible to win a cool Workplace Wellness Challenge to help you jumpstart your healthy office. To enter simply visit the 10 Day Office Wellness Challenge page and enter your email address.
How many hours per day do you sit in a chair?
*http://www.webmd.com/fitness-exercise/20140407/sitting-disease-faq?page=1
Disclosure: This post is sponsored by BackJoy in conjunction with Blog Meets Brand and I have been compensated for my participation. All opinions are my own.
Join our newsletter!
Subscribe to get updates and great stuff via email including subscriber-only goodies like free printables and giveaways.