So Mrs. Kravitz said that there is a case of the Swine Flu in Northern Indiana.  I'm pretty sure she won't be leaving the house any time soon.   I told my husband to ask the butcher where he buys our meat if his pigs have traveled internationally recently.  He thought I was being funny.  I seriously don't think I can eat pork any time soon.
Here is this week's round-up of cool or interesting things:
---
One of my Blogher sponsors, Country Bob's All-Purpose Sauce has a new website and a recently launched blog.  The new design looks great and I encourage you all to check out the sauce and the company.  Both are an inspiration!
If you have never tried Country Bob's, you can get a coupon from their site for a FREE BOTTLE.
---
Smart Poodle Publishing is having a wonderful writing and art contest for kids with great prizes from Rand McNally.
---
Buy By Mom is having a super fantastic Giveaway.
The prize total is worth almost $700 and will go to 2 moms in business – or moms who want to start a business. Entries need to be submitted by May 15th.
Here are the prize details:
Website Evaluation/Redesign – we will search your website and offer tips on how to improve SEO, as well as the overall look and feel of your website. We will gladly help you re-design any current design you already have in place. Don't have a website? We'll get you started with a basic shop (with PayPal "buy now" buttons) and your first year of  your domain name and hosting costs. (up to $330 Value)
Custom Logo Design (up to $150 value)
Custom Business Card Design – we will create a custom design that compliments your website that you can upload to Vista Print. ($35 Value)
Custom Blogger Blog Design (2 or 3 column – winner's choice!)(up to $75 value)
The Ultimate Button & Banner Package ($35 value)
6 months Featured Sponsor Advertising on Buy By Mom. ($45 value)
---
Once Upon a Mommy's Quiet Time is having a Blog Design Giveaway.
Here are the details:
Ok all you blogspotters, get ready for an exciting chance to win a blog makeover from Subjective Beauty! Sara from Subjective Beauty has been so kind to offer one of my readers a full blog makeover (for Blogspot bloggers only!). Sara is skilled in CSS, Java Script, HTML, PHP, and Flash! And has a major in Graphic Design. Her Custom Blog Design package is a $300 value. The Custom Blog Design package comes with nearly unlimited features & costs a mere $60 but for one lucky reader it is F R E E !!!
---
Mom Most Traveled is having a bloggy carnival! Participate, enter, whatever…just go check it out!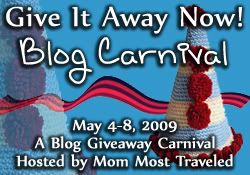 ---
Well, I think that's all I have for this week. Off to find some Lysol….
Join our newsletter!
Subscribe to get updates and great stuff via email including subscriber-only goodies like free printables and giveaways.