This post, 5 Things Every Cyclist Needs, is sponsored by USA Cycling, opinions and ideas are my own.
I've been interested in cycling since I was a freshman in high school. My mom and I bought some great road bikes and we used to do 20 and 30 mile organized rides. We had so much fun and it was a great way to stay in shape.
Check out my first real bike. I was so proud of that bike.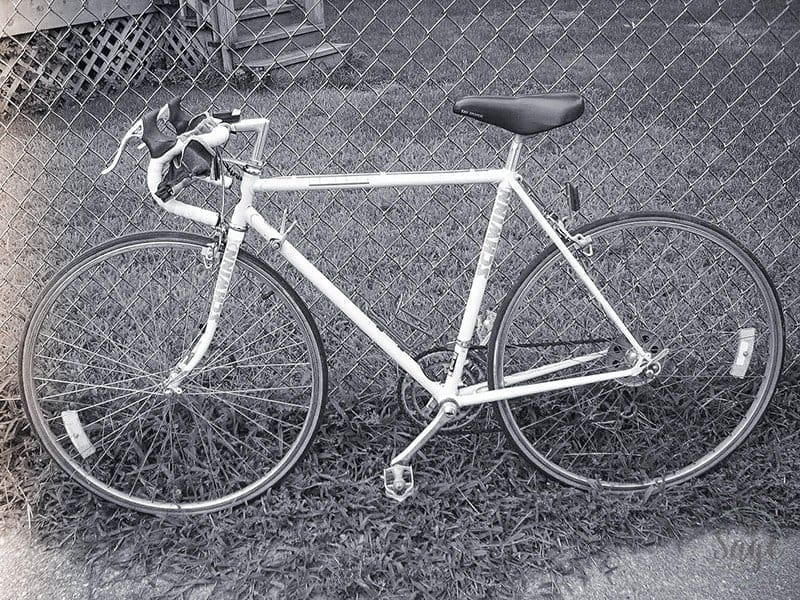 Please note that the photo looks really old to illustrate a point. We actually had color photography when I was in high school. Nothing digital, but it was in color.
I wish I still had that bike. It served me well and has a lot of great memories tied to it.
Today, I actually am bike-less for the first time in a long time, but that's because my son borrowed stole my hybrid bike to use. That's ok though, I have my eye on a bright, shiny, new road bike for next year. Below check out the hybrid I was riding.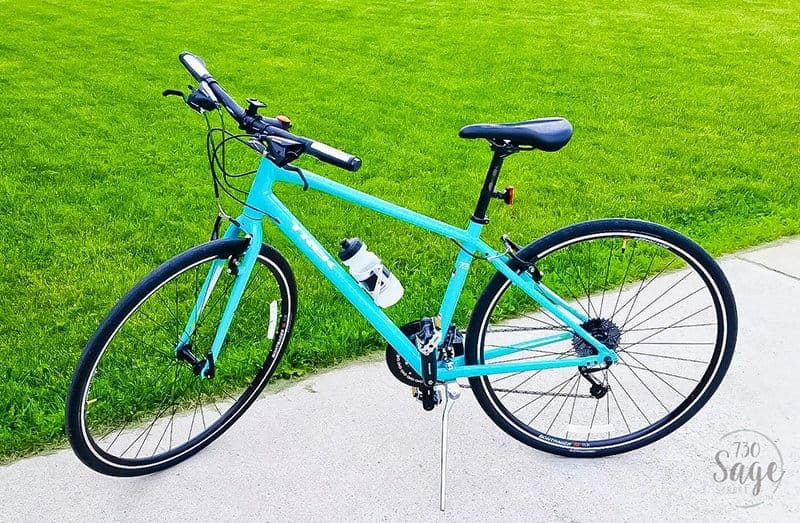 I put a lot of miles on both bikes, which helped me learn a few important lessons along the way. Usually the hard way.
Now, you can get on a bike and just go and if you are lucky you can ride safely without incident but I promise you that your luck will run out one day and you will wish that you planned ahead. So I put together a list of 5 things every cyclist needs before they hit the road. it's kind of like insurance. It's better to have it and not need it instead of need it and not have it.
Before I get to the list, however, please note that a helmet and proper closed-toed shoes are considered sort of a no-brainer and are in addition to this list.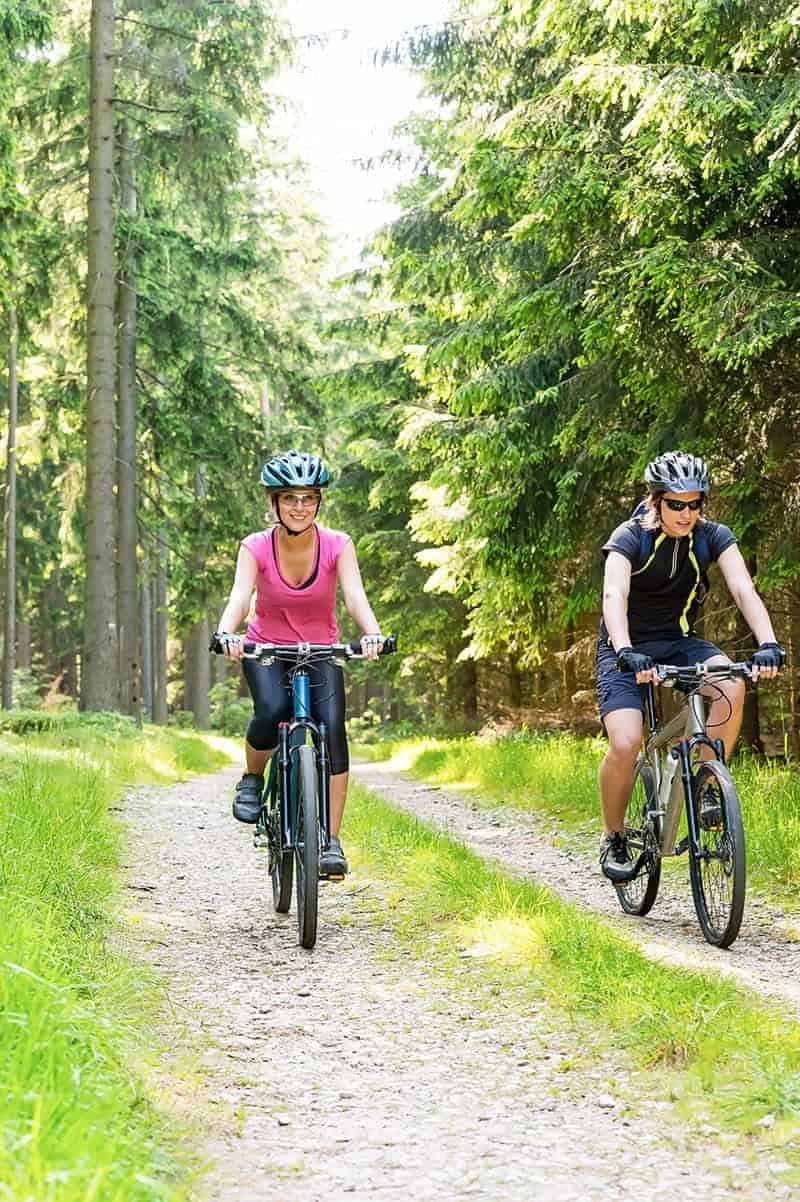 5 Things Every Cyclist Needs
Before you hit the road on your new bike, please consider this list of 5 things that every cyclist needs. These things will help keep you safe and give you peace of mind in case something does happen while you are riding.
A rearview mirror
There are a lot of cars on the road today and as much as many towns are providing bike lanes and safer road conditions for cyclists, there are always those motor vehicle drivers who just don't seem to want to respect the space a cyclist needs to ride safely. A rearview mirror can help you keep an eye on the traffic coming from behind and let you plan (every second counts) ahead in case someone appears to be coming too close.
You can get a mirror that mounts to your helmet or one that that mounts to your handlebars. Or both!
Something to repel animals
Very few things are as frightening as riding along minding your own business and seeing a rottweiler in your path who makes a beeline in your direction. You're not going to stick around to see if they are friendly or not but dogs are fast. They also have really, really sharp teeth. Having something with you that can protect you is important.
You can go the route of pepper spray or mace or something irritating to the eyes, which can help with a human attack or any other wild animal attack. But if you are concerned about harming an animal, they do make cruelty-free products that emit sounds instead of a spray that gets into their eyes.
A tool kit
Now, I know you are wondering how in the world you will carry around an actual toolkit while cycling, but lucky for you, they make these awesome cycling multi-tools that don't take up very much room. All of the individual tools from wrenches and screwdrivers to chain tools and Torx drivers (for disc brakes) are contained in these handy tools, each one flips out but remains attached to the base so you can't drop or loose an individual tool. They fit easily in a saddle bag or frame bag.
Lights
Much like cars are more visible (which is proven my many manufacturer's adoption of day time running lamps) with their headlights on even during the day, a cyclist is more visible with a headlamp and tail light.  Even if you never cycle at night, turning your lights on as you ride just gives you that extra chance of being seen when riding on the roads. Most bike lights come in sets, and often the tail light has an option to make it flash for even added visibility.
Roadside assistance
I know what you are thinking – hardy, har, har, you can't get your vehicle insurance roadside assistance to cover you when you are on your bike. And you are right. You can't. But imagine being out on a ride, even only 5 miles from home and you manage to get an un-repairable flat or your chain breaks or something that just makes your bike inoperable. How fun does it sound to walk those 5 miles back dragging your incapacitated bike along with you? What if you go off-road a bit and misjudge something and end up stuck in a ditch or other inaccessible area? Would you leave your bike and go search for help?
Neither of those situations sounds like any fun and thanks to RIDE With USA Cycling, you never have to know what it feels like to be stranded without help.
RIDE With USA Cycling
Ride is a membership from USA Cycling that basically offers for cyclists what roadside assistance offers for cars. And you don't have to be a professional cyclist to join. It's super affordable and offers benefits that can save you a lot of time and provide you with help when you need it.
Ride offers two plans, one for general cycling enthusiasts and one for more hard-core competitors. The chart below can help you choose between them.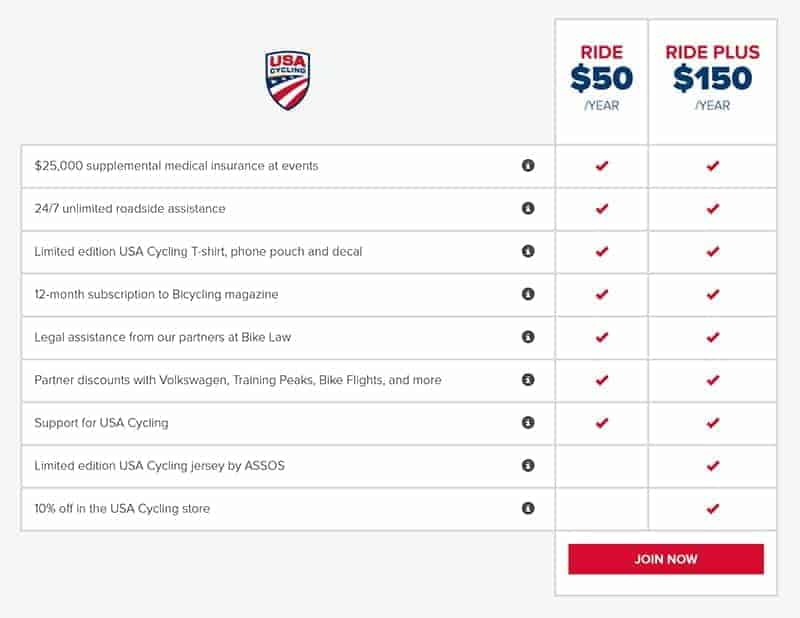 For most riders, that 24/7 roadside assistance is invaluable peace-of-mind when you hit the road. Below are more details about what is included with the roadside assistance.
Transportation Assistance – If the bicycle becomes inoperable, the bicycle and rider will be transported to the nearest qualified service facility or to any location requested by the insured up to 20 miles per occurrence.  The cost for any additional transportation over this 20 mile benefit limit will be at the customer's expense.
Extrication Assistance – Provides assistance with extricating the bicycle when stuck in a ditch, or other inaccessible area, in which such location is within 50 feet of a paved maintained road or highway.
Flat Tire Assistance – If the bicycle is rendered immobile as the result of a flat tire, a service provider will be dispatched with commonly available tools upon request or have your bicycle transported.  We do not deliver bicycle equipment (i.e. bicycle tires).
Locked-out Assistance – Due to the inability to verify ownership of the bicycle we do not dispatch a service provider to free a locked bike.  However, should you secure the service on your own to free your locked bicycle; you may submit a claim for reimbursement for up to $50.
For more information and to register for a Ride membership visit: Ride from USA Cycling.
I had no idea something like this existed for cycling, did you?