This is a sponsored post for Sony Pictures.  All opinions are my own.
There are a lot of places that our daughters can find inspiration and role models. It's easy for a nine-year-old to look up to the actors on their favorite shows, the singers of their favorite songs, and even athletes who participate in their favorite sports. They often have immediate access to these actual people living intangible lives. But many of the best role models to inspire our girls to have a positive self-image and to push the boundaries and do anything they dream of doing, aren't necessarily in the mainstream. They are usually everyday people doing extraordinary things, some across town, some across the world.
It's not often we get to glimpse into different cultures and find someone breaking gender barriers in a society with extremely traditional customs and beliefs. But a movie called The Eagle Huntress gives a unique look at a girl who truly reaches her full potential even among a society who struggled to accept her.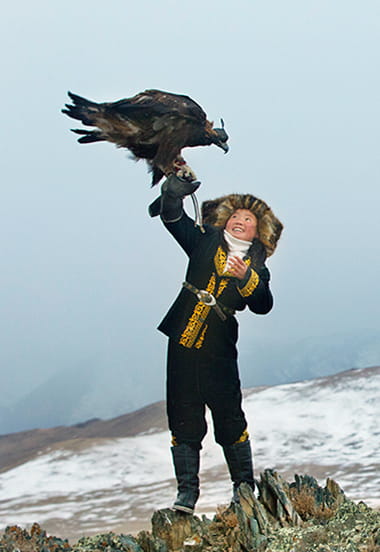 The film follows a girl named Aisholpan who is a thirteen-year-old girl living with her family in Mongolia. Eagle hunting is a family tradition for the males in her family, but thanks to the encouragement of her amazing father, Aisholpan is determined to become the first ever female to become an eagle hunter. Her journey is not an easy one as aside from her immediate family, the community did not believe a girl could, or should become an eagle hunter. Aisholpan was determined to prove them wrong.
When I started watching The Eagle Huntress with my daughter, she was a bit confused about why the movie wasn't in English. She has never had to read subtitles, and it took her awhile to understand that what she was watching was filmed live in a different culture. She was fascinated by this.
The cinematography in the movie was breathtaking and the story was so inspiring, you couldn't help but marvel at the beauty.
After the film, I decided to ask my daughter a few questions:
How is Aisholpan's life different from yours?
"She hangs around eagles, she speaks in a different language. She lives in a hut during the summer. She hunts."
Do you think Aisholpan is someone you can look up to? Why?
"Yes. Because she's brave. She doesn't care what other people think of her."
Do you think girls can do anything boys can do?
"Yes."
Would you want to be an eagle huntress?
"Um, yeah."
The Eagle Huntress is available on Blu-ray, DVD & Digital here: https://sonypictures.us/OMgUHP.
About The Eagle Huntress:
An extraordinary true story about family, tradition and the courage it takes to soar. Narrated by Daisy Ridley Featuring the song "Angels by the Wings" by Sia Female empowerment, self-esteem, belonging, gender equity, following your dreams. Executive produced by Daisy Ridley & Morgan Spurlock.