In the interest of focusing on our nutrition, my son and I have recently adopted a plant based diet. He is teenager with some skin issues and I am in my mid 40's. Both of us could benefit from increasing the nutritional value of our food.
I really thought a plant-based diet was going to be a challenge, especially when trying to satisfy a teenage boy. But it really hasn't been as difficult as I imaged thanks to products like The Beyond Burger from Beyond Meat.
When he learned that he didn't have to give up his favorite food – burgers – he was sold.
The Beyond Burger
Beyond Burgers may be plant based but they look like real meat. They are juicy, and have the texture and heartiness of beef. Also, they are non-GMO, don't contain soy or gluten and have 20 grams of plant protein per serving!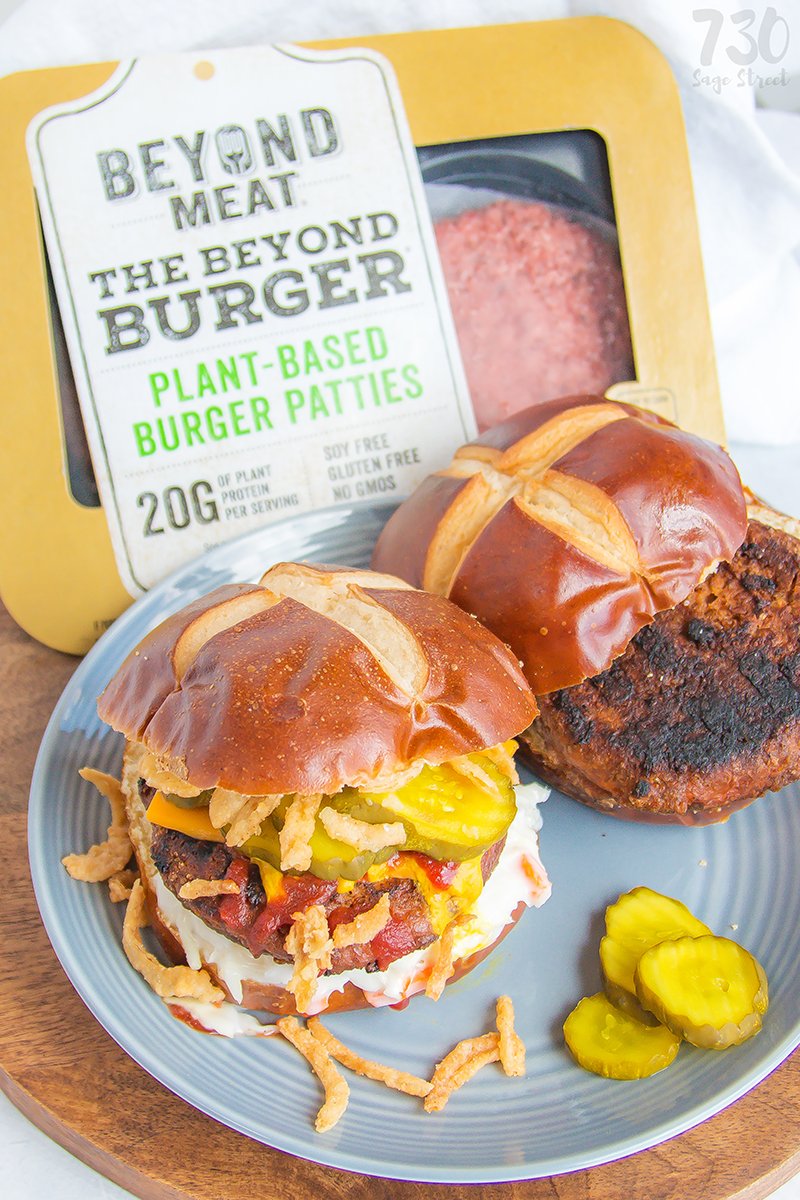 Beyond burgers can be grilled like any beef burger. Take a look, they look just like beef. You get the full "burger" experience but plant based.
They even get grill marks!
You can enjoy The Beyond Burger on a bun like a traditional burger with your favorite toppings, you can enjoy it wrapped in lettuce if you don't do buns, or you can get creative and chop it into a salad or a veggie bowl.
For my son's sake, I went with a more traditional "on a bun" burger. Loaded. I call it the "Everything but the beef burger" because it has just about everything on it! You can make it vegetarian or Vegan.
My recipe calls for a pretzel bun, crispy onion strings, pickles, cheese, ketchup, mustard and coleslaw. You can add a fried egg on top if you aren't Vegan.
Everything But the Beef Plant Based Burger
There really is no formal recipe for this burger. A few steps are below:
Grill Beyond Burgers per the package instructions.
Gather your favorite toppings including crispy onion strings, pickles and condiments.
To make an easy coleslaw, simply mix a bag of coleslaw mix with a jar of coleslaw dressing.
Add everything to a bun or lettuce wrap.
Top with a fried egg if you eat eggs.
Serve and be amazed by how you don't miss the beef!
Follow Us on Pinterest
Pin it, Make it, Share it.
I was selected for this opportunity as a member of CLEVER and the content and opinions expressed here are all my own.