For a kid, Thanksgiving is one of the best holidays, but also one that's not so great. Obviously, there's the food, but along with the food there is a lot of bustle and action that they are not included in. They are told to "Go find something to do!" or "I need you out of the kitchen. NOW!" But, they have nothing to do except wait for all the good stuff to come. Eventually, family and friends arrive. But, the kids often need an ice breaker to get comfortable with people they don't see all that often. Or worse, everyone retreats behind their device screen and there is absolutely no interaction. Well, that's not what Thanksgiving is all about! So if you're looking for that "something to do" to get the kids not only out of your way, but to have fun with the family, then check out this Thanksgiving Treasure Hunt printable.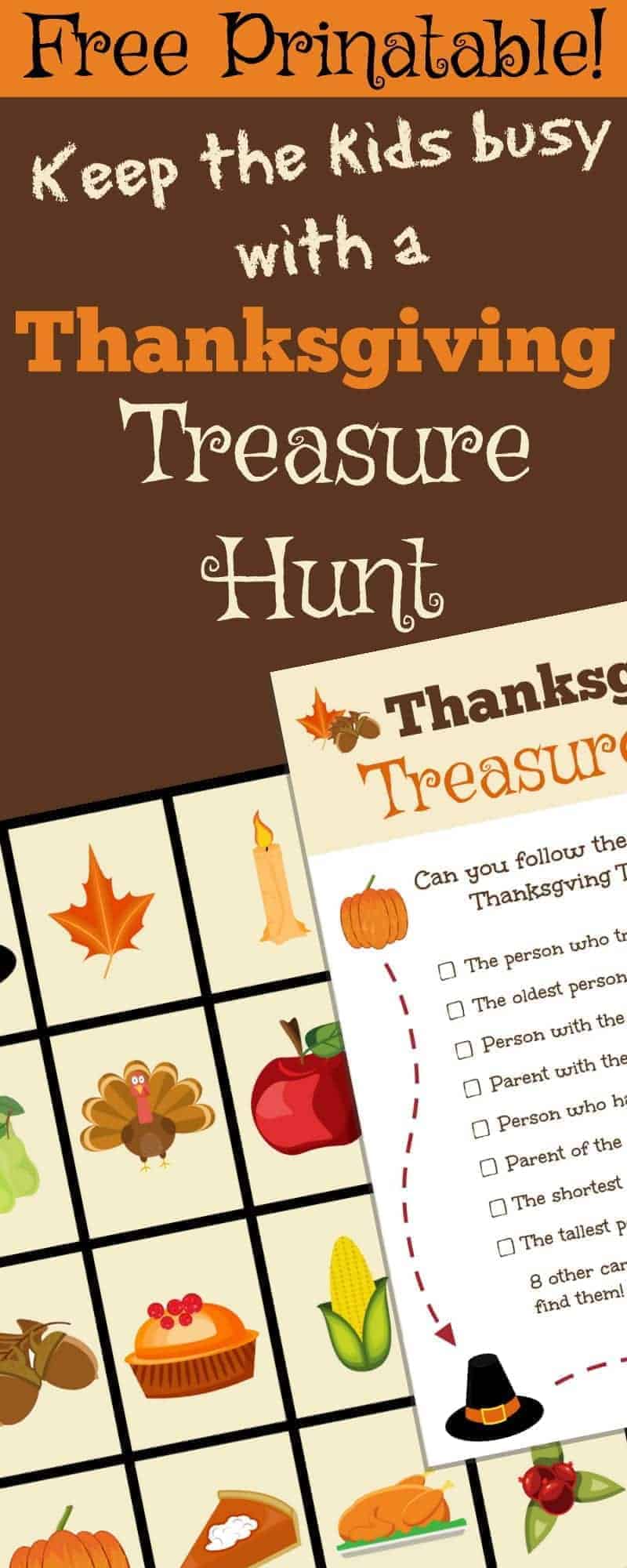 Thanksgiving Treasure Hunt Free Printable
You'll need to do a little bit of prep work before this Thanksgiving Treasure Hunt. Print out one sheet of cards and cut into individual trading cards. Print one Thanksgiving Treasure Hunt Clues page for each person that will be playing. Pick up a little prize that can be the treasure. Rat a Tat Cat Card Game or Uno are both easy games that a wide age-range of kids can play.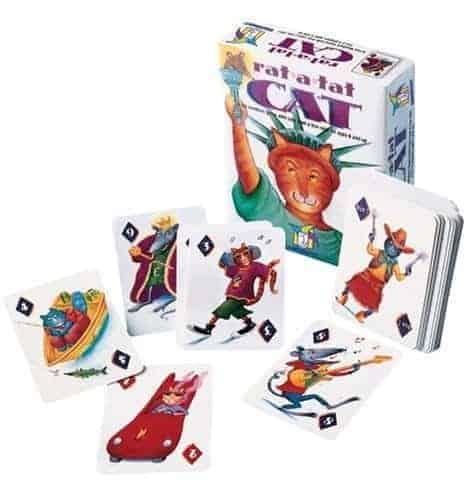 Grab the turkey with a hat card and your treasure and hide them together. Now, you'll need to do a bit of thinking on who will get the cards based on the clues. Give a card to the following adults:
the person who traveled the farthest
the oldest person
person with the most letters in their middle name
parent with the most kids
person who has the next birthday
parent of the oldest kid that will be present
shortest person here
tallest person here
It's ok if one person gets more than one card, they'll just hand the cards out separately when asked about the clue. Place the remaining seven cards around the house in areas that the treasure hunt will take place.
The Treasure Hunt
When you're ready to do the Treasure Hunt, hand out the clue sheet, and explain any rules you want to add (for example: no running, certain rooms to stay out of, or maybe they need to say something silly before they ask an adult for a card). They will have to use the clues to figure out which grownups have cards, and then get the card from that person. Cards can be collected in any order, so they will need a strategy to get as many cards as they can.  Finally, let them loose.
One of the nice things about this printable is that the kids can take over and repeat the hunt (without the treasure) as many times as they like by hiding the cards. Or, they can make up their own games – play "Would You Rather?" and the winner gets a card. The player with the most cards wins the game. Or, whatever game they invent.
PRINTING TIPS
The PDF should print easily to your default print size without having to change anything. It prints to an 8-1/2 x 11 size sheet which is standard paper size.
PRINTABLE USE TERMS
730 Sage Street has provided this printable free of charge for personal use. You may NOT link directly to the PDF file, redistribute, sell, resell, or use commercially. This is a violation of the terms of the graphics and the copyright. Personal use includes printing the document for parties, classrooms, homeschool, church, community activities, etc.
Check out our printables category for more great printables and activities, or check out our Thanksgiving printables below: