Red curry paste is a staple ingredient in Thai cuisine, known for its spicy and aromatic flavor profile. With its versatile nature, it can be used in a variety of dishes, from creamy curries to savory stir-fries.
Get ready to embark on a culinary journey with these 15 mouthwatering Thai recipes that showcase the bold and unique flavors of red curry paste.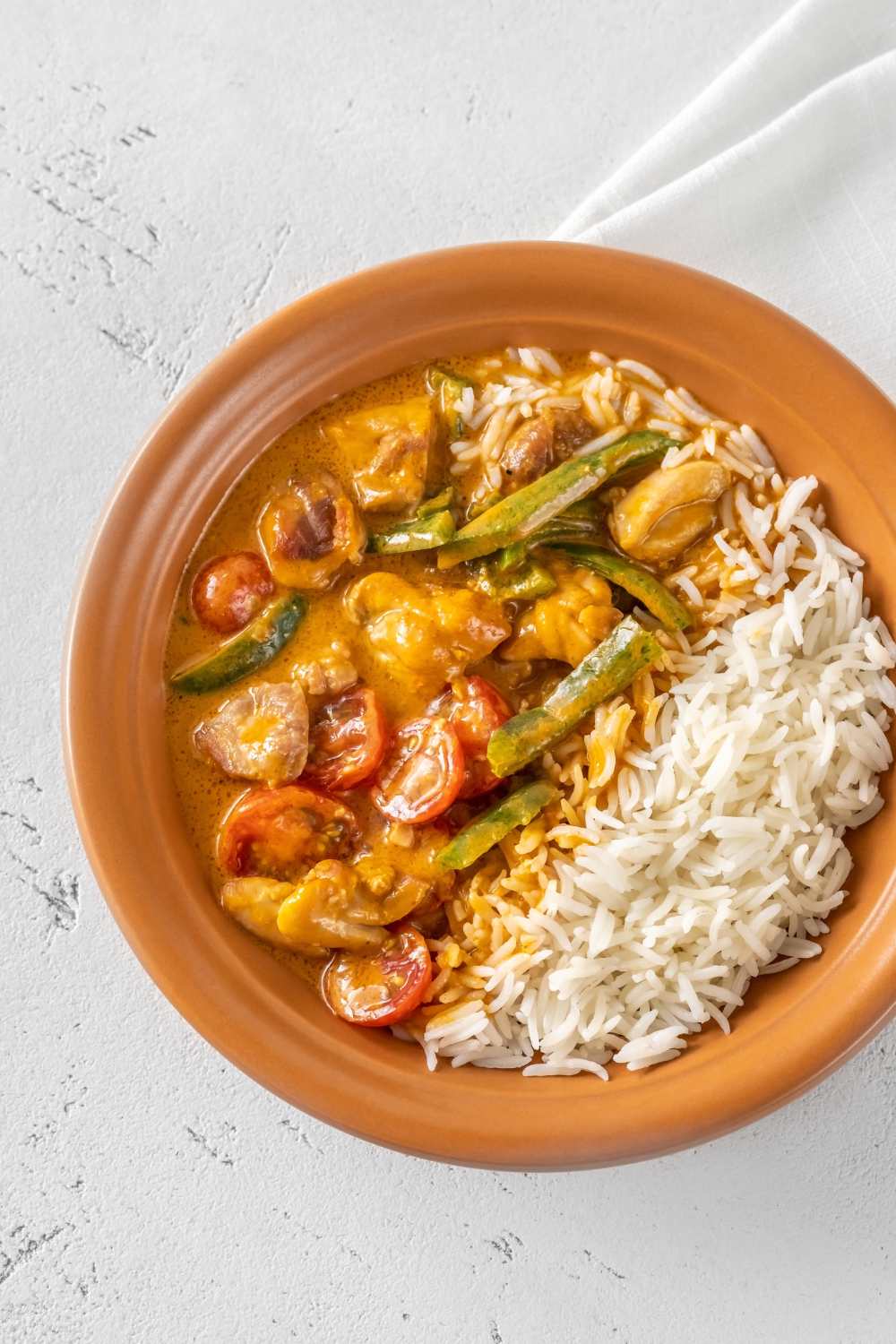 What Is Red Curry Paste?
Red curry paste is a versatile Thai ingredient made from a blend of red chili peppers, garlic, lemongrass, ginger, and other spices. It is used to add flavor and spice to a variety of dishes, from curries and soups to marinades and sauces.
Is Red Curry Paste Spicy, And Can I Adjust The Heat Level?
Yes, red curry paste is typically quite spicy, although the level of heat can vary depending on the brand and specific recipe. If you find the heat level too intense, you can adjust it by adding more coconut milk or cream to the recipe, or by reducing the amount of curry paste used. You can also add sugar or honey to balance out the heat or use milder ingredients like bell peppers or potatoes in the dish.
15 Thai Recipes With Red Curry Paste
From juicy duck to grilled scallops, these 15 Thai dishes using red curry paste will tantalize your taste buds:
Get ready to savor a delightful trip to Thailand with this Easy Thai Red Curry Chicken recipe! In just 30 minutes, you'll create a scrumptious one-pot meal that combines tender chicken strips, vibrant red bell peppers, and crunchy carrots in a creamy, aromatic red curry sauce.
With a hint of sweetness from brown sugar and a tangy touch of lime, this dish is a perfect harmony of flavors. Don't forget to sprinkle some fresh cilantro on top for an extra burst of freshness. Enjoy this mouthwatering meal and let it whisk you away to a tropical Thai paradise!
Dive into a world of creamy, dreamy flavors with this Coconut Curry Shrimp recipe! This Thai-inspired dish features succulent shrimp swimming in a rich, velvety red curry sauce, with a beautiful medley of mixed vegetables adding a pop of color and crunch.
The sweet aroma of Thai basil fills the air as you cook, enticing your senses and building anticipation. Finish it off with a squeeze of lime for a zesty touch, and serve over fluffy Jasmine rice. This dish will transport you straight to the sandy beaches of Thailand, where you can savor every last bite!
Satisfy your cravings for a flavorful and hearty meal with this Thai Coconut Red Curry with Steak! Tender slices of Top Sirloin steak are infused with aromatic red curry paste, juicy lime juice, and creamy coconut milk, creating a luxurious and savory sensation that will leave your taste buds dancing with delight.
The caramelized onions and red bell pepper add a touch of sweetness and crunch, while the fragrant basil leaves provide a fresh herbaceous kick. Serve over rice or greens for a complete and wholesome meal. This dish is perfect for a quick and easy weeknight dinner or a special occasion. With only 10 ingredients, you'll have this restaurant-quality meal ready in just 30 minutes!
Vegan Thai Red Curry with Tofu and Vegetables is a delicious combination of creamy, spicy, and savory tastes in a rich coconut milk-based sauce; prepare to get a taste of Thailand.
The firm and protein-rich tofu are paired with a colorful assortment of fresh vegetables such as red and yellow bell peppers, zucchini, and crunchy bamboo shoots, all enveloped in a fragrant mixture of ginger, garlic, and red curry paste. The kick of chili sauce, sriracha sauce, and lime juice creates a perfect symphony of flavors. Served over fluffy white rice and garnished with fresh basil leaves, this vegan curry is sure to become a family favorite.
Savor the delicious blend of sweet and heat in this Thai Red Curry Fried Rice! This dish is a perfect fusion of crispy fried eggs, succulent chicken thigh slices, and fragrant Thai herbs and chili, all mixed with cooked rice and coated in a rich, creamy coconut milk-based sauce.
The bamboo shoots add a refreshing crunch, while the Thai basil leaves bring an aromatic herbaceous kick. To add extra texture and depth, fry the eggs until crispy on the edges and place them on top of the rice. Slices of cucumber serve as a cooling accompaniment to balance out the heat.
This Thai Red Curry Noodles recipe is a quick and easy meal that will satisfy your craving for a comforting, flavorful dish. The brown rice noodles are cooked until just tender and then combined with a rich, creamy sauce made from coconut milk, Thai red curry paste, tomato paste, soy sauce, garlic, ginger, honey, and lime juice.
The noodles absorb the sauce, creating a deliciously creamy and spicy flavor. Top with cilantro, scallions, and red pepper flakes for added texture and color. You can also add your favorite protein or vegetables to make it a complete meal. Enjoy the warm and comforting flavors of this Thai-inspired dish.
These Thai turkey meatballs in coconut curry sauce are a delicious twist on traditional meatballs. Made with ground turkey or chicken, panko breadcrumbs, and a mix of flavorful ingredients like garlic, ginger, and red curry paste, these meatballs are juicy and tender.
They are then baked to perfection and served with a rich and creamy coconut curry sauce that's infused with ginger and red curry paste. The sauce is seasoned with brown sugar and fish sauce or soy sauce to create a perfect balance of sweet and savory flavors. Serve these meatballs over rice or noodles and garnish with fresh cilantro for a vibrant and satisfying meal.
This vegan Thai red curry with tofu and veggies cooks all in one pot, making it the ideal evening meal. The dish can be prepared in less than 30 minutes and has a number of healthy components. To create the fragrant and flavorful Thai red curry sauce, the following ingredients are combined: coconut milk, tomato paste, red curry paste, chili sauce, lime juice, brown sugar, soy sauce, and sriracha sauce; lime zest; salt; pepper; red chili flakes.
The sauce is simmered with cubes of firm tofu, bamboo shoots, red and yellow bell peppers, onions, and zucchini until the vegetables are crisp-tender. Serve over white rice and top with fresh basil leaves for a delicious and filling supper.
Comfort food at its finest, Thai Red Curry Noodle Soup takes little time and effort to prepare. The fragrant red curry paste is combined with chicken, bell pepper, onion, garlic, and ginger, which creates a delicious base. The addition of coconut milk gives it a creamy texture, while the fish sauce and brown sugar give it a perfect balance of sweet and savory flavors.
The rice noodles add a satisfying chewy texture that completes the dish. Top it off with green onions, cilantro, basil, and a squeeze of lime juice for a fresh and zesty finish. This soup is sure to be a crowd-pleaser and perfect for any weeknight meal.
This dish for Red Thai Curry Mussels will take you to Thailand with its exotic spices and aromas. This rich and savory recipe is excellent for any seafood fan, as fresh mussels are cooked in a delicious blend of red curry paste, ginger, garlic, and coconut milk.
The tanginess from the Asian fish sauce and the lime juice make for a well-rounded meal. Cilantro and lime wedges provide an enticing scent that will make you want more. To complete this wonderful dinner, serve with warm, crusty bread.
Made with cooked and flaked basa fillets, red curry paste, and fresh cilantro, these Thai fish cakes are a taste explosion. They are filled with fragrant spices and zesty citrus aromas. The slight bite comes from the use of minced ginger and green onions, while the panko breadcrumbs contribute to the creation of a crispy surface.
To achieve the ideal harmony of tastes, top with a tartar sauce that is created with creamy mayonnaise, capers that have been minced, and lime zest. Your taste buds are in for a treat when you try these fish cakes, which are perfect for serving as an appetizer or a light supper.
Tender, buttery-seared scallops served atop a bed of rich and flavorful Thai red curry vegetables make for a truly decadent meal. The curry, infused with aromatic ginger and garlic, red curry paste, and creamy coconut milk, is simmered to perfection with bell peppers, eggplant, and fresh spinach.
Seasoned with a touch of sweetness from sugar and a pop of tangy lime juice, this curry is nothing short of divine. Garnished with fresh basil and cilantro, the dish is finished off with scallops seared to perfection, delivering a dish that is both impressive and delicious.
Thai Red Curry Duck is a delicacy that you must try. Crispy duck skin is achieved by scoring and seasoning tender duck breasts before cooking them in a skillet. Valcom Red Curry Paste, kaffir lime leaves, lemongrass, chicken stock, coconut cream, fish sauce, cherry tomatoes, and canned pineapple are then combined to give the meal its signature flavor.
The duck is given 10 minutes to absorb the delicious tastes of the aromatic and rich sauce in which it is cooked. This curry served sliced over hot rice, will have your taste senses begging for more.
This Calamari with Peppers in Red Thai Curry recipe is a game-changer for your dinner table! The tender and mild-flavored calamari is perfectly complemented by the creamy coconut milk and spicy red Thai curry paste. The addition of red bell peppers, garlic, and ginger adds layers of depth to the dish.
Top with sliced scallions, minced cilantro, black sesame seeds, and a squeeze of lime juice for a refreshing finish. This recipe is versatile and can be served over rice, as a soup, or on its own. Get your hands on some MSC-certified calamari from The Town Dock to make this delicious and sustainable dish!
This Easy Thai Satay Chicken recipe is perfect for a quick weeknight dinner. The chicken is marinated in a creamy blend of coconut milk, peanut butter, red curry paste, and sauces to infuse it with bold Thai flavors. After searing in a pan, the chicken is finished off in the oven until perfectly cooked.
The creamy and nutty peanut sauce is the perfect complement to the spicy chicken. Made with all-natural peanut butter, brown sugar, red curry paste, and tamarind puree, the sauce is a savory explosion of flavors. Serve with steamed rice or noodles, and top with fresh cilantro, lime wedges, and sliced red chilies for a garnish that is as beautiful as it is delicious.