Eggplant is a popular element in Thai cooking, where it contributes a distinctive flavor and texture.
These 15 Thai eggplant dishes range from spicy curries to acidic stir-fries and are sure to please even the pickiest of eaters.
Prepare to dazzle your visitors with your newfound culinary expertise and these colorful, tasty meals.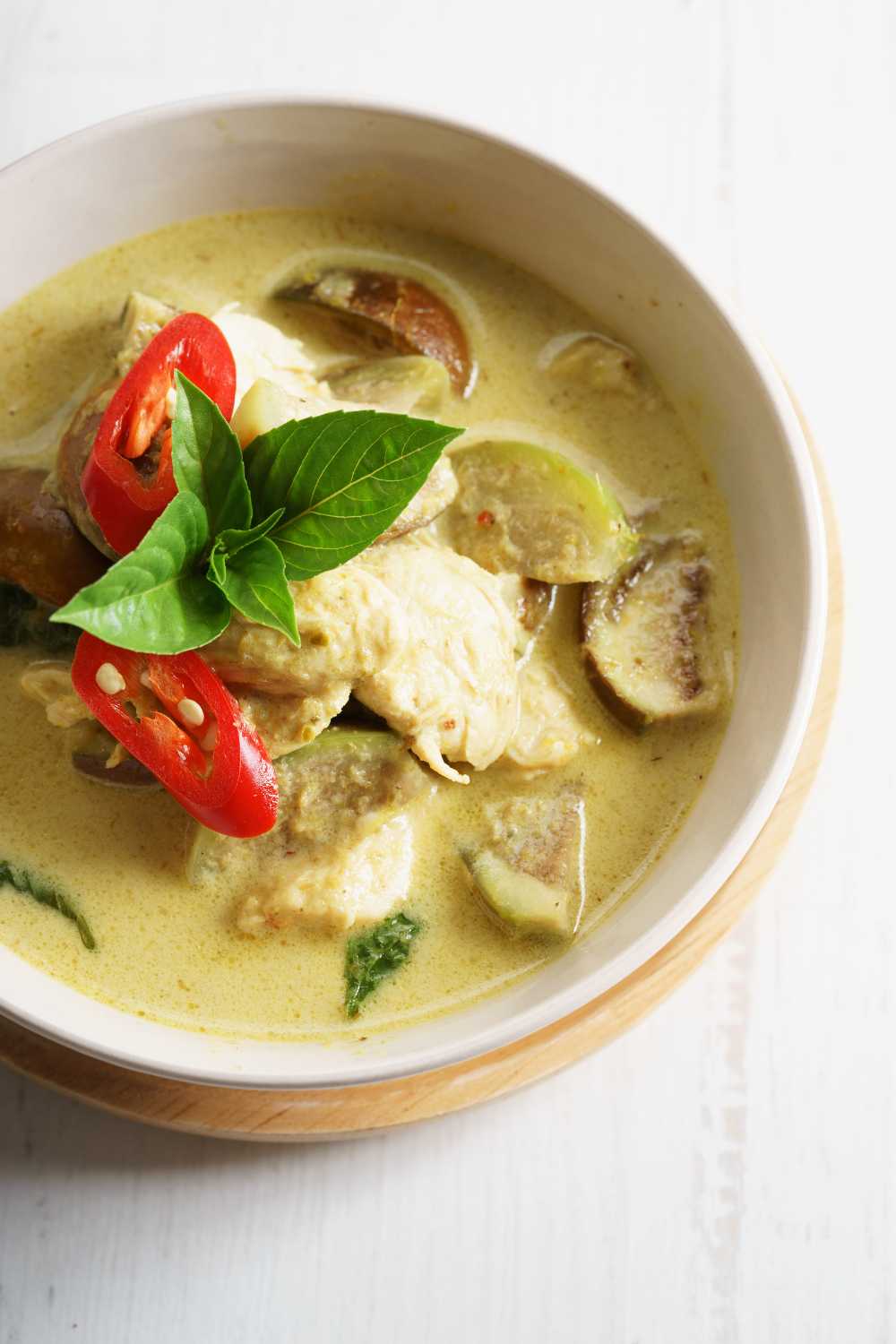 Can You Use Canned Eggplant In These Thai Recipes?
Canned eggplant can be a convenient and time-saving ingredient to use in Thai recipes, but it's important to choose the right brand. Here are four options:
Cento Eggplant Strips: These strips are made from fresh eggplants that have been sliced and marinated in oil, salt, and vinegar. They have a slightly sweet and tangy flavor and a tender texture, making them great for stir-fries or curries.
Goya Eggplant in Olive Oil: This Spanish brand offers sliced eggplant in olive oil with a slightly firmer texture. They have a slightly bitter taste, which can be balanced with sweet or savory flavors. These canned eggplants are perfect for salads, sandwiches, or as a side dish.
Roland Grilled Eggplant: These eggplants are grilled and marinated in a mixture of oil, vinegar, and spices, giving them a smoky flavor and a tender texture. They are great for adding to pasta dishes or as a side dish.
Native Forest Organic Eggplant: These eggplants are certified organic and canned in a saltwater brine. They have a firm texture and a mild flavor, making them ideal for recipes where you want the eggplant to be a textural component rather than a flavor. They are great for adding to salads or as a pizza topping.
15 Thai Recipes With Eggplant
From tangy curries to zesty stir-fries, these dishes are bursting with fresh flavors that will transport you straight to Thailand:
This fragrant and comforting Thai green curry with eggplant and tofu (or chicken or shrimp) is a perfect meal to warm you up on a chilly evening. The dish comes together quickly and easily with the help of store-bought or homemade green curry paste. Combining coconut milk, kaffir lime leaves, and Thai basil creates a delicate and complex flavor that will make your taste buds sing.
Serve it over rice for a satisfying and nourishing meal. Don't forget to garnish with extra lime wedges for that extra zesty kick.
This Thai basil eggplant dish is a delightful vegan and gluten-free recipe that is sure to please everyone at the table. The combination of eggplant, tofu, bell peppers, and onions gives the dish a satisfying crunch, while the ginger, garlic, and Thai green chilies add a lovely kick.
The sauce is a perfect blend of tamari, tahini, rice vinegar, and maple syrup, which makes this dish irresistibly delicious. The star of the dish, however, is the Thai basil, which lends its sweet, anise-like flavor to the dish. Serve it over a bed of hot rice for a complete and comforting meal.
Thai red curry with eggplant and tofu is a perfect combination of spicy and sweet flavors. The eggplant and zucchini are cooked to perfection, giving the curry a soft and juicy texture, while the seared tofu adds a nice contrast of crunchiness. The red curry paste and coconut milk create a rich and creamy sauce that is perfect for drizzling over a bed of hot rice, quinoa, or pasta.
The dish is finished with a squeeze of lime juice and garnished with fresh cilantro, which adds a lovely freshness to the dish. This vegan and gluten-free dish is perfect for those looking for a flavorful and healthy meal.
Thai eggplant stir-fry is a delicious and spicy dish that is perfect for a quick and easy weeknight dinner. The eggplant is cooked to perfection and pairs well with the fragrant and spicy chili paste, ground pork, and Thai sweet basil. The dish is bursting with flavor from the oyster sauce, light soy sauce, fish sauce, and tamarind paste.
The cornstarch slurry adds a nice thickness to the sauce, making it perfect to drizzle over a bed of steamed rice. This dish is easily customizable with your choice of protein, making it a versatile recipe to have in your back pocket. Enjoy the spicy goodness of Thai cuisine with this simple and delicious stir-fry!
Get ready to transport your senses to a tropical paradise with this shrimp and eggplant curry! The fragrant blend of spices and herbs, including fresh curry leaves, jalapeno peppers, and tamarind paste, create a flavorful and spicy sauce that perfectly complements the tender shrimp and soft, round eggplants. This dish is easy to make and perfect for a cozy night in or a dinner party with friends.
So grab a bowl of rice and get ready to savor the exotic flavors of this delicious curry. Warning: you may find yourself dreaming of white sandy beaches and crystal clear waters after just one bite!
The Thai Eggplant and Chicken Curry recipe is a delightful blend of aromatic spices, tender chicken, and hearty eggplant, all simmered in a creamy coconut milk sauce that's bursting with flavor. Whether you're looking for a quick and easy weeknight dinner or a comforting meal to warm you up on a cold day, this curry is sure to hit the spot.
The combination of tender chicken, velvety eggplant, and the bold flavors of green curry paste and fresh herbs make this dish an absolute crowd-pleaser. And with the option to make it in an Instant Pot or on the stovetop, you can easily adapt this recipe to suit your cooking preferences. So why not give it a try and treat yourself to a delicious and satisfying meal tonight?
Stir-Fried Beef with Peppers, Mushrooms, Eggplant, and Nam Prik Pao is a delicious Thai dish that's bursting with flavor. Thinly sliced beef is marinated in a mixture of soy sauce, cornstarch, and ground white pepper before being stir-fried with a variety of colorful vegetables, including mushrooms, eggplant, onions, and bell peppers.
The dish is then seasoned with a blend of tangy and savory ingredients, including fish sauce, lime juice, and nam prik pao chili paste. Finished with a handful of fresh basil leaves, this stir fry is perfect for serving over a bed of steamed Jasmine rice for a satisfying and flavorful meal.
Take a journey to the exotic flavors of Thailand with this creamy and comforting coconut soup. Loaded with juicy mushrooms, sweet cherry tomatoes, and tender eggplant, this vegan soup is the ultimate comfort food that will warm your heart and soul. Infused with the invigorating aromas of lemongrass and ginger, this soup is bursting with flavor and the perfect blend of sweet and spicy.
And the best part? It's so easy to make! So, put on your chef's hat, and get ready to impress your taste buds with this Thai-style coconut soup.
This easy chicken satay with peanut sauce is a crowd-pleasing Thai classic that's perfect for any dinner gathering. The marinade is bursting with the flavors of coconut milk, garlic, soy sauce, fish sauce, and spices like turmeric, cumin, coriander, and ginger. Skewer the chicken and grill to perfection, rotating often for even cooking.
The peanut sauce is the perfect accompaniment to the juicy chicken, with a creamy blend of peanut butter, honey, sesame oil, and apple cider vinegar. Top with salted peanuts and fresh cilantro for a delicious and satisfying meal. This dish can be made ahead and will keep well in the fridge for up to 5 days.
Coconut-curry fish with sweet potatoes and eggplant is a delightful and aromatic dish that's perfect for a comforting weeknight dinner. The dish is packed with the flavors of unsweetened coconut milk, green curry paste, and fresh vegetables like eggplant and sweet potatoes. The fish is then seasoned generously with salt and partially submerged in the skillet until cooked to perfection.
Serve it over steamed rice and top it off with basil leaves, sliced Thai chilies, and lime wedges for a zesty and citrusy flavor. This dish is the perfect combination of sweet, spicy, and savory, and is sure to be a hit with any seafood lover.
Szechuan pork and eggplant stir fry is a perfect blend of sweet, savory, and spicy flavors that'll leave you wanting more. The pork tenderloin is marinated in cornstarch and soy sauce, then stir-fried to perfection with minced garlic for added depth of flavor.
Chinese eggplant and bamboo shoots lend the dish a unique texture and flavor, while the sauce made from chili paste, black bean sauce, ginger, honey, apple cider vinegar, and sesame oil packs a punch. Serve over steamed rice or noodles of your choice for a delicious and filling meal that's easy to make
Spicy and flavorful, this Eggplant, Sweet Potato, and Chickpea Curry is a delicious way to experience the cuisine of India. Garam masala, cumin, cardamom, curry powder, turmeric, and gochujang create a heady scent as they combine with roasted sweet potatoes, beets, chickpeas, and eggplant.
In addition to the delicious flavor imparted by the sautéed onions and garlic, the addition of a little coconut milk makes the dish a little creamier. This curry, when served with hot rice and handmade naan bread, is a hearty, nutritious dinner that will make your taste senses happy.
The soft vegetables, silky coconut milk, and fragrant spices in this recipe for Coconut Red Curry with Chickpeas create the ideal balance of heat and sweetness. Chickpeas, eggplant, and bamboo shoots are tossed in a fragrant curry sauce with red bell pepper, garlic, ginger, and shallot, and the result is a delightful meal.
An ideal evening supper, this dish may be prepared in a single pot and paired with either brown or white rice. This curry will quickly become a household favorite because of its savory taste and soothing scent.
Grilled eggplant salad with prawns is a true delight to the senses! Silken Thai eggplant is grilled to perfection and mixed with juicy prawns, tender chicken, and boiled eggs for a protein-packed meal. Spring onions, coriander, and red shallots add a burst of freshness to the mix, while a tangy and sweet dressing of lime juice, fish sauce, and palm sugar brings the dish together.
Top it off with some mint leaves, sliced red birdseye chili, and finely ground dried shrimp for a crunchy texture and burst of umami.
This Pork & Eggplant Stir Fry is a must-try dish for all the stir fry lovers out there. Thin strips of eggplant are soaked in salt water for 10 minutes, then cooked until slightly shriveled and golden brown. Ground pork is then crumbled into the same skillet with sesame oil and garlic.
A delicious sauce made of honey, coconut aminos, balsamic vinegar, chicken stock, and a birds-eye chili is then added along with chopped ginger, cooked eggplant, and scallions. The dish is cooked until the sauce thickens and then garnished with sesame seeds and Thai basil.