This is a sponsored post by Verizon Wireless. All opinions are my own.
There are some days when I really wish that technology was not a part of our parenting vernacular. Parenting is hard enough without adding in the effects of something that was designed to make our lives easier, yet adds incomprehensible levels of complication.
Parenting used to be more straightforward. "Look both ways before crossing the street" leaves very little room for interpretation. Short of the sky falling, the dangers were predictable. We couldn't prevent tragedy, but at least we had the peace of mind that we did everything in our power to prepare them for the dangers that might come from one side or the other.
Technology introduces dangers that come from all directions. Dangers that are not only unpredictable, they often masquerade as something else.  It makes it really difficult to send them off with a simple instruction that can help keep them safe.
This makes it very easy to over-do it when it comes to trying to manage a teenager's use of technology. They deserve some trust the older they get, but how do you keep them safe while giving them some freedom as well?
Thankfully, Verizon Wireless understands our needs as parents to find a balance between trust and safety. They have created tools that help bridge that gap and don't force you to compromise one over the other.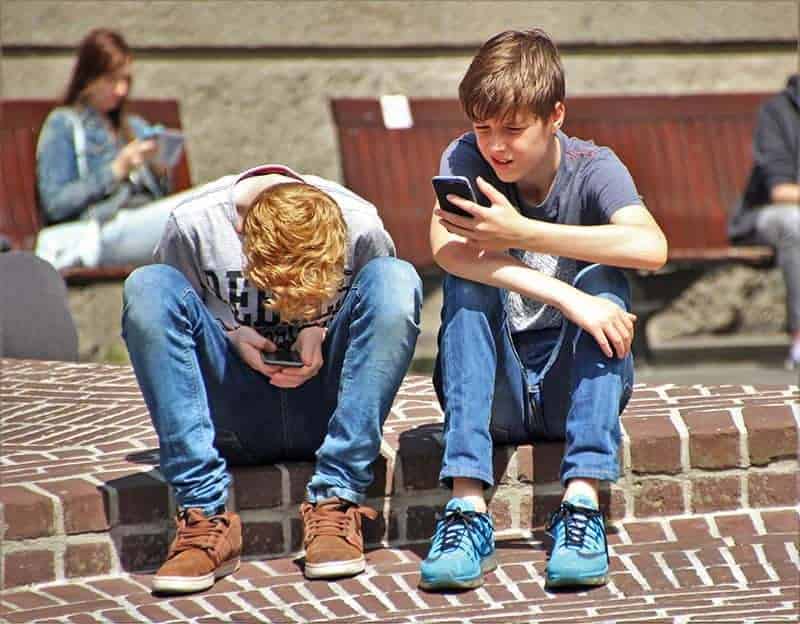 Verizon Wireless and The Parents' Guide to Kids and Tech
It seems so obvious to me to start with Verizon when trying to figure out how best to manage my teenager's devices because tech is what they do. When he was younger, it was a lot easier to just hand him a device at certain times when he was allowed some screen time and then just take it away. Now that he is 15, it's different. He's getting older and more independent and he relies on his phone to stay connected to us and to his friends.
The Verizon Wireless Parents' Guide to Kids and Tech has all of the information you need to make sure you tackle this important topic with the confidence that you are doing the best you can to protect you kids, while also giving them a level of monitoring and supervision that makes you both happy.
From device reviews from parents in the trenches, to help knowing when is the right time to get your child a phone, Verizon's Guide is a one-stop shop to help you navigate your options. It will help you choose the right service plan for your family and help you establish boundaries and ground rules for your kids and their technology usage.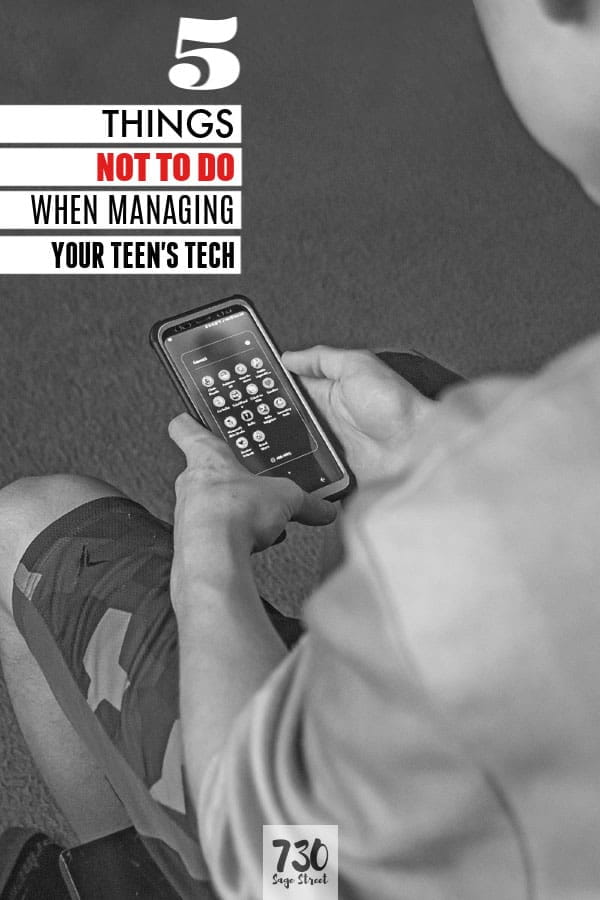 5 Things Not to Do When Managing Your Teen's Tech
1. Don't Micromanage
As teenagers reach 14 or 15 years of age, they are starting to make their own decisions. They are becoming more responsible and have reached an age where in all other areas of their lives, you no longer micro manage their daily life. That needs to translate into their tech usage as well.
Teens generally can find a way to access the content they want, and the more pressure parents put on them, the more likely they are to try and hide their behavior.
But you don't have to give them free reign without a safety net, you just have to establish the right balance of freedom of safety for their age and maturity level.
2. Don't be vague
We start out expressing the dangers of the world to our children with simple language they can understand. A hand slap to prevent them from touching a hot stove before they grasp the concept of the word hot. As they get older, we use phrases like "you will get hurt" or "bad people" to describe potential dangers.
But teenagers are beyond these simple statements. When you are vague with them about the dangers, they may think you are treating them like a child or exaggerating simply for effect. Only you will know when your teen is ready for specifics but giving them actual examples of what the dangers are can help them identify those unsafe situations quicker.
Being honest with them opens up a door of communication. It signals to them that you trust them to be honest and open with you because you were honest and open with them. It's not foolproof, but when you set the tone, you have a better chance that they will come to you rather then hide any potential dangers because you made the subject taboo by not speaking in specific terms.
3. Don't make it difficult to use
Teens understand that there are dangers out there. If you communicate with them (and aren't vague…see #2 above) they really will be able to comprehend that too much screen time is not healthy for anyone. But locking their phone down too much can make the time they do have with it frustrating.
Constantly having to ask you to allow a specific app download when they are old enough to drive a car or hold a job just doesn't make sense. Neither does locking down search engine access when they are tacking college level classes and using their phone to research information for a paper for their literature class.
Older teenagers, however, are likely to rebel against these kind of controls, viewing them as unwelcome interference. To combat this, both Dr. Brunner and Hurst Della-Pietra recommend creating a media contract with teens, outlining acceptable device usage and online behaviors.
Instead, figure out a solution that you can both live with. Establish ground rules, and even a contract, especially if you are the one paying for their phone.
4. Don't make the phone the center of discipline
We all fall into the trap of being glued to our phones. Whether we are texting, checking news, using social media or playing games, all of us spend far too much time on them. It is very easy for tech to become a habit or an addiction. But technology is not one of those addictions that can be all or none. It's a daily part of our lives that we need to learn how to use responsibly.
When you make access to their phone the center of discipline, you reinforce that addiction by making it a reward. Dieters learn very early on that making a food a reward can sabotage weight loss and the same is true of tech addiction.
Giving them more chores instead of taking away the phone will naturally cause them to have less screen time because they will be too busy doing the work.
5. Don't wait too long
If you start exposing kids to technology early on, with age-appropriate levels of monitoring, you set the tone to avoid a lot of the "don'ts" above. First, it becomes a daily part of their routine. It's not something to covet or envy, because it's as common as television to them. Second, the safe use of tech becomes as basic to them as "look both ways" because you have been exposing them to it from the beginning.
Starting early with tech also allows you to set boundaries and limitations that change over time just like the natural progression of growing up. So you aren't all of a sudden handing a teenager a device they have limited access to, instead, as they mature, they have more access to parts of it than they did before.
Find the Balance
There is no sure fire way to protect our kids online, and every family and every child is unique and will have different rules and guidelines. But you aren't alone as you try and navigate this tricky and challenging stage of parenthood.
Verizon Wireless can help you find the right balance between safety and freedom for your teen. For more great tips and information visit: