I had never really gotten into the Facebook game craze. Every once in awhile I would play one, but nothing ever kept my attention very long.
I am, however, a fan of games in general, I play quite a few of them on my iPad and I used to be a full blown gamer, staying up until all hours of the night playing my favorite fantasy games. I was so addicted, that when I wasn't playing, I would think about playing.
Now that I am older, I don't have the same interests or attention span that I once had, but I miss having a game with a good story that I can get involved with.
Ganz (the makers of Webkinz) has developed a new Facebook game that has recently stolen my attention – Tail Towns Friends.
Brought to you by the makers of the wildly-popular Webkinz, Ganz has created an enchanted world of mystery, rich with tales of intrigue, treachery and forbidden love just for you grown-ups! Interested?

Combining the fun of social media gameplay with timeless charm and unparalleled beauty, Tail Towns Friends offers players drama and juicy, soap opera-inspired storylines and the photo-realistic art allows players to become landscape artists to create the home and garden of their dreams.

Here is what you can enjoy while playing:

Players help friends and supply city businesses amidst unfolding tales of soapy drama
The ability to create the ultimate landscaped country getaway
Intertwining storylines, featuring cinematics and voice-acting

Tail Towns Friends also delivers a total gaming experience with custom-designed collectible fully hand-painted beautifully crafted figurines, bridging the real world with the virtual one.

Register a Tail Towns Friends figurine to unlock the character's exclusive storyline and "Secret Diary Goals," which gives players insight into his/her life. Each figurine rewards users with an exclusive specialty virtual item as well. Registering other collectible figures' secret codes unlocks even more Secret Diary Goals and exclusive items. The figurines are not only a great addition to the game, but also stand alone as a wonderful addition to any collector's shelves.
I have been playing the game for a couple of days now. While I do wish I had a bit more energy to use each time, I like that the game doesn't allow you to sit there and get lost in it because you do have to let the energy replenish. I don't have to feel guilty playing it (when I'm supposed to be doing other things) because it's just for a few minutes at a time. It's free to play and the tutorial makes it easy to learn. The characters are adorable and I enjoy the quaint music as well. The story line is cute and pretty funny. It will appeal to teens and adults alike.
Below are a couple of screenshots from the game interface.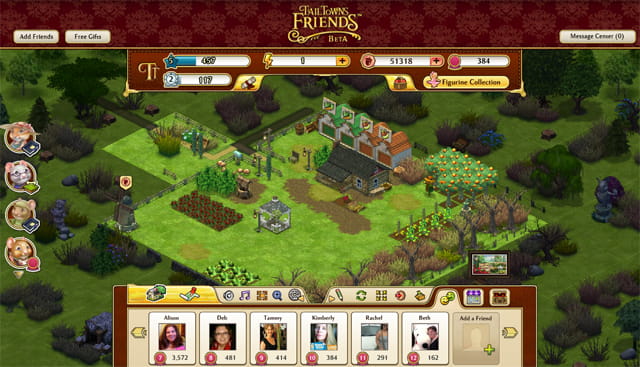 Another fun aspect of this game is that incorporates collectible figures that give you access to special game storylines not available to everyone else. Each collectible figure comes with a secret code that you enter into the game to unlock the special features.

These adult collectibles are super cute. They represent characters in the game and are hand-painted and very detailed. Mine sit on my desk despite my kids attempts to swipe them from me.
Below is a screenshot from the game showing all the available series 1 figures. The game colors in the ones you have already entered codes for.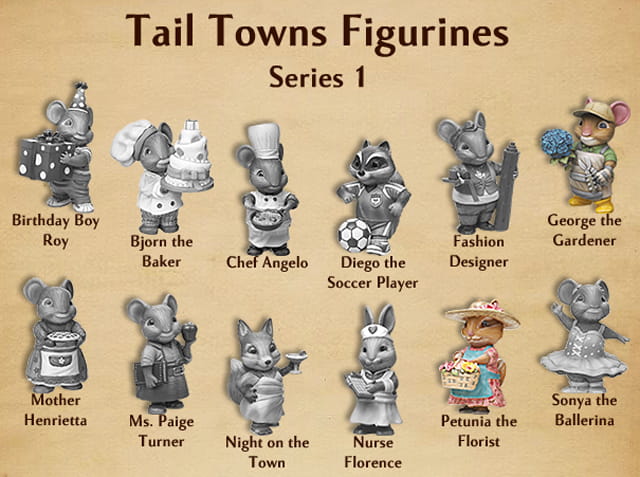 I'm having a blast with the game, except I get caught up rearranging my orchard. I'm always clearing trees, moving buildings and relocating fruit trees. I also like visiting my friends who are playing and checking out how they have arranged their orchard. There is always something to do and I'm having a great time watching the story unfold.
I know after reading this that you are anxious to play this great free game on Facebook. To play click here and start building your orchard: Tail Towns Friends.
Keep and eye out on October 3rd on Facebook for the Tail Towns Friends Virtual Launch Event and a Twitter party that evening.
Disclosure: Our blog is participating in a sponsored blog ambassador program from GANZ Tail Town Friends. As a part of this program we have received paid compensation and merchandise for placement of digital advertisements and specific postings related to Tail Towns Friends.
Join our newsletter!
Subscribe to get updates and great stuff via email including subscriber-only goodies like free printables and giveaways.