When paired with marshmallows, sweet potatoes provide a sweet and soothing delicacy that is suitable for any time of year.
Sweet potatoes are a delightful and versatile food that can be used in both savory and sweet dishes.
From pancakes to cheesecake, these 15 dishes demonstrate the incredible range of tastes and textures that can be achieved when sweet potatoes are combined with marshmallows.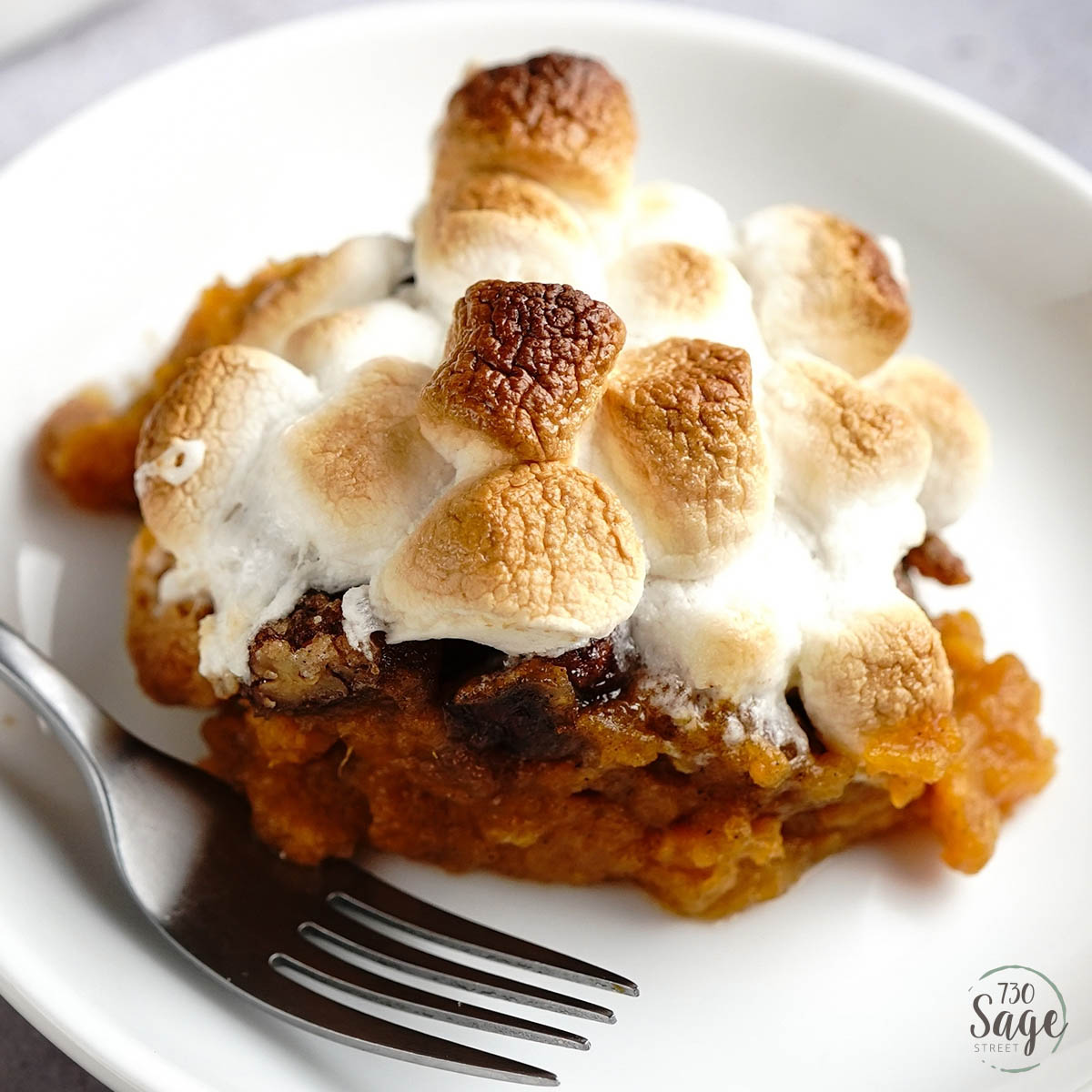 What Is The Best Type Of Sweet Potatoes In These Recipes?
Sweet potatoes are a versatile ingredient that can be used in a variety of recipes, especially when combined with marshmallows. When it comes to choosing the best type of sweet potato for your dish, here are six different varieties to consider:
Beauregard: This variety is one of the most common types of sweet potatoes. It has a deep orange flesh and a sweet flavor that works well in savory and sweet dishes.
Jewel: Jewel sweet potatoes are also commonly found in grocery stores. They have reddish-purple skin and a moist, creamy texture, making them perfect for baking and roasting.
Hannah: Hannah sweet potatoes have a light yellow flesh and a mild, slightly nutty flavor. They are a good option for those who don't want an overly sweet taste in their dish.
Japanese: Japanese sweet potatoes have reddish-purple skin and white flesh. They taste slightly sweeter than regular sweet potatoes and are perfect for roasting or mashing.
Garnet: Garnet sweet potatoes have dark orange flesh and a sweet, nutty flavor. They are ideal for dishes that require a smooth, creamy texture.
Purple: Purple sweet potatoes have deep purple skin and purple flesh that turns a bright shade of pink when cooked. They have a slightly nutty flavor and are high in antioxidants.
Can I Use Canned Sweet Potatoes Instead In Some Of The Recipes?
While fresh sweet potatoes are always preferred, canned sweet potatoes can be used in some of these recipes, especially if you're short on time. Just make sure to drain and rinse the sweet potatoes thoroughly before using them in the recipe. Keep in mind that canned sweet potatoes can be softer and have a slightly different texture than fresh sweet potatoes, so adjust your cooking times and methods accordingly.
15 Sweet Potato Recipes With Marshmallows
Prepare to be amazed by the 15 inventive ways we'll show you to enjoy the traditional combination of sweet potatoes and marshmallows:
This Sweet Potato Casserole with Marshmallows recipe is the ultimate comfort food. The creamy and smooth texture of the mashed sweet potatoes is enhanced by the sweetness of the brown sugar and the warm spice of cinnamon.
The marshmallows on top add a deliciously gooey and toasty crunch that will satisfy any sweet tooth. To make it even better, you can sprinkle some toasted pecans on top for an extra nutty crunch. This casserole is perfect as a side dish for Thanksgiving or any family gathering, but it's so delicious, you'll want to enjoy it all year round!
You can't go wrong with this sweet potato pie topped with marshmallows. Sweet potatoes, brown sugar, and cozy spices like cinnamon, nutmeg, and allspice are baked into a rich and creamy filling that is then encased in a crisp and flaky crust. The delicious, sticky crunch of the marshmallow topping is hard to resist.
Since it can be prepared in advance, this pie is ideal for last-minute gatherings. To get the ideal golden brown color, broil the marshmallows just before serving. Guests will be begging for more of this sweet and delightful Sweet Potato Pie with Marshmallow Topping.
These Twice Baked Sweet Potatoes are like a warm, cozy hug on a chilly autumn night. Imagine sinking your fork into the creamy and flavorful filling, made with brown sugar, cinnamon, and buttery pecans. And let's not forget the surprise element of tangy cream cheese that makes the dish extra indulgent.
Then, as you take a bite, you're greeted with a satisfying crunch of toasted marshmallows. It's like fireworks exploding in your mouth! Perfect for a family dinner or a gathering with friends, these Twice Baked Sweet Potatoes will have everyone asking for seconds (and maybe even thirds!).
You'll want more of these Sweet Potato Bites stuffed with marshmallows and pecans since they're so delicious. Roasted sweet potato rounds with a butter coating and a sprinkle of maple syrup make a delicious side dish. The sweet potatoes are then broiled with the marshmallow halves on them until the marshmallows are toasted and gooey to your liking.
These nibbles are the pinnacle of taste and texture harmony, thanks to the addition of a crispy pecan half on top. These Sweet Potato Bites with Marshmallow and Pecans will become a fast hit at your next party or movie night.
Like a warm embrace on a cold day, these Sweet Potato Marshmallow Bars will make your mouth happy and your taste senses sing. The sweet and salty graham cracker crust offers a solid foundation for the sweet potato inside, which is thick and creamy and flavored with cinnamon and ginger.
Mini marshmallows, carefully broiled till gooey, toasted, and golden brown, are then placed on the filling for a delightful and whimsical take on a traditional dessert. You may visit one of these pubs on your own or with friends and family after a hard week or on a relaxing Sunday.
You won't find another cookie just like these Sweet Potato Marshmallow Cookies anywhere else. There's just the right amount of sweetness and spice in the soft, chewy cookie dough. An appealing ooey-gooey feel is achieved by placing a large marshmallow in the middle of each cookie.
Add a toasted pecan on top for a delicious crunch. Whether you're having a quiet night in or a big Christmas party, these cookies are sure to please. They'll become a fast favorite among those with a sweet craving.
You can't go wrong with a cupcake, and these Sweet Potato Pie Cupcakes with Marshmallow Frosting are divine! The sweet potato cake is perfectly moist, and the graham cracker shell gives it a satisfying crunch.
These cupcakes taste like a little feast thanks to the light marshmallow icing. The toppings of caramel sauce and cinnamon pecans are the icing on the cake. They don't take long to prepare, and everyone at the party will love them.
A traditional autumnal ingredient gets a luxurious makeover in this Sweet Potato with Toasted Marshmallow Milkshake. Adding toasted marshmallows takes this already delicious combination of butter pecan ice cream, canned sweet potato, milk, and warming spices like cinnamon and nutmeg to a whole new level.
To get that perfectly toasted flavor, micro marshmallows are broiled until golden brown and then mixed in with the rest of the ingredients. This recipe makes enough for two people to have a romantic evening together at home. Keep a close eye on the marshmallows while they broil, and if you want even more sweetness and texture, feel free to add more.
If you want to serve your guests something really special, you can't go wrong with these Sweet Potato Cheesecake Parfaits. These parfaits have a delicious combination of sweet potato cheesecake, whipped cream, marshmallow crème, and ginger molasses cookies.
Sweet and nutty, the candied pecans are a delightful addition to every meal. These parfaits are perfect for a party since they can be prepared in advance and need little effort to put together. Put one in each guest's glass and watch them go crazy over this sweet treat.
Dessert doesn't get more cozier than this sweet potato bread pudding topped with marshmallows. The cinnamon bread pieces are a great accompaniment to the pudding's rich and toasty taste from the sweet potato puree.
This bread pudding is topped with a layer of gooey, toasted Mini Campfire® Marshmallows, and it will leave you wanting more. Keep a close eye on the marshmallows under the broiler so they brown evenly. Enjoy the full range of tastes and textures in this traditional dessert by serving it warm.
Sweet Potato Cinnamon Rolls are the pinnacle of morning desserts. These warm, cozy buns are soft, airy, and dripping with creamy marshmallow crème flavored with brown sugar and cinnamon.
These delicious rolls get their delicate sweetness and a nutritional boost from the addition of sweet potato puree to the handmade dough. Miniature marshmallows, roasted to perfection, are placed on the rolls after baking. For a special breakfast or brunch treat, serve these cinnamon buns hot and fresh from the oven.
Sweet potato pancakes topped with toasted marshmallows will change the way you look at breakfast forever. The pancakes have a mild earthy taste and rich texture from the sweet potato and a sweet and gooey finish from the toasted marshmallows on top.
The pancakes are simple to prepare and are excellent for a relaxed weekend breakfast. For added depth of flavor, sprinkle with cinnamon and serve with maple syrup. Add some whipped cream and more marshmallows for a luxurious finish.
These Sweet Potato Fries with Toasted Marshmallow Dip are the perfect alternative if you're tired of the same old snacks. These fries have the ideal texture: crisp on the exterior and delicate on the inside. Sweet potato sticks are coated with olive oil and baked till soft to form the fries.
While that's happening, roast some giant marshmallows till they're all melty and delicious. Then, to make the dip, just combine them in a blender with some heavy cream and seasonings. The dip should be served with the fries as soon as possible, so pour it into a serving dish.
Delicious and impressive, this Sweet Potato Mousse with Homemade Marshmallow Fluff may be served to guests or enjoyed by oneself. Sweet potatoes, heavy cream, brown sugar, vanilla, and cinnamon come together to create a silky, flavorful mousse.
This delicious dessert has layers of crushed gingersnap biscuits and handmade marshmallow fluff. Lightly charring the marshmallows with a kitchen torch improves the taste and texture of this sweet delight. If you want to wow your guests with a dessert they won't soon forget, try this recipe.
With all the richness of traditional cheesecake plus the warm, earthy notes of sweet potato and pumpkin spice, this Sweet Potato Cheesecake is the quintessential autumn treat. Cream cheese, mashed sweet potatoes, and a dash of sour cream make for a decadent filling, while a graham cracker crust offers the right crispy foundation.
This cheesecake is baked to perfection in a water bath and topped with toasty marshmallows for a delightful contrast in textures and tastes. Cheesecake tastes best when chilled for at least a few hours before serving to allow flavors to blend.