Perimenopause means "around menopause" and refers to the time period during which a woman's body makes its natural transition toward permanent infertility (menopause). Perimenopause is also called the menopausal transition.

~Mayo Clinic
I was 41 was I first started noticing that my body was changing. I was experiencing hot flashes. Every calorie I burned seemed to magically convert to body fat. Everything I ate caused bloating and discomfort. All I wanted to do was sleep. And I started to extremely emotional swings that found me either extremely happy or extremely cranky – there was no more middle ground. I figured it was the start of menopause, and while I was surprised to start experiencing symptoms so young, I didn't really mind entering this next phase of my life.
Although I really could do without the side effects, especially what I call "inappropriate sweating." I sweat even when I am cold.
But as the last 9 months or so have passed, I'm learning how to adapt to the disruptive symptoms of perimenopause and hopefully modify what I thought were already healthy habits to account for the craziness going on in my body. It's not always easy, but seeing as I hopefully still have at least another 40 years on this planet, they are habits that will keep me fit, active and healthy.
How to Survive Perimenopause
When I first started experiencing perimenopause symptoms, I didn't really do anything differently. I already lead a healthy lifestyle, so I thought I should just continue on that path and all would be right with the world. Eventually. But the symptoms kept getting worse, and so I knew I had to do something to help make this time a bit easier.
Get more sleep. I was feeling tired, so I gave in to it, despite the fact that it meant I had less awake hours to do the things I needed to do in the course of a day. Sleep is such an important part of any healthy lifestyle, and during perimenopause it almost seemed like I needed as much sleep as a child.
Pay attention to the foods that seemed to trigger bloating. I was noticing that some days my stomach was so bloated that I looked pregnant. I eliminated any foods that appeared to make the bloating worse. Eventually I found that while the bloating did not disappear completely, it is far less when I removed the offending foods.
Add strength training and reduce cardio exercise. As much as it killed me to reduce the cardio exercise that I do every day, I found that the physical exertion brought on by cardio seemed to tax my body and actually cause weight gain. Reducing the cardio, but not eliminating it, seemed to stop the weight gain.
Allow yourself a glass of wine in the evening. Although alcohol is said to increase the effects of menopause, a glass of wine a couple nights of week can help you relax and I found that a couple of glasses of wine a week actually improved my symptoms overall. Everyone is different, but for me, enjoying that glass of wine had a positive effect.
Increase protein intake. Menopause can cause bone and muscle loss, and protein is a key building block to help preserve that loss. If you are concerned about calories, reduce carb intake and consider plant-based protein sources.
A great source of plant-based protein can be found in Silk Soymilk products.
Silk Soymilk
You can use Silk Soymilk in any way that you would use regular milk. You can use it in cereal, drink it alone, and add it to recipes. And the great thing about Silk is that their products are verified by the Non-GMO Project's product verification program, which is very important to me.
Silk Soymilk comes in an original flavor, vanilla and chocolate. They also have USDA organic varieties, including unsweetened and soymilk with added DHA Omega-3.
I have found that regular milk is one of the foods that trigger bloating for me since I started perimenopause, so the Silk products have really been a lifesaver for me to still enjoy milk and my favorite recipes that include milk as an ingredient.
Menopause is inevitable but manageable
When it comes to dealing with something as inevitable as menopause, there are things that you can to help you feel better and tackle the next phase of your life with positive, healthy habits. I am looking forward to this next phase, and while I wish menopause was something that I could quantify and predict, it's something we all go through, so I might as well embrace it. Thankfully there are things that you can do to help make the transition a little easier.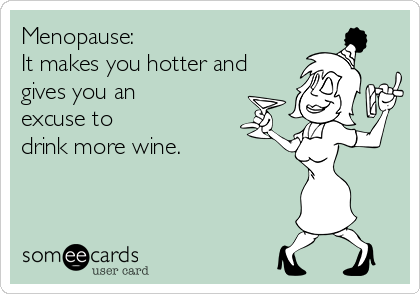 Are you nearing menopause? Have you noticed any symptoms? Have you considered how you will stay healthy in the second half of your life?
This conversation is sponsored by Silk. The opinions and text are all mine.