Have you ever eaten somewhere different and become ill afterwards? Sometimes it's difficult to tell whether your body just wasn't appreciating the food you ate or if something was actually wrong with the food. Food poisoning is fairly common and maybe even more common than we think because the symptoms of food poisoning may go beyond your gut.
Roughly 48 million Americans become ill from food poisoning every year. That adds up to one-sixth of the total United States population. It's a staggering figure made complex by the innately vague nature of food poisoning, the many forms in which food can become tainted, and the effects placed on the body as a result.
In fact, the number of extreme cases of food poisoning in the United States has increased to the point where civil action has become commonplace. This has led to personal injury firms to specialize in food poisoning litigation. The majority of cases involve young children being infected with E.coli or salmonella.
What may appear to be frivolous reactions to stomach aches are, in fact, necessary legal steps considering there are far more dangerous and potentially devastating effects of food poisoning than vomiting and diarrhea. These surprising effects of food poisoning are as follows:

MY LATEST VIDEOS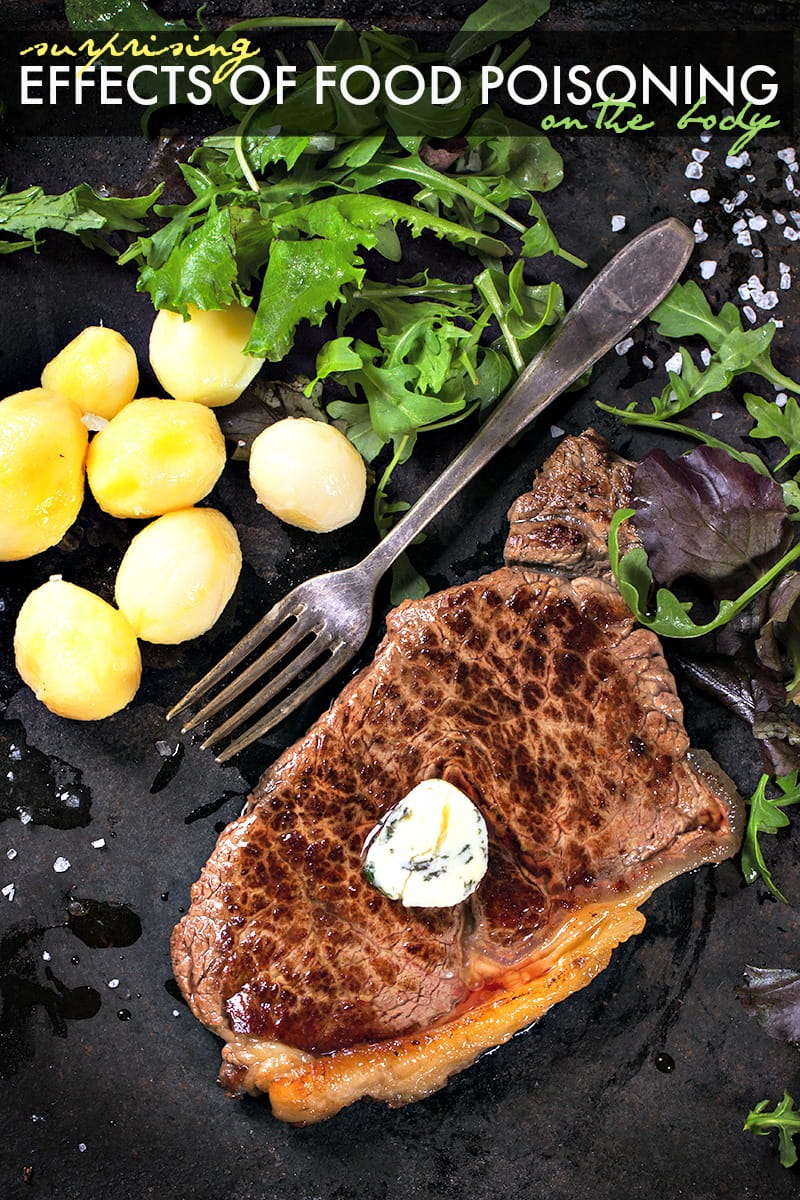 Blurry Vision
Food poisoning can sometimes lead to blurred vision in the infected individual. If this is the case, botulism is typically to blame. Fortunately, extremely rare – with only 174 cases reported in the U.S. in 2015 – botulism is nonetheless potentially deadly. Infamously tied to improperly canned consumables, many modern cases stem from such things as garlic-infused oil and baked potatoes which have not been properly refrigerated.
Joint and Skin Inflammation
Infections of the bowels can occasionally lead to inflammation in other parts of the body. If a person develops a rash after consuming food, the culprit is often believed to an allergy but may, in fact, be a symptom of food poisoning. This is an incredibly rare side effect of ingesting toxin, but if other common symptoms of food poisoning are present, consider bringing this possibility to the attention of medical professionals.
Mental Confusion
Uncharacteristic listlessness, sluggish movement, and other signs of impaired cognitive function are always symptoms worth seeking immediate medical attention over. Every once in awhile the cause is food poisoning – typically a toxin consumed by way of poisonous mushrooms or other naturally occurring substances. If vomiting and diarrhea are concurrent with mental confusion, food poisoning is often to blame.
Delayed Reaction
Most people are under the impression that food poisoning symptoms are directly related to their last consumed meal. However, some germs responsible for food poisoning, such as campylobacter, can lie in the body for up to 10 days before symptoms develop. The same timetable is possible with Giardia as well, a parasitic infection resulting from consuming tainted water or food.
Lifelong Effects
Perhaps the most shocking and surprising side effect of food poisoning is the potential for long-term health problems in sufferers. According to Foodsafety.gov, kidney failure, chronic arthritis, brain and nerve damage are all potential lifelong consequences of certain forms of food poisoning. Fortunately, these forms of food poisoning tend to be the most rare.
Food poisoning is a relatively common ailment. The hallmark signs and symptoms are pretty straightforward: fever, nausea, vomiting, diarrhea, and so forth. However, there is also a list of somewhat surprising side effects of food poisoning which men and women ought to know as well. The knowledge of the many symptoms of food sickness helps individuals prevent the potential long-term consequences of ingesting bad food.
Have you ever had food poisoning?