I am participating in a sponsored campaign hosted by Centrum®. I received compensation for this post. While all opinions stated are my own, I make no claims about Centrum® as a product or its effectiveness. #ad #CentrumVitamins
No matter how much I commit to a healthy diet I always feel like something is missing. Like I should be getting more greens in, more citrus fruit, more of something. It's a challenge with a busy lifestyle to ensure that you are getting all of the vitamins and nutrients your body needs through diet alone. And if you add in some not-so-healthy choices during the week, you are left with even more of a nutrition gap.
Many people add supplements to their diet to help make sure they get all of the vitamins their body needs to function properly each day. But I struggle taking traditional vitamin supplements because I have trouble swallowing the pills. I have a very sensitive gag reflex and it makes it very difficult.
Which is why I am so happy that Centrum® has come out with their new Centrum® MultiGummies! Not only are they easy to take because they are chewable, they also contain no artificial flavors, colors or sweeteners which is a perfect fit for my lifestyle.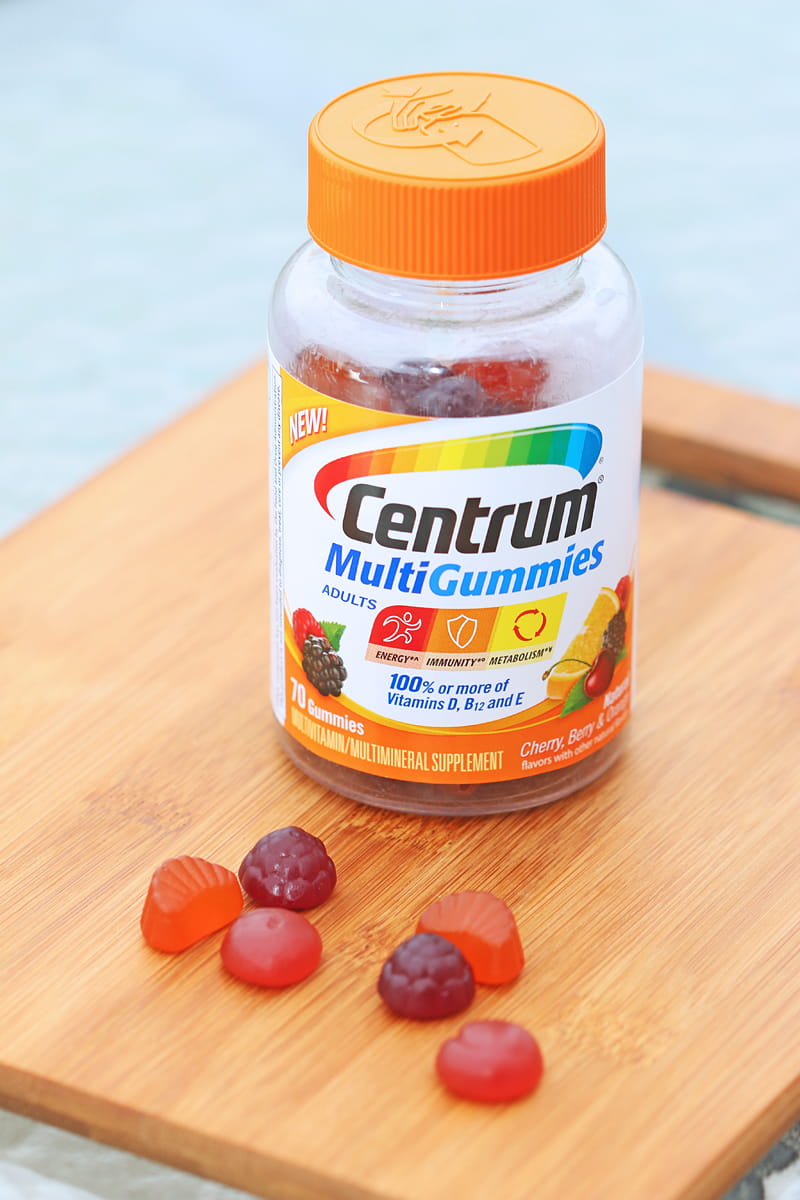 Centrum® MultiGummies
Centrum® MultiGummies contain key nutrients such as Vitamins B12, D, and E plus others that help support your whole body health. They help fill those nutritional gaps to make sure you get the nutrients you need.
As I mentioned, Centrum® MultiGummies do not contain artificial flavors or sweeteners and they use only natural colors. They are gluten-free, taste great and are so easy to take. Centrum® MultiGummies come in 3 great flavors: berry, cherry and orange.
Did you know, research shows 9 out 10 people fall short of getting the recommended amount of vitamins and minerals in their diet?
Check out some of these statistics regarding diet and nutrition from a recent survey from Prevention and Centrum®:
75% of Americans believe it is relatively easy to get the recommended amount of vitamins and minerals your body needs through a healthy diet.
Nearly half of those 75% feel they are lacking in one or more key nutrients.
Of the 50% who feel they are lacking, 60% have not changed their diet to try and increase nutrient intake naturally.
74% of Americans believe that eating healthy is much more of a challenge than eating unhealthy foods.
46% of Americans blame lack of time for their less than healthy diets.
Let's face it, there just isn't always enough time to get in enough nutrition to fuel your body the right way. Especially with the summer months coming and vacations and spending time outdoors. While many of us do improve our diets during the summer months, it's nice to know that you can have a backup plan to fill in the gaps.
Centrum® MultiGummies is one way I ensure I get key vitamins and nutrients.
To learn more about Centrum® MultiGummies and get a $2 off coupon visit: www.centrum.com/centrum-multigummies.
Do you feel that you are lacking in certain vitamins in your diet?
Continue the conversation on Twitter and Facebook!
I am participating in a sponsored campaign hosted by Centrum®. I received compensation for this post. While all opinions stated are my own, I make no claims about Centrum® as a product or its effectiveness. #ad #CentrumVitamins